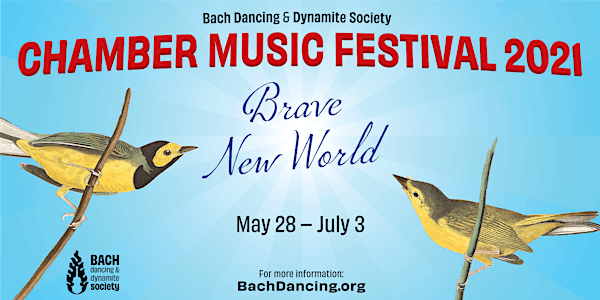 SERIES TICKET: BRAVE NEW WORLD - All Four Concerts On Demand
BDDS presents four on-demand concerts (June 12 - Sept. 1) recorded in Madison, featuring an exciting and diverse mix of composers.
About this event
BDDS is in Madison in June to record a virtual concert series to be released June 12, 19, 26, and July 3, and available all summer! Buy now and we'll send you the links in June.
Brave New World, the series of four video recorded concerts (described below) will feature an engaging mix of music by women, Black and Latin American composers, and traditional chamber music greats. We pay homage to the 250th anniversary of Beethoven's birth, the 100th anniversary of Astor Piazzolla's birth, and the celebration of the Emancipation Proclamation, Juneteenth.
Artists include Stephanie Jutt, flute (Madison Symphony Orchestra principal flute and UW-Madison professor emerita); Stas Venglevski, Russian-style accordion (international virtuoso); Timothy Jones, bass-baritone (University of Houston);  and the  San Francisco Piano Trio, featuring Jeffrey Sykes, piano (UC-Berkeley); Axel Strauss, violin (McGill University, Montreal, Canada); and Jean-Michel Fonteneau, cello (San Francisco Conservatory). Visual artists include Lisa Frank (MacDowell Fellow) and our special postcard visual artists. (One of Lisa's images is featured below).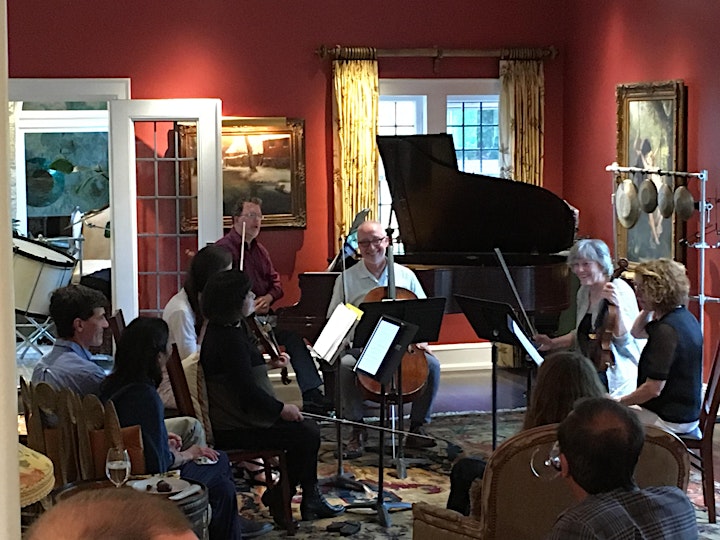 Concert #1, Released June 12: The Sun Also Rises
Named for one of Hemingway's great novels, this first concert of the series will feature "I will not be sad in this world," by Armenian-American composer Eve Beglarian for alto flute and electronics; the New Orleans-inflected piano trio "Roots II," by Black American composer David Baker; "The Negro Speaks of Rivers," for bass-baritone and piano, a poem by Langston Hughes set to music by Black American composer Margaret Bonds; "Dizzy Fingers" by Zez Confrey; and the unforgettable "Four Seasons of Buenos Aires," by the Argentine-American tango master, Astor Piazzolla. This concert will be available until September 1.
Concert #2, Released June 19: Great Expectations
Named for Charles Dickens' novel of promise both fulfilled and unfulfilled, the second concert includes music by the Chevalier de Saint-Georges, a great 18th century curator and composer of African descent; settings of the poetry of Langston Hughes by Black American composer Margaret Bonds; Jessie Montgomery's "Peace (2020)"; and Beethoven's witty and moving Piano Trio No. 2. This concert will be available until September 1.
Concert #3, Released June 26: The Master and Margarita
Named for one of the greatest novels of Soviet-era Russia, the series' third concert features Mussorgsky's powerful "Songs and Dances of Death"; two tempestuous character pieces for flute and piano by Sofia Gubaidulina; Shostakovich's shattering piano trio from the height of the Stalin years; and Russian music for flute and bayan by Stas Venglevski. This concert will be available until September 1.
Concert #4, Released July 3: Stranger in a Strange Land
Named for Robert Heinlein's great novel, the fourth week features "Borderline," a gritty song cycle written by Black composer Robert Owens to poems of Langston Hughes; Kenneth Laufer's hilarious "Scars and Scrapes Forever," for flute/piccolo and piano; British-American composer Rebecca Clarke's great Piano Trio inspired by WWI; "Le grand tango" of Argentine-American tango master Astor Piazzolla; and BDDS's own arrangement of Leonard Bernstein's "Overture to Candide." This concert will be available until September 1.
Staying Connected:
We've asked four fabulous local artists to provide a postcard image for one piece in each concert. Audience members will be invited to write a postcard to a friend in response to the music and a throught-provoking prompt from the musicians. Purchase all four concerts by June 1st and we'll mail you four art postcards. Single-ticket buyers can download the postcards from our website. Let our concerts help give a voice to your thoughts and feelings!
Add ons: You can add BDDS Dinner Drawing tickets and merch on your check out page.
Program Sponsors:
Elsebet Lund & James Dahlberg (Jean-Michel Fonteneau); Virginia Sykes; Ellen White & Eric Sutter.
Fan the Flames Sponsors:
Martha & Charles Casey (Timothy Jones); Linda & Keith Clifford (Stas Venglevski); Paula & David Kraemer (Lisa A. Frank); David Myers, in memory of Dan (Timothy Jones); Patricia Powers & Tom Wolfe; Miriam Simmons, in memory of James Cain (Axel Strauss); Sara Siskind & Joel Rogers; Norma & Elliott Sober (Astor Piazzolla's "The Four Seasons of Buenos Aires"); Anne & Peter Wadsack (Timothy Jones).
Pyrotechnic Sponsors:
Larry Bechler (Chevalier de Saint-Georges; Sonata in E-flat Major); Michael Bridgeman & Jack Holzhueter (Margaret Bond's "Three Dream Portraits"); Ellen Brothers; Sue Cleary-Koch; Zorko Greblo & Linda Clauder; Mary & Carl Gulbrandsen (Zez Confrey's "Dizzy Fingers"); Barbara Johnson; Carla & Dick Love; Katherine Naherny & Roger Ganser (Astor Piazzolla's "Le grand tango"); Joan Daniels Pedro.
Lisa Frank's image below.