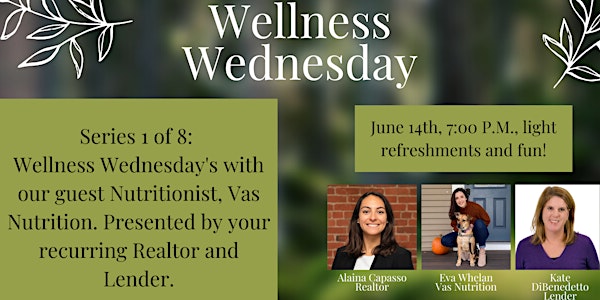 Series 1 of 8: Wellness Wednesday's with Nutritionist, Realtor, and Lender
Join us for an exciting event that brings together two important aspects of life - healthy living and home buying! Virtually or In-Person
By Alaina Capasso, Kate DiBenedetto, and Eva Whalen
Date and time
Wednesday, June 14 · 7 - 8pm EDT
Location
Total Mortgage 340 Hebron Avenue #Suite 101 Glastonbury, CT 06033
About this event
At this event, you'll have the opportunity to:
Learn about the pre-approval process and how it can help you stand out in a competitive housing market
Connect with local real estate agents who specialize in finding homes that fit your budget and lifestyle
Get tips on how to maintain a healthy lifestyle while going through the homebuying process
Enjoy delicious and nutritious refreshments provided by local restaurants and catering companies
Attend informational sessions on healthy eating habits and how they can prevent illness
Our event is perfect for anyone who is thinking about buying a home and wants to learn how to do it in a way that promotes healthy living. By attending, you'll have access to experts in both the home buying and health industries, so you can get all the information you need to make informed decisions that benefit your well-being.
Join us on June 14th from 7:00 P.M. - 8:00 P.M. at Total Mortgage in Glastonbury (340 Hebron Ave ). Register now to secure your spot. We can't wait to see you there and help you start your homebuying journey on the right foot!
On-line link: Series 1 of 8; Home Buying Timeline, How Much You Can Afford, and Nutrition
Wednesday, June 14 · 7:00 – 8:00pm
Time zone: America/New_York
Google Meet joining info
Video call link: https://meet.google.com/sse-gxjs-yhh