Description
Earshot Entertainment & La Bohemia PRESENT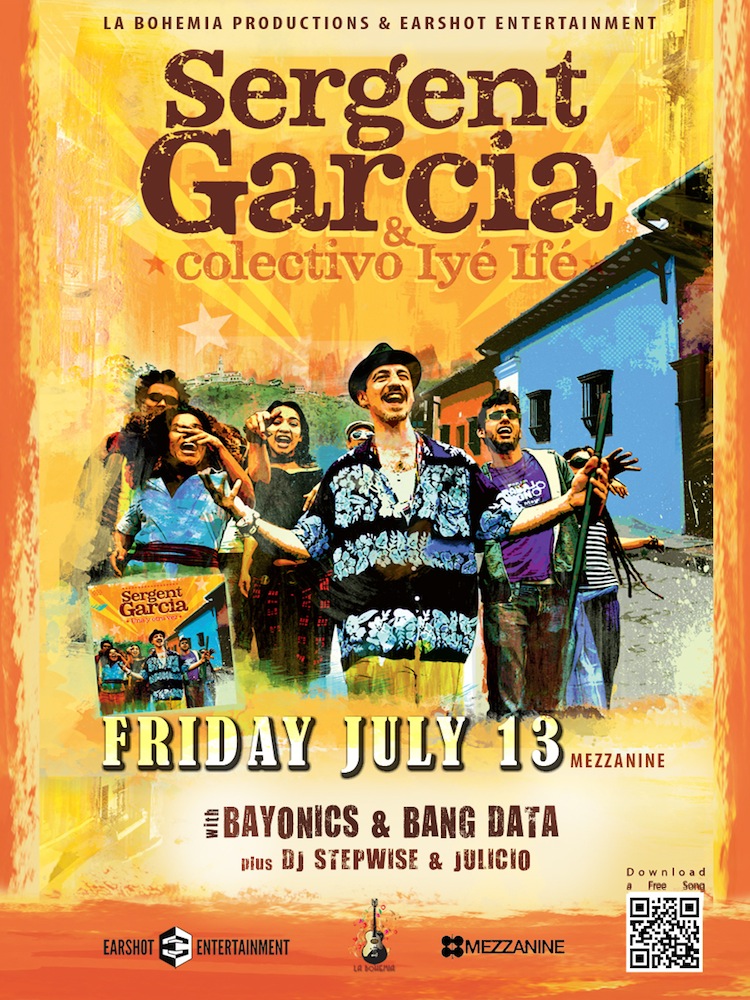 "Fans of Manu Chao will find Sergent Garcia immediately recognizable: insistently catchy reggae and salsa rhythms, sing-song rap, horn riffs propelling the whole mix." - Financial Times (UK)
BIO:

Sergent Garcia burst onto the French music scene in the late 1990s with a searing blend of Jamaican reggae and dancehall with Latin grooves that he dubbed "salsamuffin." A veteran of French punk and indie rock, Sergent Garcia has explored his Spanish roots and passion for Caribbean and Latin music to create a popular sound that earned him fans across the globe and sales of hundreds of thousands of albums.


Bruno Garcia, alias Sergent Garcia, was born in 1964, the year of the dragon according the Chinese zodiac, in a small mountain town in France near the Swiss border. The son of a Basque Spanish father and a French mother, and with family connections to Algeria and the Ivory Coast, Bruno's early years took him to live in Bilbao, Spain before his family settled in Paris when he was five years old. Bruno recalls, "It was like a hybrid family with many colors. I spent a lot of time with my little cousin, whose father from was from the Ivory Coast. Their household had a very African flavor: there were always people coming from Africa to visit for weeks on end. They were always listening to African music, to soul music, American music, it exposed me to a lot of different things."

Bruno moved back to Paris in 1984 to start a band called Ludwig von 88. The band went on to become one of the most popular groups on the French alternative rock and punk scenes, recording over ten albums and performing together for thirteen years. By the nineties, the French reggae, hip hop, Arabic and Latin music scenes had started to coalesce into a powerful hybrid music or "musiques metisses" movement. Bruno started a side project of DJing with a Jamaican-style sound system. It was at this time that he started using the stage name Sergent Garcia. The name was inspired by a character from the Zorro television series that was popular when Bruno was a child. The fat, awkward and drunken Sergent Garcia was Zorro's bumbling nemesis, and Bruno was often taunted with this nickname in the schoolyard. But Bruno started to like the idea of taking on the name of the anti-hero. "If everyone wants to be Zorro," explains Bruno, "I will be Sergent Garcia. I think he's the real man of the people, not Zorro. Zorro is just an aristocratic landlord."

As he began making the transformation into Sergent Garcia, Bruno started investigating other Latin music styles, from Colombian cumbia to Puerto Rican bomba and plena, and of course the fundamentals of Cuban music. Bruno finally got to visit Cuba for the first time in 1998, and he immediately found something he had been searching for his entire life. Finally, Bruno headed to Colombia where he worked with a range of local musicians, including Jacobo Velez, clarinetist and director of the cutting-edge band La Mojarra Eléctrica, Erika Muñoz, one of the lead singers of electro-tropical pioneers Sidestepper, musicians from La-33, Colombia's top young salsa band, Li Saumet, the lead singer of Bomba Estereo and many others. "With this record I wanted to play with all these musicians because they are really young all-stars of Colombia," notes Bruno.
____________________________________________________________________________________
Tickets: After purchasing a ticket through Eventbrite you may either print out your confirmation email for faster entry, or bring your ID and your name is automatically added to will call.
NO REFUNDS
Mezzanine Ticket Transfer Policy: If you would like to have someone else claim your will-call spot, you MUST provide them with a photo copy of your driver's license or credit card used to purchase the tickets, along with a signed note authorizing them to use your spot (specify quantity). Without proof and written consent, they will not be admitted inside the venue.
All events are 21+ | Please bring valid identification. For more information visit mezzaninesf.com
Organizer of Sergent Garcia, Bayonics & Bang Data
A richly diverse gathering space, Mezzanine showcases live and electronic music from all genres – rock, dance, hip hop, soul, jazz, salsa, world beat – as well as multimedia art events, fashion shows and video/film installations. The multi-use venue boasts state-of-the-art lighting technologies with custom-built sound systems for both live and electronic music. The club caters to performances of all types; from hot shows with the newest buzz bands to intimate engagements with the world's biggest artists.