Serenity House: From Addiction to Deliverance (New Life Fundraiser Performa...
Description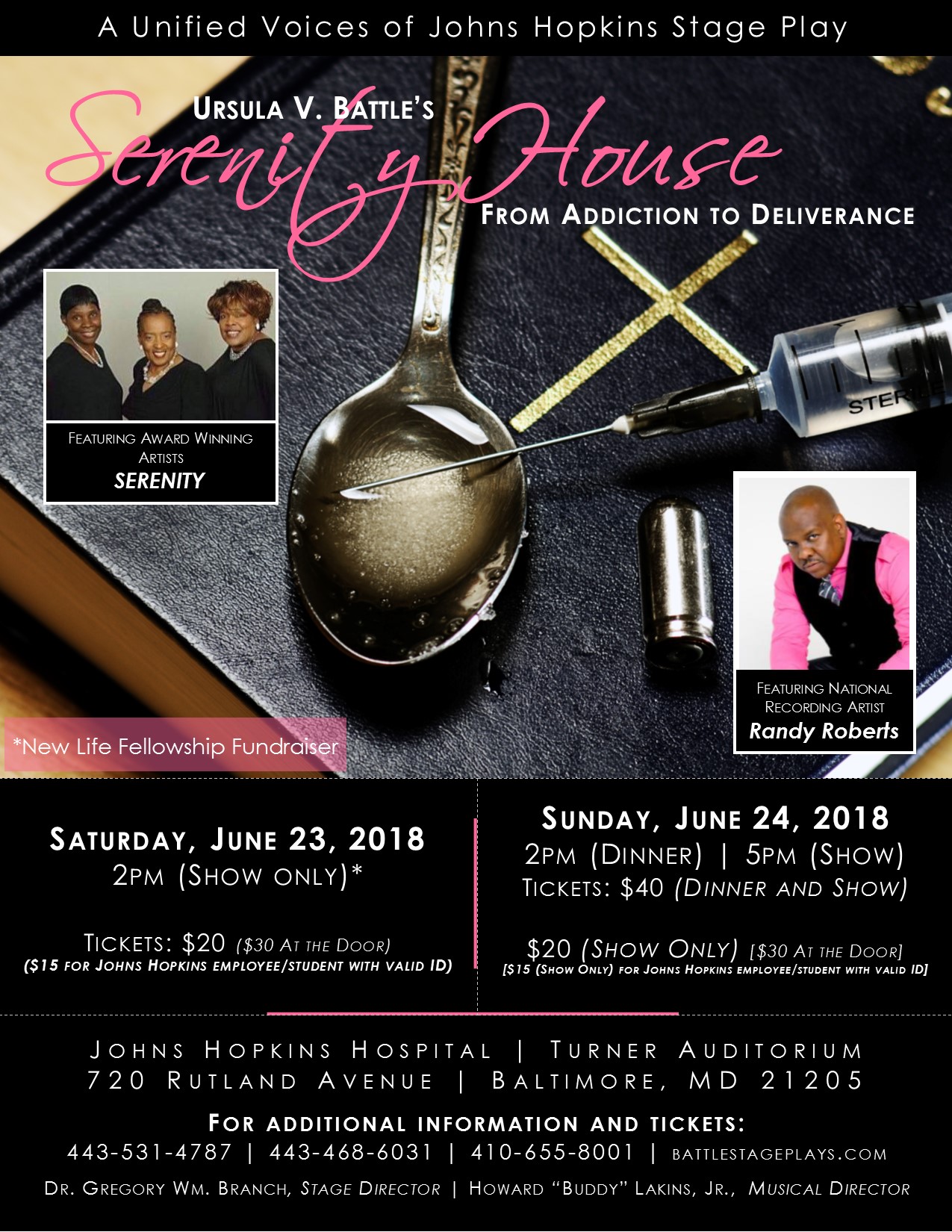 Ursula V. Battle's Serenity House Back at Hopkins June 23-24
Stage Play About Opioid Epidemic Back By Popular Demand
Unified Voices (UV) of Johns Hopkins is proud to announce the return of the highly-acclaimed stage play, Ursula V. Battle's "Serenity House". The dynamic production returns for a limited two-show engagement Saturday, June 23, 2018 at 2 p.m. and Sunday, June 24, 2018 in Johns Hopkins' Turner Auditorium located at 720 Rutland Avenue in Baltimore. The Sunday show will offer a catered Dinner option served prior to the performance.
Serenity House takes a riveting and thought-provoking look at the opioid epidemic. The production debuted in December 2017, and drew rave reviews and sell-out audiences The production returns by popular demand, and features National Recording Artist Randy Roberts and internationally renowned gospel female trio "Serenity."
Roberts portrays "James Franklin" in the production, and will perform Watch Me Work from his hit CD This Is My Story This is My Song featuring "Kingdom". Serenity will perform several gospel favorites throughout the production. Dr. Gregory Wm. Branch is the Stage Director, while Howard "Buddy" Lakins, Jr. is the Musical Director for the powerful production, which will also include original music composed by Peabody Conservatory student Allen Branch.
A portion of the tickets sold for the Saturday, June 23, 2018 show will support fundraising efforts for New Life Fellowship Worship Center in Pikesville, MD. Tickets for the New Life fundraiser can be purchased here. Advance tickets for the Sunday, June 24, 2018 performance - Both Dinner & Show ($40) and Show Only ($20) can be purchaed by going online to http://www.unifiedvoices.com/
Tickets will be more at the door for both shows.