Description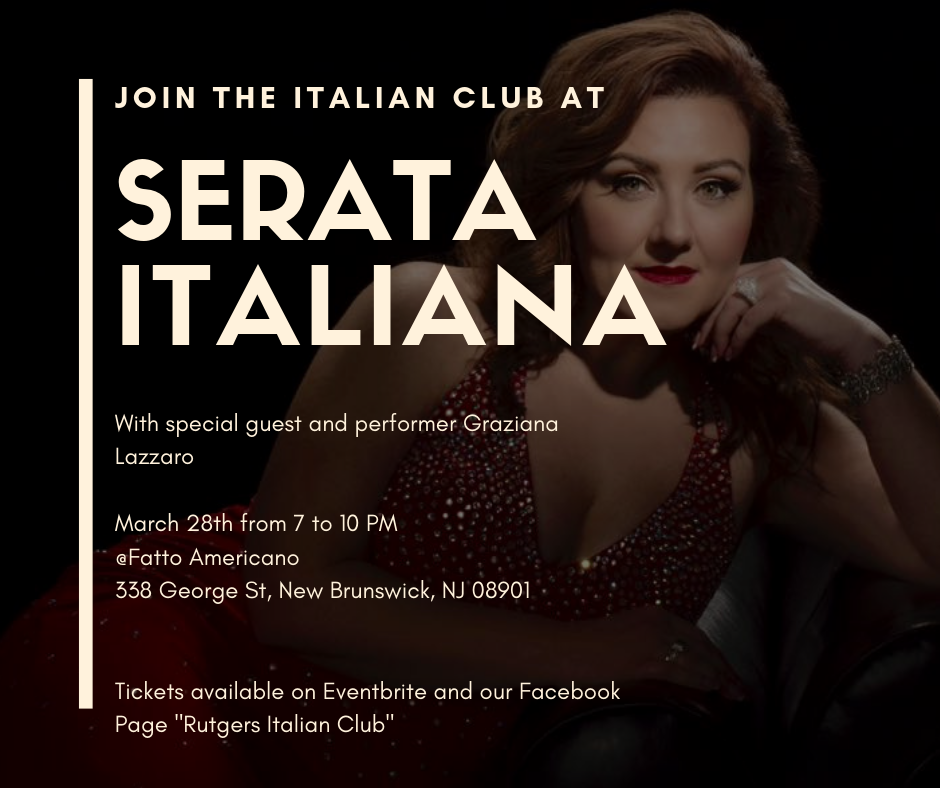 Join the Rutgers University Italian Club in this event sponsored by NIAF (National Italian American Foundation) and discover an evening of pizza, drinks, fun, and... Special guest and Italian performer Graziana Lazzaro.
She'll delight us with traditional and famous Italian songs and dances, as we learn more about this beautiful country through its music and a delicious buffet, where Fatto Americano will serve appetizers and authentic Neapolitan pizzas!
This event is for Rutgers Students, but friends, family or a date are more than welcome.
Limited spots available, so make sure to grab a ticket soon because last event sold out in two days!!
Graziana Lazzaro's Bio:
Graziana Maria Lazzaro, born in Massafra, provincia di Taranto located in the Puglia region of Italy. She began singing at eight years old and participated at Lo Zecchino D'oro, USA, L'accademia della Canzone di San Remo, Microfono D'oro, Cantamare Festival, Voce di Calabria and performed for various Sons of Italy events. She graduated from Wagner College in Voice Performance. She is known for bringing Italy to her audiences through her interpretations of the Italian, Neapolitan and American standards filled with heart, soul and passion. She has performed as the opening act for the Shirelles, the Duprees, the Drifters, the Platters, Johnny Maestro and the Brooklyn Bridge, Al Martino, Don Cornell and Pat Cooper. She has had the honor of singing the National Anthem at Shea Stadium twice. She currently has three albums entitled, "Destino," "Dedicato a Voi" and "Arcobaleno." Graziana currently resides in New Jersey.
A presto! See you soon!