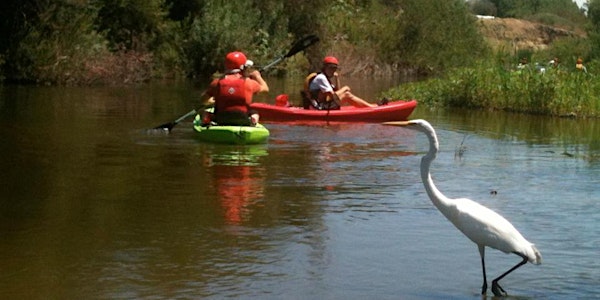 Sepulveda Basin_Los Angeles River Kayak Tours_2021SAT. & SUN.
TICKETS are NOW ON SALE FOR OUR 2021 KAYAK SEASON!! BOOK YOUR SUMMER FUN TODAY! Get your tickets early this season. Don't delay on planni
When and where
Location
Sepulveda Basin Wildlife Reserve (San Fernando Valley, near Encino) Burbank Blvd. at Woodley Ave. Los Angeles, CA 91436
About this event
With everyone's eagerness to resume activities, we recommend that you get your tickets early this season. Plan on making this your best summer ever. Paddle the LA River and experience this one-of-a-kind Los Angeles kayaking experience. 
Questions? Call (818) 221-5218. Ask about family and large-group discounts, or booking a private tour for a special event.
These are some of the best kayak tours and deals you'll find on the LA River! These urban kayaking guided tours have become one of those Los Angeles bucket list, must-do outdoor activities. Have some cool summer fun when you paddle the Los Angeles River in this outdoors recreational adventure. Whether it's rafting / kayaking, kayaking tours, a virtual expedition or safari you're after, this is what to do in LA. Great for Los Angeles residents and tourists alike.
WHERE: These guided kayak tours are within the "Sepulveda Basin Wildlife Reserve" area, which is the most natural, wonderfully green part of the river, and includes one of two official Recreational Zones. It's a leisurely, 2.5-mile flat-water paddle, with deeper water and few obstacles (as opposed to sportier other river sections we run near downtown LA). Here there are tree-lined riverbanks, and robust bird and fish populations. This segment of the Los Angeles River is within a large park in the San Fernando Valley, not far from neighborhoods like: Encino, Van Nuys, Sherman Oaks, Tarzana and Reseda.
WHAT: You'll paddle in your single kayak for approximately 2 1/4 hrs., with all basic equipment provided (boat, lifejacket, paddle, helmet), as you learn all about the LA River from our experienced boating staff: the watershed, the wildlife, the history and the politics of our hometown river. You'll pick up paddling skills and learn how to be safer around rivers. Plus, you'll have fun and get some great exercise along the way.
HOW: We run this trip as an "up & back" trip to avoid obstacles or waiting to get back to your vehicle. You'll park near the start (Burbank Blvd. @ Woodley Ave.), take a roughly 3-minute walk over a bridge to the river launch site, and then depart and return from the same riverside location.
WHO: LA River Expeditions is the original boating outfit on the LA River and the only one leading tours in both Recreation Zones. We are the group that, in 2008, paddled the 51 miles of the river to help win environmental protections for it under the Clean Water Act. Since then, as a California nonprofit, we've put 6,000+ people on the river in kayaks. We're proud of having contributed to our community's enjoyment and learning.
WHY: We do all this because we are avid kayakers and all-around river enthusiasts. Our experienced guides are the topnotch — they've got decades of collective experience running rivers. They've received professional training in safety and paddling skills, and maintain First Aid/CPR certification. For its river conservation efforts, LA River Expeditions is the recipient of the Green Paddle Award (American Canoe Association), the River Warrior Award (Resource Renewal Institute) and the River Hero award (River Network).
! NOTE that these trips are fairly leisurely and relaxed. This is essentially flat-water paddling, with a few slight currents and the possibility to play with a couple rapids if you choose to do so. There is often 90+ degree heat, so protecting yourself accordingly is important. There are boats to lift, but nothing too taxing. It's possible but not likely that you could flip your boat; you should dress as if you could get wet. These trips are okay for boaters of all skill levels; beginners are welcome. Do not sign up for this trip, however, if you have a medical condition that could be compromised by this activity, or if you're particularly sensitive to less-than-pristine water, or if you're over 230 lbs. (due to kayak stability and capacity limits — sorry.). Please be aware that there is a strict no-refund policy. 
We hope to see you out on the LA River soon!! Look further below for important FAQs.
See FAQs below to get your questions answered.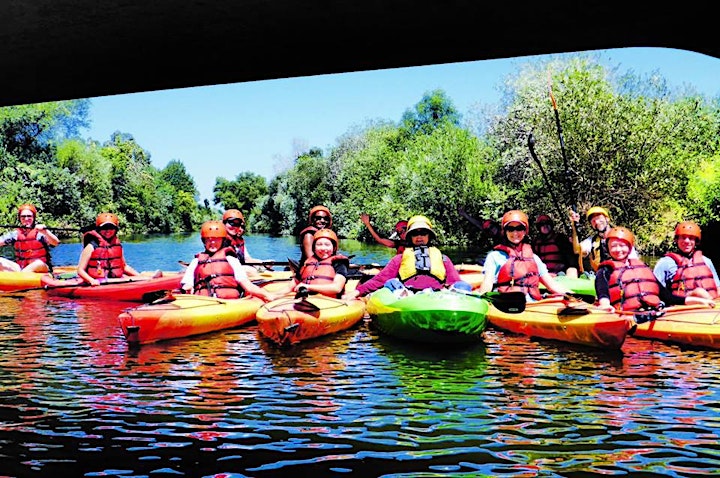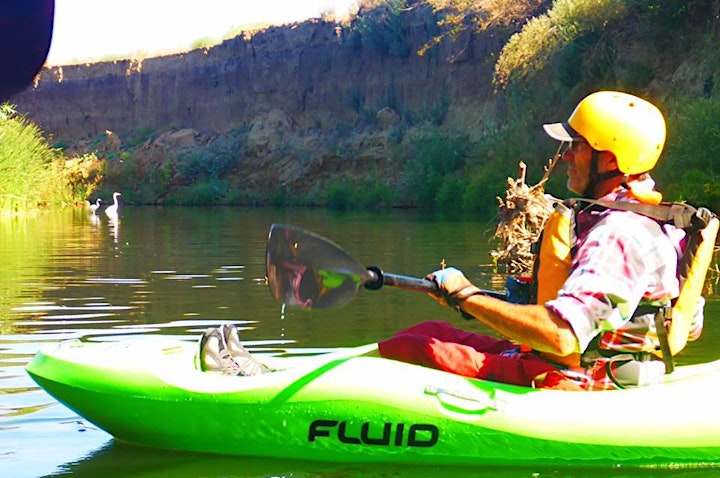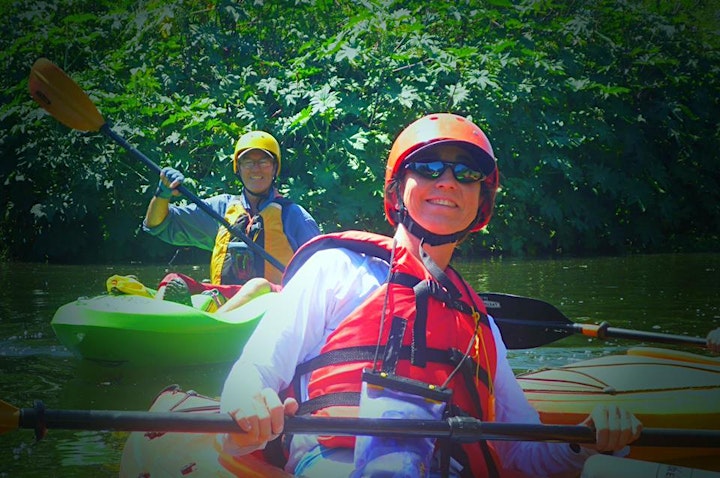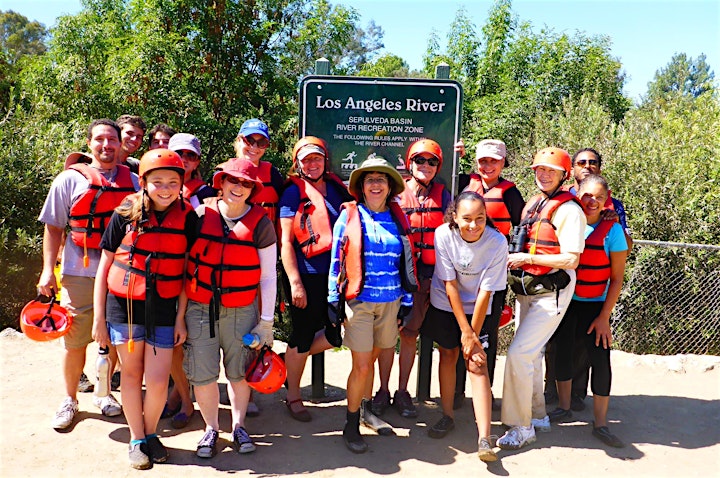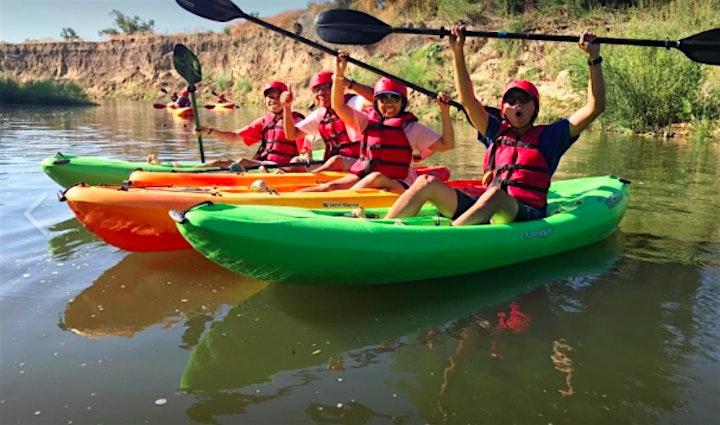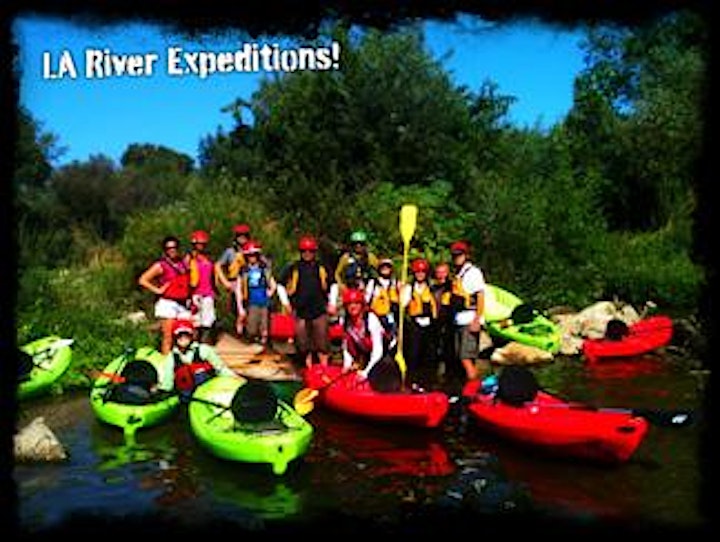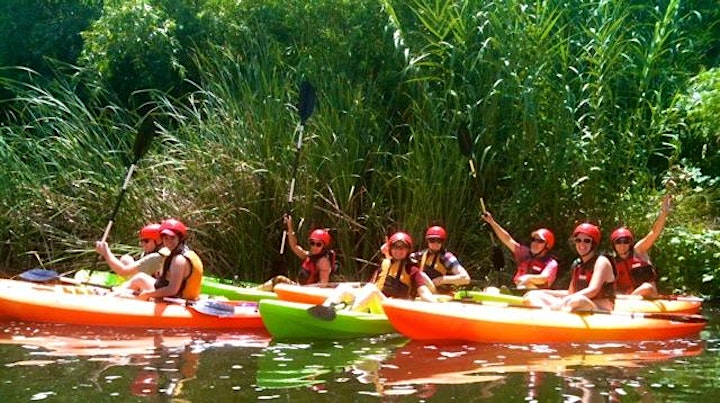 FAQs:
* What's the deal with this part of the river? This is the site of the original guided kayak trips, including the only parts of the river that have, at times, no concrete on the bottom or sides. This lush and peaceful section contains the river's best wildlife. This vibrant natural resource lends itself well to both kayaking and learning all about the river.  You'll come away with a whole new perspective on the nature that's right here within urban Los Angeles, whether you're a resident or tourist.
* Is it hot out there? Yes. It can be very hot during the summer. If you have particular issues with heat, or tenuous medical issues, this just might not be for you.
* Any age limits? This activity is usually doable for people 10 years and up (barring any extraordinary health or physical conditions).
 * Any weight limits? Yes, no more than 230 lbs., please, in this section of the river. The kayaks have weight capacity limits. Be sure that each person for whom you're buying a ticket meets this criteria. It's a stability/safety issue, so please respect that.
* How experienced do I have to be? The trip will require that you paddle your own kayak for about 2.5 miles. Beginners are welcome. Our staff will work with you on your paddling and boating skills.
* How's the water quality? The LA River, like most urban rivers, suffers from pollution. Incidental contact with the water (i.e., hand to mouth, ingesting it) is to be avoided; mainly, common sense should be used. Still, the river is deemed safe for this type of activity by state and city authorities who do water monitoring. LA River Expeditions has not had any notable reported health incidents due to river water since we began running tours in 2011 (that's roughly 10,000 people). Nonetheless, we take safety seriously and have ample supplies of anti-bacterial sanitizers plus fresh water to wash off with at the end of your tour. If water monitoring reveals unusually high levels of bacteria, tours will be canceled. Starting in 2018, the new go-to site for testing safe water quality is the City's LA Sanitation website at: https://bit.ly/2IBTqz4. Feel free to check it out if you have any further questions. Heal the Bay recommends kayaking on the river but also to keep an eye out for the weekly reports they publish.  
* What's your Covid-19 policy? We may not all agree on proper pandemic policy, but we ask for your patience in striking a balance between health guidelines (we mostly use County recommendations) and safe outdoor activity (which is not significantly risky, according to the CDC). Masks will be mandatory in & around the check-in area near the truck; please mask up as you near the site. Masks will also be mandatory during the pre-tour Paddling/Safety Demonstration. You may step away from the group if you wish to remove your mask, but should stay within shouting distance so you hear timely group instructions. Once you're on the river, you may remove your mask, though we ask that you respect the regular 6-foot distance courtesy between boats throughout the tour. We give our equipment a wash-down between tours, and a more thorough wash at the end of each weekend; however, we encourage you to bring & use whatever cleaning supplies will make you feel at ease and safe during your tour.
* What about parking in the local neighborhoods? There's really only one place to park and it has plenty of room for vehicles. It's not far from the kayak launch site.
* What if my trip is canceled? The trips are sometimes canceled due to poor weather. If that happens, we will work with you to reschedule you for another tour as soon as possible. 
* What's your cancellation policy? Sorry, but once you purchase your tickets there are no refunds. Being late or getting lost is on you. However, if you know ahead of time that you'll be unable to attend your tour for whatever reason, we recommend any of these options: 1) Tickets are 100% transferable, so you could sell them to another person 2) You may use our Facebook page to look for people who are interested in tickets, or post your tickets as available for sale (sometimes it helps to offer a discount) 3) You can always gift your ticket(s) to a friend, family member or work colleague so that someone can enjoy the experience so the tickets don't go to waste.
* OK, so how do I get tickets?  If you're excited to experience this novel adventure, then we'd love to have you aboard! Use this site to select a Date, then click on Tickets and follow the prompts for payment. If it says "Sold Out" then you simply look for the next available date.
* After I get my tickets, how do find out everything else I'll need to know? You'll be able to download our "Welcome Kit" immediately if you like, so you can be prepared. It contains info like what to bring, exactly where to meet and when, written directions and maps, and also a couple of waivers you'll need to sign and bring with you. Also, we mail out that same our Welcome Kit in an email roughly a week prior to your tour.  
We hope to see you out on the LA River soon!!