September Surrender Dallas, Texas September 11-14th 2014

Thursday, September 11, 2014 at 12:00 PM

-

Sunday, September 14, 2014 at 1:00 AM (PDT)
Event Details
---
September Surrender 
The Night Hotel Dallas, Texas
September 11th-14th, 2014
(Be sure to watch the website for updates about our performers, guest appearances, vendors and a complete class list.)
A unique & one of a kind hotel & night club venue, 80+ classes and hands-on workshops, a 10,000 square foot vendor area filled with kinky pervertables and erotic clothing, stage performances by some of the biggest fetish and burlesque stars, 2 separate night club venues with complimentary shuttle service to and from, 3 nighttime fetish events, two latex pool parties, 2 onsite play-parties and an after party at Dominion Dallas that's surely going to blow you away.
Let your alter ego take hold........Surrender the night.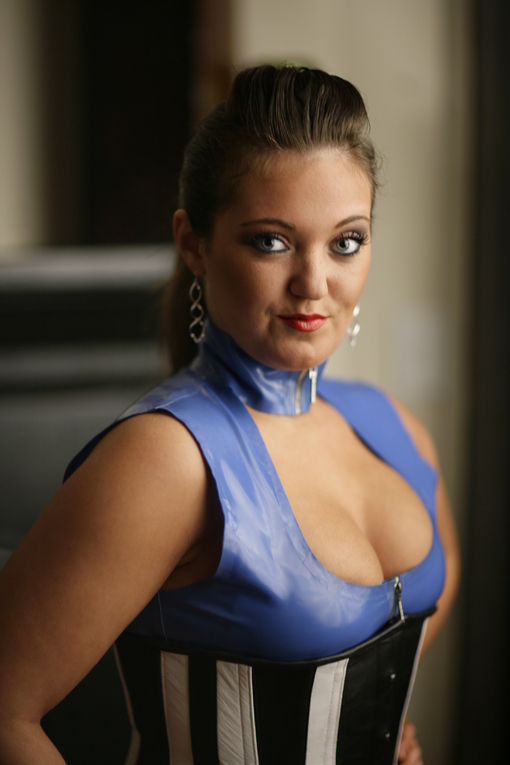 September Surrender's creator Matiresse Renee, a lifestyle and professional Dominatrix in Dallas, Texas has been involved in the BDSM community as an educator, a party planner, a dungeon owner, and an organizer of various BDSM events across the USA for a number of years, she has traveled the world attending events and has reached the same conclusion each time.... there are things that everyone, including her, LOVED and there are things that really didn't set off emotions, create an atmosphere or add spice to the event. With the explosion of 50 Shades of Grey, some of entertainments most notable stars wearing latex on stage, to premiers and sex positive articles being published in main stream media BDSM and fetish is becoming more open and accepted and not underground anymore. With these recent additions more people are seeking out online forums, groups of likeminded kinksters, local dungeons, events to attend and learn new skills and experience new things on websites such as FetLife and even more mainstream social networking such as Twitter and Facebook.
"Everyone wonders why in the world would someone want to experience these things, experience pain or experience being restrained and the simple answer is 'A controlled sense of fear.' It's the same reason you get on the ride at Six Flags, you're scared, and you know that something could go wrong and you could be hurt but it's that fear that makes it fun. The mind is conditioned to enjoy a controlled sense of fear. Kink is coming out of the shadows. It's time for everyone who has an interest in it to experience it in a healthy, positive and enlightening way. It's not about sex or abuse it's about the mental response to a feeling. The smell of leather, the look and feel of latex, the loss of control or any number of fetishes or 'Kinks' as many in the lifestyle refer to them. Studies have shown that more than 1 in 5 people have used some form of bondage and or restraints in the bedroom and even more than that have engaged in power dynamics behind closed doors. It's time to share this wonderful world that has brought so much joy to my life with those that are interested, and do it in a classy, stylish way at September Surrender." - Maitresse Renee
September Surrender's vision is to take the best things about kink and BDSM and create a totally unique and one of a kind event format in Dallas, Texas. Attending a BDSM event in Surrender's eyes is supposed to bring emotions to the surface, it's supposed to excite and tantalize the senses, you're supposed to enjoy yourself, learn new techniques from experienced players, discover new fetishes & things about yourself and most importantly have a good and memorable time.
With each event and convention Maitresse Renee has attended she's either loved the parties that were held and hated the classes or loved the classes and hated the parties and performances. It's been very hard to find a "Happy medium" and mix that excitement along with the much needed BDSM education. That doesn't mean it hasn't happened, it's just not the norm with a kink convention. September Surrender at the Night Hotel in Dallas, Texas is her solution to this problem. September Surrender is centered around a venue that will excite you, help release your "Alter ego" and best of all nurture those emotions and feelings that make kink fun. Mix those aspects of Surrender with quality instructors, top notch fetish performances, thriving nightlife, interesting and fun attendees from all over the world and you have the ingredients for something truly epic.
Don't believe us? Take a look at the venue photos below!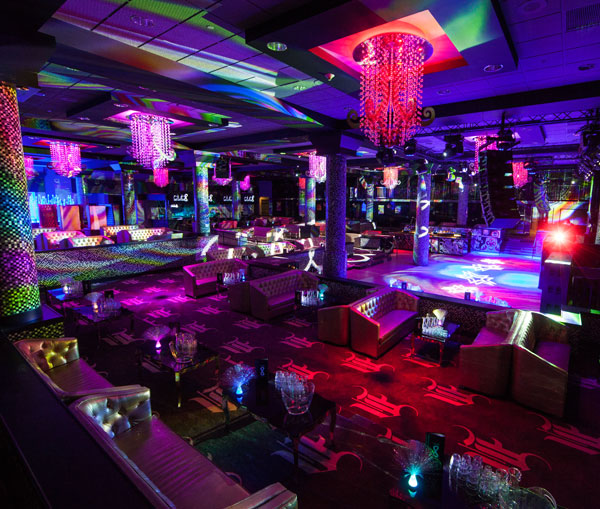 Surrender begins on September 11th with registration opening at noon and an orientation in the main lobby of the Night Hotel at 5pm where Maitresse Renee the mastermind behind September Surrender and her team will share some insight into the event, the fetish community as a whole, what to expect at Surrender and take questions from the attendees. It's a chance to get to know the other kinksters attending the convention, the staff of Surrender and ask any questions you may have. Don't forget to make connections with the other attendees while you're there as well! You're going to meet people from all walks of life, all sexual orientations, all levels of income with all sorts of kinks!!! The different people and the connections made at an event are more often than not the start of lifelong friendships. At the conclusion of the orientation there will be a short break for everyone to enjoy dinner, change into their opening ceremonies attire and catch one of the 2 complimentary shuttle limos to the world famous Lizard Lounge in Deep Ellum, Texas. The Lizard Lounge among being one of the longest running nightclub venues in Dallas is the host of one of the largest shock and awe type fetish events there is- The annual Dallas Fetish Ball. The Lizard Lounge and The Church Dallas are no stranger to kink events and wild out of this world parties. As an added bonus to the opening ceremonies Surrender VIP's will have access to the 2nd floor balcony at the club to catch all the shows and performances in style!
Friday Sept 12th is the first full day of Surrender. The vendor area opens at 10:00 am and our seminar series sponsored by Kinkacademy.com starts at 10:00 as well. For those of you who are new to kinkacademy.com - It's the largest collection of online BDSM instructional material on the planet! Kink Academy is founded by Princess Kali AKA Kali Williams from http://www.erotication.com/  http://www.passionateu.com  and www.kinkacademy.com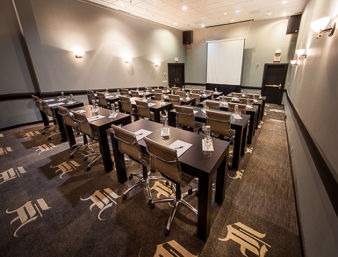 As a special thank you to our attendees and supporters each full event attendee will be given an complimentary 30 day pass to KinkAcademy.com to continue learning new skills on top of what they take home from September Surrender!
Friday marks the official opening of the vendor area at Surrender. The Vendor Faire is a "Come and go as you wish" area where our vendors from all of the world will be more than happy to give you an explanation or even a hands on demonstration of their toys and our fashionistas will be delighted to help fit you into something spectacular for the weekends festivities. Surrender has really put a lot of effort into bringing you the best of the best in regards to vendors. It's not your typical vendor area; Surrender is more of a Vendor Faire. Not only are the vendors all extremely unique, there are stage performances and demos throughout the day and interactive contests and prizes.
The seminar series runs throughout the day Friday- Sunday (Class schedules will be posted online on the website as well as in your welcome bag you will receive at registration with your lanyard and name badge) We STRONGLY encourage you to take advantage of the seminars being offered at Surrender! They are one of a kind and are separated into 4 different tracks depending on what you are most interested in. Does learning the power exchange dynamic and basics for BDSM intrigue you most? Maybe you want to learn rope bondage and advanced photography? Or perhaps you have a latex fetish and a love of kinky medical play? There will be something for everyone! You are of course welcome to mix any of the tracks and as many classes as you wish but for those newer to kinky conventions we packaged the seminars and workshops into a sort of "Outline" we refer to as a "Track" that will hopefully help guide you to a broad range of instruction and information from our wonderful presenters. If at any time you have any questions feel free to ask someone wearing a September Surrender Staff Shirt, any of the vendors or any of the class presenters everyone will be more than happy to help you during your journey and offer a little insight! And again you're more than welcome to attend any classes you wish.... we just wanted to offer a hand and some guidance to those that may be attending their first convention.
Surrender
The "Surrender" track is geared towards those with a love and enthusiasm with bondage and loss of control. Different bondage positions, ideas and techniques to invoke that sense of "Controlled fear" Maitresse Renee spoke of above are the main catalyst in this seminar series.
Indulgence
Dressing and indulging in hidden pleasures is a core part of BDSM to many. The love of a latex straight jacket, a hidden desire to experience forced crossdressing or feminization, the Indulgence track at September Surrender is geared towards those with particular fetishes they like to indulge in that are more of a public display perhaps at a fetish event or at a play party.
Seduction
That come hither look, the pillow talk that happens between partners and the emotional bond you gain when learning someone's deepest darkest secrets. Seductions is about learning the mental side of BDSM and how it relates to a play-partner, a husband and wife or a fellow kinkster. Seduction is about the romance and mental aspect behind D/s (Dominance and submission) Think of this as the way 50 Shades of Grey SHOULD have been written.
Ties That Bind
Bondage Expo Dallas is now well on its way to becoming one of the premier bondage events in the US and we are lucky enough that it's hosted right here in Dallas, Texas! The rope community within the BDSM community is without a doubt one of the fastest growing there is, there is a huge following, and a huge love of quality bondage teachers and photographers. Ties that bind is geared towards the rope bondage enthusiast. Do note though….. rope has been proven to be a GREAT gateway to other kinks! Just because you think you might not enjoy it or are afraid it might be too hard don't be afraid to give it a try! We've gone to great lengths to bring you some of the best BED presenters and performers there are!
In addition to the 4 tracks above there is a plethora of classes from everything to do with single tail whips, medical play, the psychology behind D/s, slave positions and protocol training, the list literally goes on and on…… the lineup is quite impressive and September Surrender is very proud to bring these awesome presenters to Dallas, Texas to partake in this historic occasion.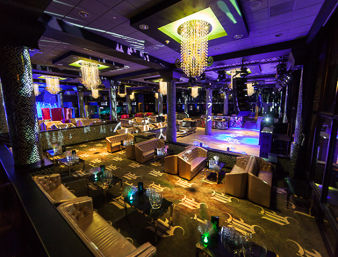 Friday night at the Night Hotel marks the first of two night club events being hosted at the venue as well as an onsite play party. Once the vendor area has closed and classes have concluded for the day we'll take a break for dinner and a bit of rest before the night time events begin. Doors to Club 8 at the Night Hotel open at 9pm as well as the doors to our onsite play-party located in the hotel.
Club 8, the host venue on Friday night is one of the nicest clubs in all of Dallas. It's the main attraction to the Night Hotel as the entire hotel surrounds this massive venue centrally located in the main area. Club 8 alone has just finished renovations to the tune of over 14 million dollars... just in sound and lighting! Not including the fantastic makeover the Night Hotel has undergone the last year! The pictures of the hotel and nightclub speak for themselves…
Tables and bottle service are available on both Friday and Saturday night and are recommended as we fully expect the evening to be a packed house! Stage performances will begin at 10:30pm and we have some exciting shows lined up for you!!!
Play Party- Friday night we will have an onsite play party at the Night Hotel. You are more than welcome to spend some time mingling in the main areas, Club 8, the play party or all of it and experience everything Surrender has to offer at night. We fully encourage everyone to visit all the different activities and environments! That's one of the biggest perks and attractions of having the Night Hotel be the official host of September Surrender!
The Dungeon furniture for the play-party is being furnished and sponsored by Dominion Dallas, Maitresse Renee's private BDSM studio and will have some of the most unique and one of kind furniture you will ever see at a party! There will be many one of kind pieces in the fully decorated and lit dungeon! In addition to the Night Hotel going all our for their main areas the sound and lighting in the ball rooms as well as the classrooms is of the same caliber as the nightclub itself.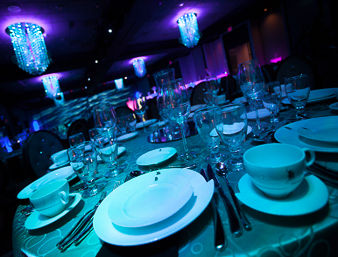 Many seasoned kinksters who have attended "Onsite" play parties in the past will undoubtedly have a different feeling about the "Ambiance" at an onsite party and we want to assure you.... this will be NOTHING like what you've encountered in the past! All the stops are being pulled to put together something very different and something Surrender feels is in line with the style and grandeur of the event. As you can see from the photo above even the ballrooms and classrooms at the Night Hotel are above the cut with lighting and sound. Surrender's parties will be unlike anything youve encountered!
For those of you curious about BDSM play, you're more than welcome to just watch, learn and experience... not at all required to participate so don't worry!! Don't be afraid to experience new things.... "Surrender! Let your alter ego out at night!"
Saturday will once again begin with the vendor area opening at 10:00am and the seminar series kicking off at the same time. Throughout the day we will have on stage performances and demos in the vendor area as well as the various competitions including Bondage Wars, and two different beauty pageants for all to watch cheer their fellow kinksters on!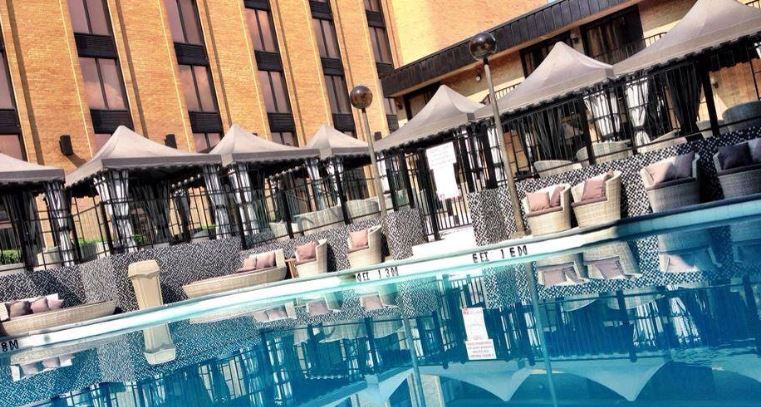 Saturday afternoon at 12:30pm we will have the first of two latex pool parties! Lunch is available on the pool deck; we have aerial silk shows planned, a guest DJ, cabanas available with bottle service, as well as fetish performances planned for the pool party fun!
The pool party ends at 3pm. You are of course not required to leave until you wish to and you are not at all required to show up in head to toe latex to keep with the theme but we do hope you'll partake and add to the atmosphere! The pool parties are one of the biggest attractions and most fun at fetish events like this! Truly epic!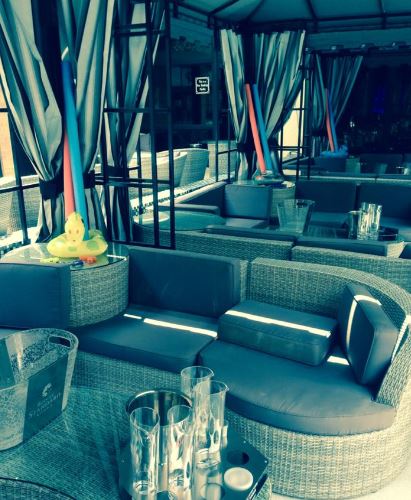 If you would like a Private Cabana with bottle service at Saturday or Sunday's Latex Pool Parties they are available for rent for $200 which includes your own cabana hostess as well as your choice of premium liquor.
Saturday night at Club 8 inside the Night Hotel will be the main event and the finale from our performers.... as well as a special guest you don't want to miss it!!! We've been hush hush about this development and addition to September Surrender for quite a while now while we've been wrapping up negotiations….. we can't say anything just yet but this is going to knock your socks off!
Doors open at 9pm and shows begin at 10pm.
Saturday play party

The 2nd of our 3 play parties will take place at the onsite dungeon Dominion Dallas is sponsoring. Doors open at 9pm and the dungeon will be open late until 3am as we know everyone will want to catch the performances on stage Saturday night and will want to mingle with their new kinky friends
SUNDAY THE FINAL DAY OF SURRENDER!
Be sure to catch the stage demos in the vendor faire, get any last minute toys from the vendors, chat with any performers you wanted to meet and thank the presenters for coming to Dallas to help put on such an amazing event!
Vendor area as well as classes kick off at 10:00 am and the final latex lagoon pool party kicks off at 3:30pm and ends at 6:30pm.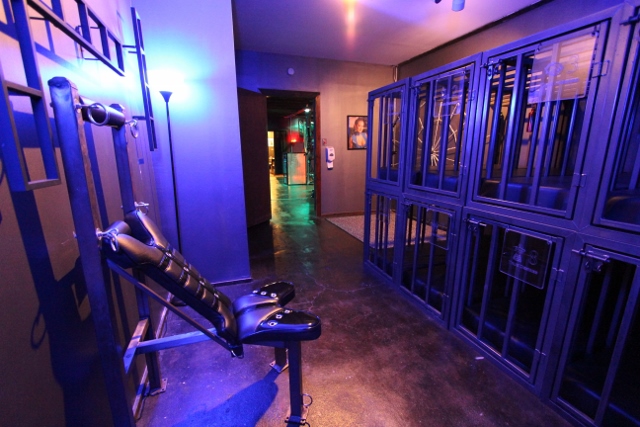 SUNDAY NIGHT AFTER PARTY
Dominion Dallas is hosting an after party AT DOMINION DALLAS. A complimentary shuttle limo will be provided to September Surrender attendees. Shuttles start at 8pm from the hotel and will run until 1am FREE OF CHARGE.
Night Hotel
September Surrender has negotiated AMAZING hotel rates! A kinky group to take over a hotel is a very rare thing... for that hotel to be one as posh and modern as the Night Hotel is awesome..... for them not to price gouge and charge an outrageous premium is absolutely astonishing!!
We are very exciting to have the Night Hotel and Club 8 as the official venue for September surrender!
Hotel Room Package Rates-
4 Night stay (Thurs-Sun) at the Night Hotel- $346.00 plus taxes

3 Night stay (Fri-Sun) at the Night Hotel- $282.00 plus taxes

2 Night stay (Fri & Sat) at the Night Hotel- $232.00 plus taxes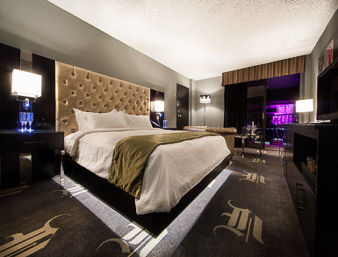 King Corner Suites
If you would like to reserve a suite at Surrender the room rate is $129.00 plus taxes per night with a 3 night minimum. The king suites have a larger floor plan, are a corner room and have mini refrigerators inside as well.
By the way...... those lights under the bed above ..... YES they're blacklights!
Club 8 Balcony Suites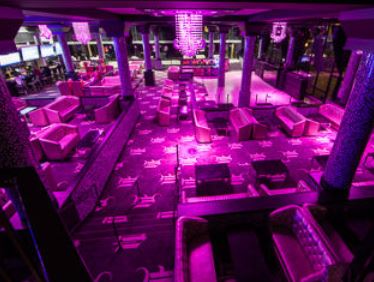 September Surrender has a limited number of 2nd floor balcony suties overlooking Club 8 which hosts the orientation and meet & greet, Bondage Wars Competition as well as the Friday & Saturday night Fetish Balls. These rooms are literally INSIDE the club as you can see from the photo to the right. You are a part of the party from your own balcony, enjoying no lines, your own setting, your own mood or perhaps a little "Privacy" once your "Alter ego" sets in.
One of a kind setting & the view of the stage will be unbeatable on Fri & Sat!!!
 

Thursday- $99.00

 Friday- $300.00

 Saturday- $349.00

 Sunday- $99.00
4 night minimum stay in the night club suites
BALCONY SUITES HAVE AN EXTREMELY LIMITED AVAILABILITY.

Coming in early or staying after September Surrender at the Night Hotel?
Not a problem!! If you have booked your package above the Night Hotel room rate for 2 days prior to September Surrender and 2 days after for event attendees is $80.00 per night plus taxes as a thank you for attending.
ROOM RESERVATIONS-
Night Hotel Dallas
2645 LBJ Freeway, Dallas, TX 75234 US
972-243-3363
Group Discount Reservation Code- "Surrender"

Note- The ONLY way to book a room for this hotel during that week is through September Surrender as we have pre-purchased the entire venue for the September Surrender event in hopes of having a 100% kinky take-over. The Night Hotel will not honor reservations from Priceline and other discount travel sites September  11-14th 2014.
Questions shoot us an email! We're more than happy to answer anything that you might want to ask and we do our best to respond within 12 hours. If it's longer ... it won't be much longer! Promise!
Surrender to your alter ego......

When & Where

Night Hotel - North Dallas
2645 Lyndon B Johnson Fwy
Dallas, TX 75234


Thursday, September 11, 2014 at 12:00 PM

-

Sunday, September 14, 2014 at 1:00 AM (PDT)
Add to my calendar
Organizer
September Surrender
BE SURE TO SCROLL TO THE **VERY** BOTTOM OF THE PAGE FOR INFO AND SPECIFIC EVENT DETAILS
September Surrender
Dallas, Texas at the Night Hotel
September 11th-14th
September Surrender is one of the largest BDSM & Fetish conventions in the USA. Founded by Maitresse Renee, a lifestyle as well as professional Dominatrix. September Surrender is an entire hotel take over that has a packed schedule of activities and performances including a 10,000 square foot vendor area, 3 night club events at two separate venues with performances from some of the biggest fetish and burlesque names in the industry as well as a seminar series sponsored by Kinkacademy.com with more than 80 unique and individual classes ranging from begginers curious about adding a little spice to their love life all the way to the seasoned kinkster wanting to learn advanced techniques for the bedroom or the local dungeon. Surrender also boasts two fully stocked dungeon venues to practice everything you've learned throughout the weekend, two latex lagoon pool parties and an afterparty to cap off what's sure to be a weekend to remember!
Let your alter ego take hold..... Surrender the night!
September Surrender Dallas, Texas September 11-14th 2014