Description
Supper Club at Haven's Kitchen is an opportunity for some our favorite chefs to join us for an evening and throw a pretty stellar dinner party. We provide a lovely space and great company. The chefs provide an hour of cocktails and canapés followed by an inspired four-course meal tailored just to this evening. You sit back, relax, and enjoy.
Sounds like an equation for a perfect New York evening. Please join us.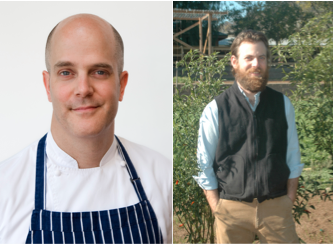 Jonathan Benno Lincoln Ristorante
As chef of Lincoln Ristorante, Jonathan Benno launches his solo effort in a career that has spanned two decades of fine dining. Lincoln Ristorante is a new modern Italian restaurant at Lincoln Center, which opened in September 2010. For Benno, who was the chef de cuisine at Per Se for six years, this was the restaurant stage he had always dreamed of.

Quality and integrity have been the hallmarks of Benno's career and are consistently demonstrated in his passion for sourcing the finest ingredients. Meticulous by nature and precise by training, Benno has unparalleled experience earned working in the nation's finest kitchens.

Benno attended the Culinary Institute of America in Hyde Park, NY and worked at the Mayflower Inn under Chef John Farnsworth. During his studies, Farnsworth encouraged Benno to regard education as a lifelong process.

After graduation, Benno relocated to the Bay Area, where he came to appreciate the bounty of fresh, locally grown ingredients available. He worked under Michael Mina at Aqua, and later moved to the Napa Valley to join Keller at The French Laundry.

Keller became an important influence in Benno's life, helping to shape his philosophy about food and dining and instilling in him the drive to settle for nothing less than excellence. While California played a pivotal role in his evolution as a chef, Benno wanted to return to the East Coast to work in the kitchens of Manhattan.

Benno spent time at Daniel, then in France at Auberge du Vieux Puits, returning to New York as poissonier at Les Célébrités in the Essex House. He then joined Tom Colicchio at Gramercy Tavern where he spent two years in the kitchen, and one year in the pastry department. He opened Craft as a sous chef with Marco Canora, and finally returned to The French Laundry in 2003 as sous chef to prepare for the opening of Per Se in 2004.

At Per Se, he oversaw all aspects of the kitchen, working directly with Thomas Keller to create a distinctive brand of American cuisine and service. Under his supervision, the restaurant consistently received the highest of accolades from both national and international press. At launch, Per Se received a four star review from The New York Times. In 2005, London's Restaurant Magazine recognized Per Se as the highest-ranking new entry, and seventh in their global listing. Per Se also received the award for "Best New Restaurant" from the James Beard Foundation. In 2006, Food & Wine recognized Benno as one of ten "Best New Chefs" in the United States. Michelin Guide has given Per Se its most prestigious honor, a three star rating, every year since launching its New York City edition.

Jonathan Benno lives in Manhattan with his wife, Elizabeth, and young daughters.
Farmer and Chef Scott Boggs directs farming at Madava Farms in Dover Plains, NY, the home of Crown Maple Syrup. Founded in 2010, 800-acre Madava Farms is slated to open to the public beginning this fall. Offerings will focus on engaging visitors in culinary and nature experiences on the forested farm through tours, tastings, farm to table dining and special events. Scott began the culinary expansion of Madava in spring 2012, adding a 4 acre commercial scale chef's garden, featuring an eclectic variety of specialty produce.
Most recently, Scott served as the Director of Agriculture for New York City's Biergarten LLC, which includes The Spotted Pig, The Breslin and The John Dory. Scott originally hails from the west coast, where he began his culinary career following graduation from Johnson & Wales. It was at Thomas Keller's The French Laundry in California's Napa Valley where an early passion for growing and raising food was further fueled by an opportunity to work outside the kitchen and serve as The French Laundry's culinary gardener.
Scott was next recruited by Lee Hudson to help develop and manage Hudson Ranch, an offshoot of the famous Hudson Vineyards in the Carneros region of Napa. Through the ranch, Scott diversified Hudson's agri-presence within the region by growing specialty fruits and vegetables while pasture raising livestock including pigs, fowl and cattle. With Madava Farms, Scott has found a professional home, expanding the image of the contemporary farmer while continuing to influence both the farming and culinary fields.
Organizer of September Supper Club featuring Jonathan Benno and Scott Boggs