Description
We will be discussing:

Stable Homes Federal Way & Washington Tenant Rights Advocacy Opportunities
Comprehensive Industrial Lands Plan & the Interbay Armory
Homeless Bill of Rights
Seattle Fall Budget Priorities

Residential Infill, Green Zoning and HB 1923 considerations

We will break into working groups to come up with a realistic action plan and assign roles for the next 6 months of work.

Bring your laptop, your laptop charger and your best ideas for how we can make a difference without burning out.
Room is on ground floor, no stairs. Please do not wear strong scents. Accesible bathrooms provided. Food and refreshments provided... you may also bring your own food. No Alcohol permitted in the space. Space is located to the left off the plaza with the chess board across from the movie theater. You want to go all the way down to the left to the last door, that's the Apartment Building community room.
1 pm Ice Cream Social
Vegan & Gluten Free options will be provided. Please feel free to bring your own snacks and non-alcoholic drinks to share
1:15 pm Speakers
2 pm Working Groups
3 pm Report Back & Next Steps
3:45 Meeting Cleanup - Every please help with clean up, if you are able.
---
Earlier the same day ...
130th/145th Station Area Planning Community Workshop
by City of Seattle - Office of Planning and Community Development
Sat, September 28, 2019 9:00 AM – 12:00 PM
North Seattle Church of the Nazarene, 13130 5th Avenue Northeast, Seattle, WA 98125
https://www.eventbrite.com/e/130th145th-station-area-planning-community-workshop-tickets-67532103339
RSVP separately at the link above. If you attend this morning event, be aware that current residents are organizing around this vision and you should take your lead from them in terms of their vision.
Connect with them https://www.facebook.com/130thStLINK/
---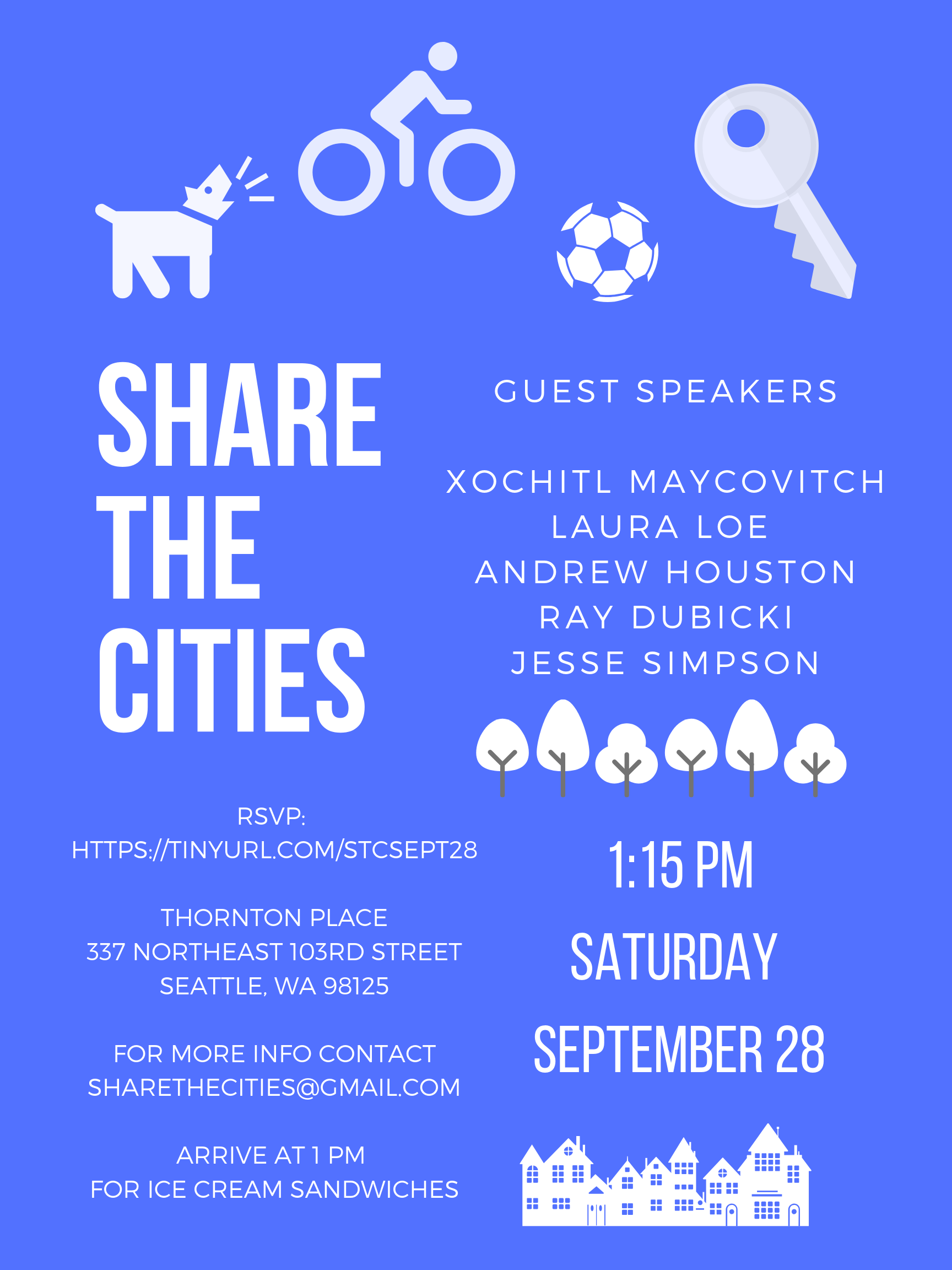 Questions? Email sharethecities@gmail.com