Event Information
Location
Fado Irish Pub
808 7th St NW
Washington, DC 20001
Description
September ICT4Drinks in DC - mEducation Edition

USAID will host the Mobiles for Education Alliance International Symposium on September 5-6. Pretty much every global thought leader in educational technology will be in Washington DC to explore cutting‐edge intersections between mobile technologies, education, and development.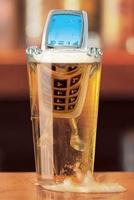 This is your chance to join the conversation, find new inspiration, and draw deep conclusions as we enjoy sweet libations with Washington's largest tap beer selection.
So please join your ICT4D & ICT4E colleagues for...
September ICT4Drinks in DC
mLearning Edition
Thursday, September 6th, 6-9pm
@ Fado Irish Pub
808 7th Street NW
Washington, DC 20001

---
Are you a technology or development professional in DC who would love to converse with your peers in an informal, after-hours setting?
Then be sure to join us for ICT4Drinks - the Happy Hour for technology and development professionals. We meet after work for lively conversations at the intersection of technology, development, and merriment.
If you'd like to join us, but can't make it, be sure to sign up for ICT4Drinks invitations.

Date and time
Location
Fado Irish Pub
808 7th St NW
Washington, DC 20001