September ICG Real Estate 1-Day Expo
When and where
Location
South San Francisco Conference Center 255 South Airport Boulevard South San Francisco, CA 94080
Description
ICG's Real Estate 1-Day Expo
Saturday, September 12th from 10:00am-6:30pm

WHEN: SATURDAY SEPTEMBER 12TH FROM 10:00AM TO 6:30PM
WHERE: SOUTH SAN FRANCISCO CONFERENCE CENTER
NEAR SFO
255 SOUTH AIRPORT BOULEVARD
SOUTH SAN FRANCISCO, CA 94080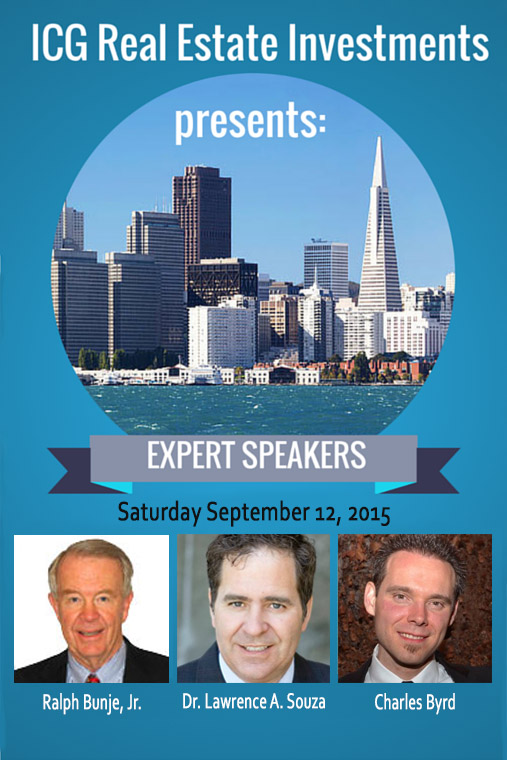 EXPERT LECTURES:

Ralph Bunje, Jr., owner of 1031 Strategies & Services Group - 1031 exchanges in depth, including REVERSE EXCHANGES and tying exchanges to home exemptions as part of a greater strategy.
Dr. Lawrence A. Souza, DBA, CRE, FRICS, CCIM - Capital Real Estate Markets and CAPITAL FLOWS. Economic view of what will drive real estate markets in the US and in what direction. CRUCIAL ECONOMIC DATA to know!
Charles Byrd, owner of Byrdword.com - Using Evernote as the foundation for sound REAL ESTATE RECORD AND STRATEGY MANAGEMENT. Leveraging Evernote to get your business and life organized and efficient.
New markets and updates on all markets. Special deals. Extensive Q&A. Roaming experts. Incredible cash-flow opportunities!
FOR MORE INFORMATION ABOUT ICG REAL ESTATE INVESTMENTS:
CALL: (415) 927-7504 or (800) 324-3983
E-mail: info@icgre.com or visit www.icgre.com.
From one of our investors:
"I have been investing with ICG for fifteen years, and the return on my investments has been consistently in double digits, and beyond in some cases. Adiel Gorel's "in the trenches" experience and expertise has been invaluable over the years, dealing with the ups & downs of real estate markets as well as my own family's growth and life transitions. I invested most recently in the Oklahoma market, and Adiel's hands-on guidance resulted in yet another smooth investment transaction. I highly recommend him!"

---David Talby