The presentation will discuss the ground deformation mechanisms that caused the observed movements and lessons from this case study.
About this event
FOUNDATION PERFORMANCE OF MILLENNIUM TOWER IN SAN FRANCISCO, CALIFORNIA
Jonathan P. Stewart, Ph.D., P.E
University of California, Los Angeles, CA
jstewart@seas.ucla.edu
Presentation/Dinner will be outdoors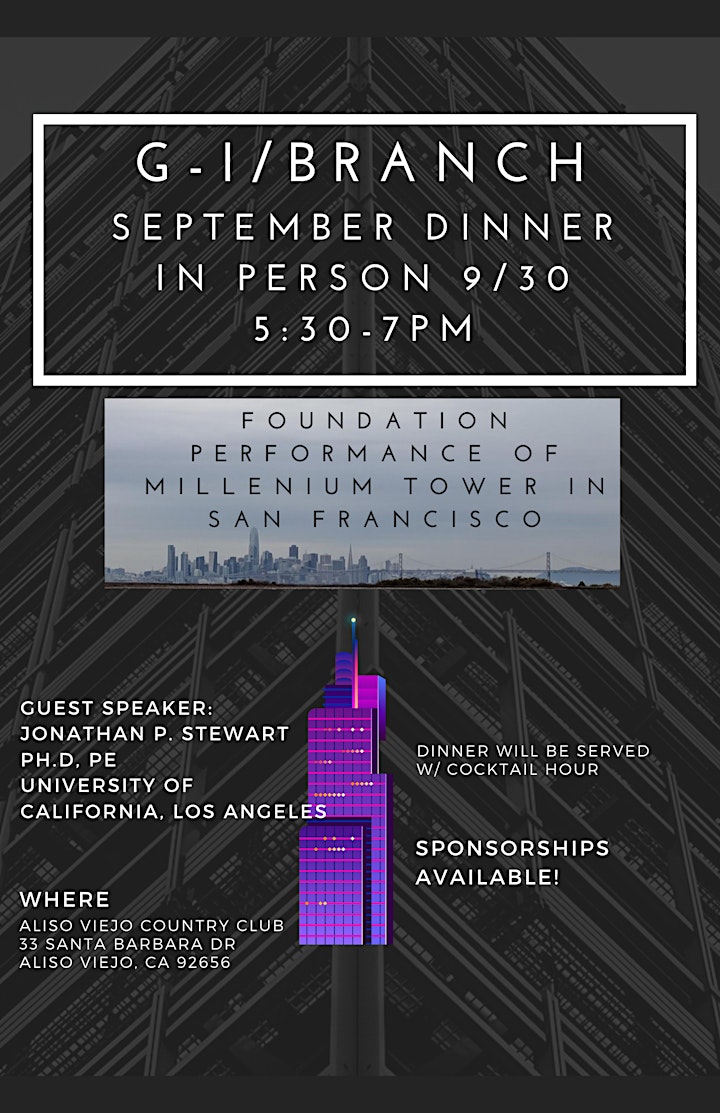 The Millennium Tower is a 58-story reinforced concrete building that was constructed in San Francisco, California between 2005 and 2009. The Tower is founded on an embedded pile-supported mat with pile tips bearing in dense marine deposits that overlie an over-consolidated marine clay layer known locally as Old Bay Clay. This clay layer experienced stress increases from Tower self-weight and from multiple episodes of de-watering between 2006 and 2018 at the Tower site and neighboring sites. Settlements of the Tower foundation have been measured since 2006 and lateral deflections of the Tower have been inferred and measured since 2009. Available information on this case history include geotechnical site conditions and data from a monitoring program that tracked foundation settlements, Tower tilt, groundwater levels at the Tower site, and ground inclinations over time. In this presentation, the speaker will discuss the ground deformation mechanisms that caused the observed movements, the degree to which the movements can be predicted, and lessons from this case history for the design of deep foundations for tall buildings in San Francisco and geologically similar regions.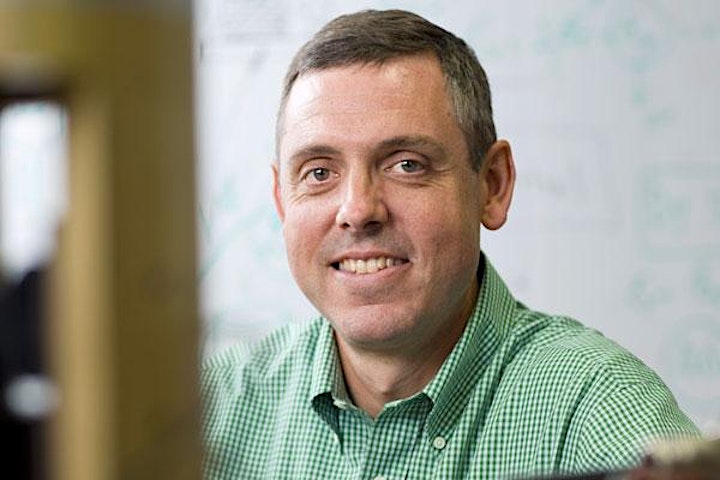 Jonathan P. Stewart is a Professor in the Civil & Environmental Engineering Department at UCLA, where he has been a faculty member since 1996. His technical expertise is in geotechnical earthquake engineering and engineering seismology. The work of his research group has impacted seismic guidelines and policy nationally and globally. Examples include the US National Seismic Hazard Model and recommended procedures for the seismic assessment of structures. He is a former Chief Editor for the Journal of Geotechnical and Geoenvironmental Engineering and Earthquake Spectra. He currently serves on the EERI Board of Directors, University of California Office of the President Seismic Advisory Board, USGS National Seismic Hazard Model Steering Committee, and Co-Chair of GEER, among other positions. A registered Professional Engineer in California, he maintains an active consulting practice, advising private and government entities on issues in geotechnical engineering and earthquake engineering.
Covid-19 Event Policy: Health and safety of everyone in our community is of the utmost importance for the ASCE OC Branch and we will host this event in accordance with federal, state, and local COVID-19 safety protocols that are in effect at the time of the event. For additional safety precautions, the event will be held outdoors and limited to a maximum of 150 people. Face masks and social distancing are generally recommended, regardless of vaccination status. In addition, all attendees should perform a self-check and be free of flu-like symptoms the day of the event. All attendees must sign the Event Release and Waiver of Liability prior to admission. Temperatures will be checked at the door and any attendee with 100.4°F temperature or greater will not be admitted into the event. If an attendee has been in close contact (a total of 15 minutes or more throughout a 24 hour period) with someone who tested positive for Covid-19 within 10-days of the event should not attend. If Covid-19 results in a cancelation, ASCE will provide a full refund.
Proudly Sponsored By:
Platinum Sponsor: Keller

Proudly Sponsored By:
Gold Sponsors: GEOVision, Inc
Western Ground Improvement


Proudly Sponsored By:
Logo Sponsor: Cascade
Rite Geosystems
Project X Corrosion Engineering
GMU Geotechnical, Inc.




Organizer of September GI/Branch Luncheon: FOUNDATION PERFORMANCE OF MILLENNIUM TOWER