September 25th BOSCPUG Meet: Boston Premiere of the Blackmagic Cinema Camera

Wednesday, November 21, 2012 from 1:30 AM to 1:45 AM (EST)
Event Details
ALSO! Stay Tuned as BOSCPUG & Blackmagic Design present Full Day Workflow Workshops on the Blackmagic Cinema Camera and DaVinci Reolve 9 in November!
---
* SEPTEMBER 25th BOSCPUG MEET *
Join us as we kick off our BOSCPUG Fall season in the BRIGHT FAMILY 2K SCREENING ROOM at Emerson College!
We welcome everyone back with a great night of Networking, engaging presentations & conversation, and a special after social hour of food and cocktails at
SALVATORE'S.
---
INCLUDES After BOSCPUG Social Hour featuring Food & Cocktails at SALVATORE'S
(Validated $10 Flat Rate Parking - at LAFAYETTE GARAGE, across street from Salvatore's and inside the HYATT REGENCY BOSTON at One Avenue de Lafayette)
IZZE Beverages will be serving juice drinks to all during the evening!
---
BOSCPUG Courteously Sponsored by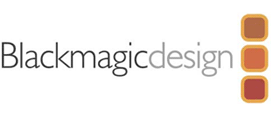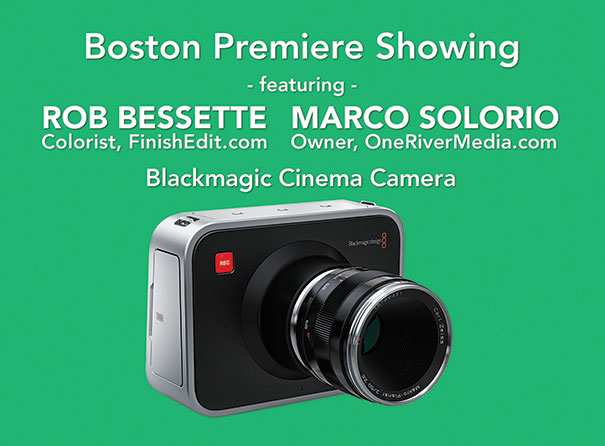 Marco Solorio on location filming with the Blackmagic Cinema Camera
Producers, Editors, Visual Storytellers: Get out of your production offices and editing suites to Network and interact with members of Boston's Production and Post community.
Mingle and swap stories and business cards - AND see the BOSTON PREMIERE of the Blackmagic Cinema Camera and Marco Solorio's short filmed with the camera.
Whether you're a Final Cut Pro, Avid or Adobe editor, this is one networking workflow mixer you'll not want to miss to learn some new tips & tricks for your production and post workflow and to interact with with our featured guests!
---
SCHEDULED AGENDA
(Check back for updated information & presentation  order):

- Bob Caniglia:  LIVE Demo NEW Blackmagic Cinema Camera
Joining us from Blackmagic Design will be Bob Caniglia, who will lead off the evening with an engaging conversation on the new Blackmagic Cinema Camera. Bob will share with us the driving forces behind the decision to build a camera; what the Blackmagic Cinema Camera brings to the table, and differentiating features and functionalities of the camera itself.

The new Blackmagic Cinema Camera features a high resolution sensor with wide dynamic range so it's perfect for independent film, television commercials and episodic television production. DaVinci Resolve software for Mac™ and Windows™ is included with the camera so you can work at the highest quality and get the best results. Blackmagic Cinema Camera is both affordable and a complete solution because it includes a built-in recorder and monitoring, so it's perfect for displacing video-only cameras for work such as sporting events, weddings, music videos and more.
There will be a Q&A session following Bob's presentation.
-----

- Rob Bessette:  Whsat's New in DaVinci Resolve 9
We are very pleased to bring back to BOSCPUG Colorist Rob Bessette of Finish Post. Rob will take us on a tour of DaVinci Resolve 9's new user interface and featureset and what you need to know to get into Resolve workflow.
ABOUT ROB BESSETTE
Rob Bessette works as a Colorist at Finish Post,  a full service post production facility located in the heart of Boston. Before joining Finish in 2005, Rob was wrapping up his college degree in Studio Art and credits much of the creative process to his artistic background.  At Finish, Rob climbed his way up the ladder from intern to Senior Colorist in less than five years.  Rob has color graded everything from feature length films to commercial spots for international brands like Carnival Cruise Lines and Subway. He uses Blackmagic Design's DaVinci Resolve non linear color correction system in his daily work, and will review how just a little bit of color can make a whole world of difference, no matter the project.
FEATURED PRESENTATION:
Marco Solorio: Hands ON with the Blackamgic Cinema Camera

Marco Solorio, CEO of One River Media, joins us as our featured guest! Marco joins us to demo practical Hands ON information with a fully outfitted FIELD Version of the Blackmagic Cinema Camera.
On set of "Texting is gefährlich" with the Blackmagic Cinema Camera
Marco will screen in 2K "Texting is gefährlich / Texting is dangerous", a short film he recently produced using the camera
, along with a presentation on production and post-production info related to the camera. Marco will focus on what the crew did on set, how they shot, and workflow related to the film.
- Low light abilities (among others, the opening shot only uses city lights)
- Dynamic range (ie: literally shooting INTO headlights)
- RAW CinemaDNG image data quality
- Functionality and ease of use
- Blackmagic  Cinema Camera's rigging options
- Lens options and footage examples, namely relative to the Cinema Camera's slightly large ~2.2X crop factor
ALSO: Marco will screen in ProRes 4444 his latest comparison between the Blackmagic CInema Camera and the Canon 5D Mark III
Time permitting, Marco eill also touch upon 
Chromakey quality working with 4:2:2, and 4:4:4 from its RAW source, resolution, dynamic range.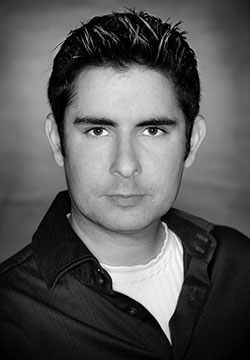 ABOUT MARCO SOLORIO
Marco Solorio has been in the media production business since 1991 including the ownership of OneRiver Media. He's won many industry related awards, while also being a published writer from the likes of DV Magazine, Videography Magazine to countless online website reviews and articles. He's also appeared on tutorial DVDs instructing in the advanced practices of Adobe After Effects techniques. He's also a long-time forum host at CreativeCow.net. He's presented at NAB (National Association of Broadcasters), user group events and at educational facilities. Marco is also recognized for his creation of the OneRiver Media Codec Resource Site, which compares the use of professional codecs in the production environment. This work has been used throughout many extensions of use by others, including Stanford University, HD symposiums, articles, white papers and technical presentations. Some of Marco's published work has been translated into many languages, including German, French, Japanese, Spanish, Italian and many more. Throughout all of this, Marco has consulted for many high-level companies, including Apple and Pixar.
With a client list well over 100 long, Marco has serviced clients from all points of the globe, including Australia, China, Japan, Canada, Scotland, England, Finland, Sweden and throughout the United States.
In conjunction with OneRiver Media, Marco also owns Cinesoft, a software company he founded in 2006. Cinesoft's flagship software product, "Media Batch" was originally proprietary server software that Marco developed for his own studio, but because of its huge success, it was further developed and marketed for public release. Media Batch has created a huge impact in the way media production facilities share, manage, review and approve their media content with their clients and production team members. Licensed Media Batch users include freelancers and boutiques, to big names including Turner Networks, Yahoo!, and Technicolor.
---
The Bright Family 2K Screening Room
BOSCPUG is proud to work with Emerson Visual and Media Arts to offer an evening of production and post-production conversation in the intimate and state of the art Bright Family 2K Screening Room at The Paramount Center at Emerson College.
Named for the family of Kevin Bright '76, the Bright Family Screening Room seats approximately 200 people. It features the latest film and digital video projection including 35mm and stunning 2K resolution projection. The dramatic double-height Gallery and Lobby connects to the Paramount Mainstage.

ABOUT EMERSON VISUAL AND MEDIA ARTS:
At Emerson's Department of Visual & Media Arts, the process of transforming your vision into reality is fast-paced, exciting, and rewarding. You'll dive right in and start working with talented mentors, collaborators, and crew members from day one. Emerson's Department of Visual & Media Arts is all about learning by doing. Is your medium film or video? The Internet or animation? Studio television of audio? Are you drawn to fictional narratives or documentaries? Commercial or experimental projects? Writing, directing, or post-production? Whatever your passion, our department offers unlimited opportunities to grow, collaborate, and thrive—plus access to sophisticated, state-of-the-art equipment and facilities that help your creativity take flight. 

Learn more at http://www.emerson.edu/academics/departments/visual-media-arts
---
DATE: Tuesday, September 25, 2012
TIMES: 7PM-9:30PM (doors open at 6:30PM)**
**Meeting begins PROMPTLY at 7PM!
VENUE:
Bright Family 2K Screening Room
The Paramount Center
559 Washington St
Boston, MA 02111
 
DIRECTIONS:
Enter the main entrance to The Paramount Center at 559 Washington Street. Go up the elevators to the left and to the 4th floor. There will be front of house staff to greet you at the Bright Family Screening Room.

Venue Box Office: 617-824-8400

SPECIAL VALIDATED $10 FLAT RATE PARKING:
*SALVATORE'S (545 Washington Street, directly between The Paramount Center and The Boston Opera House) offers validated discount parking for a $10 flat rate between 4pm-5am at LAFAYETTE GARAGE, across the street from the restaurant and inside the Hyatt Regency Boston, One Avenue de Lafayette, Boston)  - stop by before BOSCPUG at Salvatore's for a bite to eat or coffee/drink!
Emerson also recommends to park in the Millennium Place Garage at The Ritz-Carlton Boston Common, 47 Boylston Street (617-574-7252).
Note this parking is not vaildated!MBTA:
- Orange Line: Take the Chinatown Exit
- Red Line: Take the Park Street Exit
- Green Line: Take the Boylston Street exit
MBTA info: http://mbta.com/schedules_and_maps/rail/
Special thank you to the Department of Visual & Media Arts at Emerson College for hosting our Fall BOSCPUG Meets.
Questions? Email Dan Bérubé at dberube at bosfcpug.org
The Boston Creative Pro User Group is a story driven community of globally connected collaborative digital filmmakers and broadcast professionals focusing on the craft of visual storytelling not only to show How but to share Aesthetics and related tools for digital cinema and distribution. BOSCPUG will continue to build upon the success of the Boston Final Cut Pro User Group, retaining "BOSFCPUG" while evermore focusing on all NLEs on Mac, PC and mobile platforms and on the exciting growth and future of Visual Storytelling.
Attendee List
Sort by:

Date

|

Last Name
When & Where

BRIGHT FAMILY 2K SCREENING ROOM
The Paramount Center - Emerson College
559 Washington Street
Boston, MA 02111


Wednesday, November 21, 2012 from 1:30 AM to 1:45 AM (EST)
Add to my calendar
Organizer
ABOUT BOSTON CREATIVE PRO USER GROUP - BOSCPUG
The Boston Creative Pro User Group (BOSCPUG) is a story driven, globally connected community of ready-to-collaborate digital filmmakers and broadcast professionals focusing on the craft of Visual Storytelling and related tools for digital cinema and distribution.
BOSCPUG regularly brings top industry filmmakers and creatives to Boston to share and discuss their latest work and their workflows. BOSCPUG also regularly holds affordable production and post-production workshops. BOSCPUG is a professional, creative outlet to pitch ideas for episodic content creation and to discover talent, crew and distribution for your projects.
Connect with the BOSCPUG at: http://boscpug.org
Email: Daniel Bérubé