September 15, 2018 Sustain Supper - A Benefit for the Homeless Garden Proje...
Description
A limited number of tickets will be available at the door. If curious if sold out, please call 301-717-6679
We're excited to invite you to our organic farm for a gourmet, 4-course dinner prepared by exceptional, local chefs featuring fresh food grown on our farm. Enjoy a farm tour, drinks - including special wine pairings - live music and engaging talks by speakers focusing on sustainability, including our fantastic Keynote Speaker, Nikiko Masumoto.
Chefs & Menu:

- Entree: Marci Carl of Süda
Entree:
Citrus Fennel Brined Chicken Leg Confit
Served atop a fall harvest panzanella consisting of melted leeks, farm greens, champagne grapes, wild mushrooms and toasted sage brown butter croutons and apple cider chicken au jus
Sides of Roasted Delicata Squash with Prosecco poached currants and brown butter & Sage-roasted farm vegetables and herbs.

- Oyster Bar: Jeffrey Wall of the new restaurant, Alderwood, during the appetizer course. A sophisticated new fine dining restaurant, Alderwood is set to open in downtown Santa Cruz this fall.

- Appetizers: Justin Williams and Danny Mendoza of Kickin Chicken will be creating additional appetizers.

- Salad: Andrea Mollenauer of Lifestyle Culinary Arts and Food Lounge Santa Cruz

-Dessert: Anna Bartolini of La Balena Carmel completes the line up with dessert.
Dessert: Cheese plate with jam made from Homeless Garden Project strawberries and local honey; herb and flower shortbread cookies by Emily Garcia.
Keynote Speaker: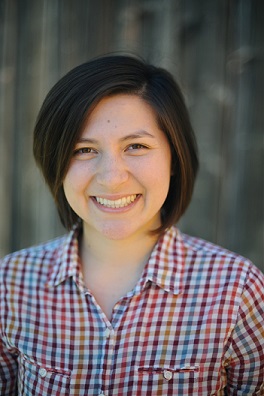 Nikiko Masumoto first learned to love food as a young child slurping the nectar of overripe organic peaches on the Masumoto Family Farm. Since then, she has never missed a harvest.
Farmer, artist, and leader, Nikiko works alongside her father to raise organic peaches, nectarines and grapes. She hopes to add another generation's voice to the story of the Masumoto Family Farm. She calls herself an "agrarian artists" cultivating the richness of life in the Central Valley through farming, food, stories, art, & community.
In 2007 she graduated from UC Berkeley with a B.A. in Gender and Women's Studies and in 2011 completed a Master of Arts in Performance as Public Practice at the University of Texas, Austin. She debuted her one-woman show "What We Could Carry" about Japanese American Redress hearings in 2011. In 2017, she and Brynn Saito co-founded the Yonsei Memory Project. Through art and creative engagement, the Yonsei Memory Project awakens the archives of Japanese American history to foster understanding, healing, and justice. Her intellectual & artistic curiosities continue to inspire creations and inquiries into community building, memory, place, public art, justice and healing.
In 2013 she published her first book The Perfect Peach (Ten Speed Press), co-authored with Marcy & David Mas Masumoto. She and Mas co-wrote, Changing Season: A Father, A Daughter, A Family Farm published by Heyday in 2016.
We're honored to have Nikiko join us on the farm for this event!
Acoustic music for the evening will be provided by our incredibly talented Farm Manager, Anthony Reyes.
Sponsors & Supporters:
We've lined up a very special wine for the dinner! We'll be serving a Pinot Noir donated by Radonich Brothers Vineyards, Chardonnay from Burrell School Winery & Vineyard, as well as Bonny Doon Vineyard's Proper Gravitas.
Alta Organic Coffee will once again be providing hot coffee and tea as well as iced tea for the evening and we're excited to welcome Tanuki Cider to the Supper this season. They make a fantastic dry farmhouse cider that should pair deliciously with the dinner.
The event is powered by Sandbar Solar.

Stay tuned for more info on the menu!


Frequently Asked Questions
When does the Early Bird price end?
A limited quantity of tickets are available at the Early Bird price of $125, which ends on Sunday, August 26th at 11:30pm OR when the allotment of tickets sell out.
Can I sponsor a table for a group?
Yes! Please contact Homeless Garden Project Development Director, Paul Goldberg, to receive more information about sponsoring a table at 831.426.3609, ext 13 or email paulg@homelessgardenproject.org.
When will the menu be posted?
Our Sustain Suppers focus on creating a unique and exciting menu, highlighting fresh local produce and meats throughout each course. Our featured chefs create one course each reflecting their specialities and seasonal produce available from the Homeless Garden Project farm. You can continue to visit the website for menu updates and you will receive occassional updates from us after you've purchased tickets.
How are dietary restrictions accomodated?
We work with our featured chefs to craft a delectable vegan or meat option for you to enjoy at the Sustain Supper! If you have any dietary restrictions you would like us to be aware of you can note them when purchasing your ticket and we will be in touch if we need further information.
What are my transport/parking options getting to the Sustain Supper?
Parking across the street from the farm will be available. An email with parking instructions will be sent the week of the event!
What should I wear to the Sustain Supper?
We say you wear something that makes you feel fabulous! The Sustain Supper is an outdoor event on our Natural Bridges farm. A jacket, sunglasses and comfortable shoes are highly recommended. Be fashionable, but dress in layers.