Location
West Springfield Government Center Community Room
Springfield, VA
Description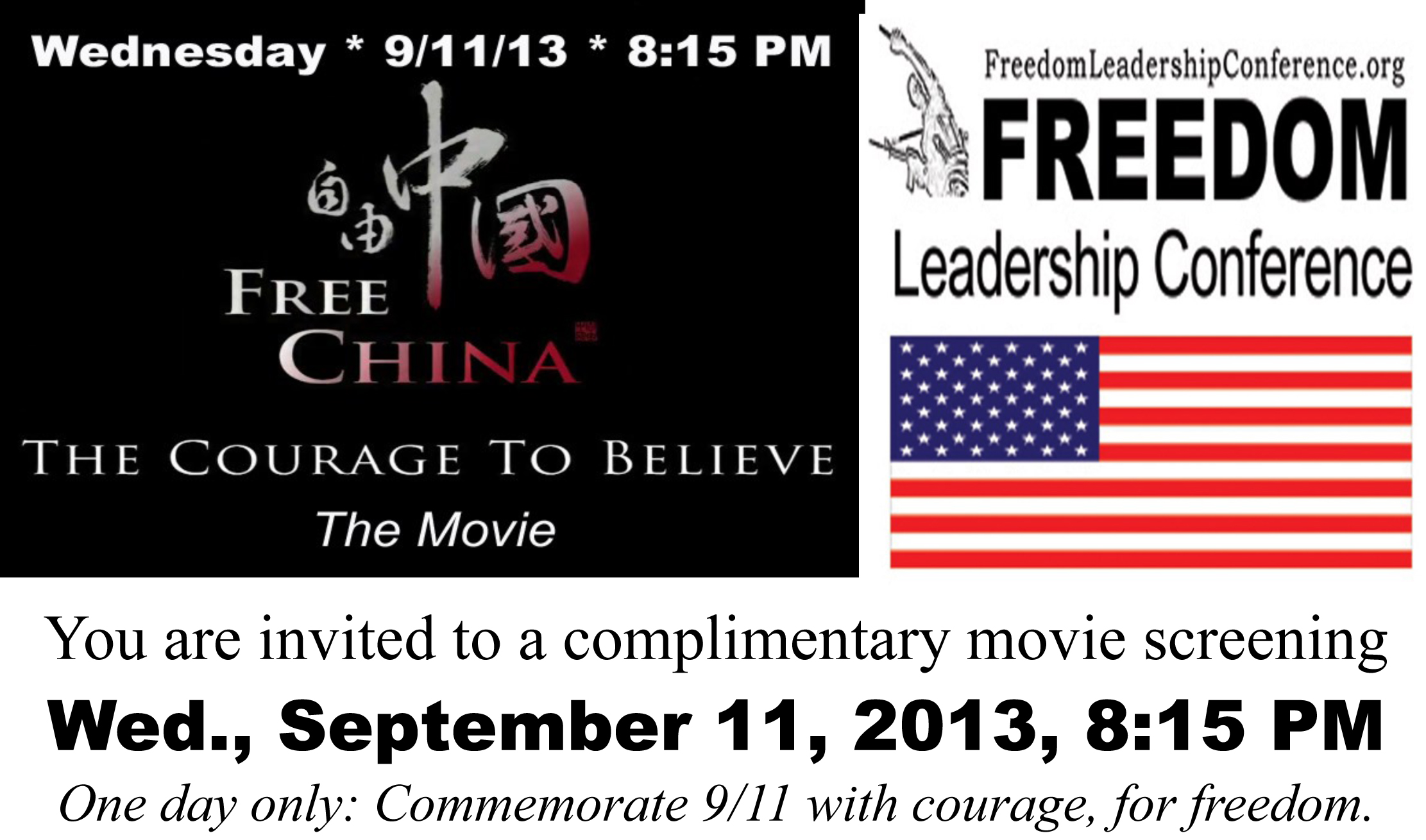 Chinese Communism is the very antithesis of the virtues shared by Falun Gong of the East and Christians of the West, shown clearly in the outstanding movie, Free China: The Courage to Believe. Highly recommended, don't miss it.
Dr. Roger Canfield, Vice President, US Intelligence Council, author, Comrades in Arms: How the Ameri-cong won the Vietnam War against the Common Enemy – America
sponsored by
Grasstops USA
&
United States Intelligence Council
8:15 PM Movie Free China: The Courage to Believe
Due to Limited Seating, advance registration required for admission. First Come first Served.
5 PM Dinner with Keynote speakers
(Conference Members only)
7 PM Conference, members and provisional members only admitted ($5)
Sponsored by United States Intelligence Council and GrasstopsUSA

Featuring a private Movie Screening of
Free China: The Courage to Believe
And why Americans should be outraged by Red China's Persecution, Torture and Imprisonment of the followers of the Falun Gong spiritual discipline (remarks of a representative of the Falun Gong Spiritual Discipline in China)
and
Future 9/11 Cyber Surprise Attack on USA?
Remarks of Dr. Roger Canfield
Vice President, US Intelligence Council, author,
Comrades in Arms: How the Ameri-cong won the Vietnam War against the Common Enemy – America
What you can (and really should) do about this
Remarks of Christopher Carmouche,
President, GrasstopsUSA
5 PM Leadership Council dinner ($40)
7 PM Conference, members & Provisional Members only admitted ($5)
Milano's Family Restaurant
6230-G Rolling Rd., Springfield, VA 22152

Doors Open 8:15 PM, Public Invited for Movie Screening (free)
Movie Program starts 8:30pm
West Springfield Government Center Community Room
6140 Rolling Road, Springfield, VA 22152

RSVP required for admission. Please RSVP with the button below.
If you wish, you may RSVP at RSVP@FreedomLeadershipConference.org
Those hoping to gain or hold favor with the Embassy of Communist China
will not be pleased to attend.
5:00 PM doors open for confirmed dinner guests (5:30 PM dinner served)
7 PM Conference (begins with coffee and tea social)
(you may attend Conference only as a new Conference Provisional Member, or both the dinner & conference if you are a Conference member)
This conference is held every month with a different sponsor and program. Except for the movie segment this evening, the conference is for Provisional and regular members only at 7 PM every month, and for members only, the 5 PM dinner.
Deadline: RSVP(dinner or conference) by Tuesday 9/10 @ 11 PM
For video & text of past keynote speakers: http://FreedomLeadershipConference.org
Private monthly conference for volunteer conservatives (donors or activists) only. You must be a Provisional (temporary) Member or Member for admission to the 7 PM conference each month, and a Member for admission to the earlier dinner each month.
Conference Statement of Purpose & Rules at the website at http://freedomleadershipconference.org/info/.
Conference includes presentations on the Thurmont Statement of Conservative Principles, the popular "Lightning Round" (1 minute each) of up to 10 individuals from audience (first come first served) to describe "How I have been a Volunteer Conservative," other conservative speakers & the very popular

Saul Alinsky Smear of the Month Award
Remarks & presentation on How the Left Smears Conservatives
Alinsky Award nominations may be made to LeftSmear@FreedomLeadershipConference.org
Conference Menu
Dinner 5 PM: Dinner will be a choice of Chicken, Fish or Vegetarian meal with Conference Leaders
Conference Begins 7 PM: Coffee and Deserts (free or suggested donation $5)

http://FreedomLeadershipConference.org
Conference organized with assistance of Freedom Center Foundation
If you are unable to attend this function, we are willing to keep you apprised of future functions as a SUBSCRIBER (including links to articles about the conferences, video and text of some of the speakers and more. Or you may apply for Provisional Membership which, once approved, entitles you to invitations to a future monthly conference as well as the free subscription. There are no subscriber or membership dues.
We appreciate your referring this conference to your friends but remind you that application for Provisional Membership must first be approved before someone is eligible to attend the monthly conference, and MEMBERS ONLY are invited to the dinner. ALL attendees - dinner and conference - must advance RSVP for admission. If you do RSVP and then do not attend we will request you pay in advance to attend in the future. We strongly encourage our members, provisional members and subscribers to share the link to the website (via facebook, email, twitter, etc.), especially when there are NEWS items posted there.
"Like" our Facebook page HERE.
For the FLYER (8 1/2 x 11, PDF) of this conference HERE.