Accountable Equity Learn & Grow Event Series -Keynote speakers are Liz and Andresa of The Real Estate InvestHer podcast!
About this event
Accountable Equity Learn & Grow Event Series
Hosted at: Renault Winery Resort and Golf
Join us for our new daytime format Learn and Grow - a full day of masterminding, opportunity, and great food. Our Learn & Grow Series is designed for families and individuals who are eager to learn more about investment strategies and more importantly with WHOM they can invest their hard-earned family equity. It is also an opportunity to give our investors a chance to experience their assets along with their friends and family.
We believe that all families who are ready to become "accountable" with their personal "equity" will gain tremendous value from attending and being with a like-minded tribe. Learn & Grow events attract investors who have already invested with Accountable Equity, as well as new friends who want to develop long-term relationships with our team while learning more about various investment opportunities and strategies.
Our Learn & Grow Objectives:
Learn how to make investments in "Main Street" rather than "Wall Street".
The importance of building your own personal community of sophisticated and like-minded investors.
Investigate how the various investment options are designed and how the returns are generated.
We look forward to welcoming you into the Accountable Equity Tribe!
RSVP Required
Hotel and Golf Tee Time reservations will go fast and are limited. Please contact Amalia at (323)383-4720 to help you with your hospitality needs.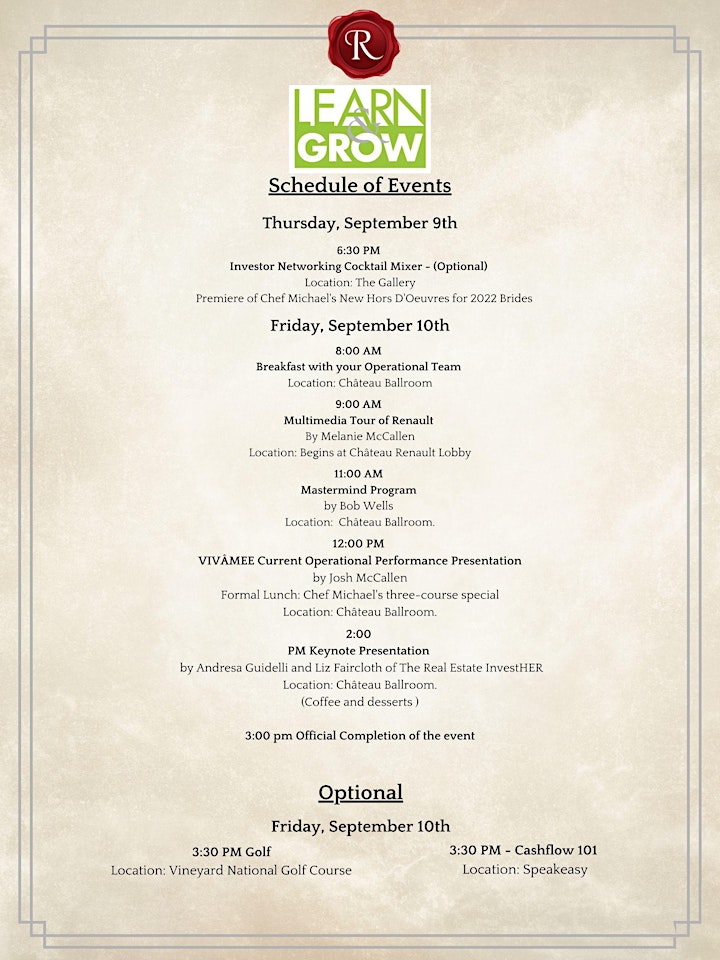 Organizer of Sept 2021 Accountable Equity Learn & Grow
ACCOUNTABLE EQUITY is the partner of thoughtful accredited investors who seek to benefit from tax-advantaged investments and who want a team of professionals who will be accountable with their investments in privately offered equities. ACCOUNTABLE EQUITY does not give investment advice, endorsements, analysis or recommendations with respect to any securities. Nothing contained in this email constitutes tax, legal, insurance or investment advice, nor does it constitute a solicitation or an offer to buy or sell any security or other financial instruments, which only can be made through official offering documents that contain important information about risks, fees, and expenses.
https://www.investor.gov/additional-resources/news-alerts/alerts-bulletins/investor-bulletin-accredited-investors