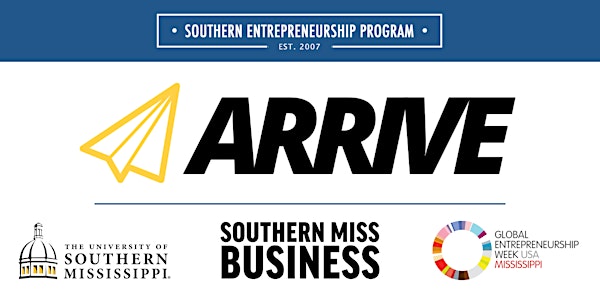 SEP Arrive 2022
You and your students are personally invited to join us in Hattiesburg for our 16th annual kickoff event!
Date and time
Tuesday, November 15, 2022 · 9am - 2pm CST
Location
Thad Cochran Center 121 West Memorial Drive #Thad Cochran Center Hattiesburg, MS 39406
About this event
SEP Arrive is a statewide summit designed to offer high school students an interactive introduction to the fundamental concepts of entrepreneurship through an engaging combination of guest entrepreneurs and educational activities.
Agenda
9:00a - Welcome
9:15a - "A Day in the Life" – entrepreneur panel
10:00a - Networking Break
10:15a - Innovation Challenge
12:00p - Lunch Time!
12:30p - Innovation Challenge
1:45p - Closing Remarks
2:00p - Head Out
It's going to be a great year! Don't miss the kickoff...
Please note that by registering for this event, you are making a commitment to attend. Our event sponsors have graciously covered the food cost of this event. Late cancellation by schools, however, reduces our sponsors' reportable "impact per dollar," which is critical to their continued support.
If your attendance plans change, please notify James Wilcox at (601) 266-6055 or james.b.wilcox@usm.edu by the end of Friday, November 4 so the catering order can be modified. Though this is a free event, registered schools that cancel without reasonable notice may be invoiced $5/person for their food cost.
About the organizer
The Hatchery - Where Inspiration Strikes