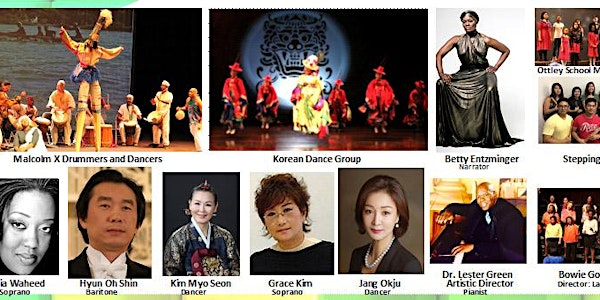 Seoul to Soul: Korean American and African American Musical Extravaganza
Location
Publick Playhouse
5445 Landover Road
Cheverly, MD 20784
Description
Seoul to Soul Musical Extravaganza honors cultural arts during Olympics
Two cultural arts organizations partner to showcase talent from Korean American and African American communities in celebration of the Pyeong Chang 2018 Olympic Winter Games during Black History Month.
When two top officers Terri Allen and Tammy Pantages arts advocates from the African American and Korean American communities first met to discuss the possibility of a cultural arts collaboration, out of it came the concept "Seoul to Soul Musical Extravaganza 2018". It was then bought to the respective executive director's attention by fellow arts advocate and sponsor of the program Sonya Kitchens, the acting director of the Prince George's Parks and Recreation's Public Playhouse in Cheverly, that Black History Month was also the same month of the Pyeong Chang 2018 Olympic Winter Games and were being held in Seoul, Korea. It became a no-brainer. As a result, audiences will experience a variety of talent from both cultures featuring universal languages of dancing, drumming, classical singers, youth performances, music, narration to tie the two cultural themes together, and visual backdrops highlighting backgrounds and experiences. The event takes place on Sunday, February 11, 2018 at 4:00 pm at the Public Playhouse, 5445 Landover Road, Cheverly 20784. Produced by two 501c3 non-profit arts organizations; Coalition for African Americans in the Performing Arts (CAAPA), dedicated to supporting Black classical musicians by "Bringing Color to the Classics!" and the Korean American Cultural Arts Foundation (KACAF), an organization designed to expose American audiences to the elements of more than 5,000 years of Korea's cherished cultural heritage, the event is a part of CAAPA's International Outreach Program which also partners with Embassies, Consulates, and arts organizations throughout the world. Featured artists include Betty Entzminger, Narrator; soprano Alia Waheed; baritone Hyun Oh Shin; soprano Grace Kim; Stepping Stones directed by Sang Hee Ju; Ottley Choir directed by Nevilla Ottley; Korean dancers Kim Myo Seon and Jang Okju; the Bowie State University Choir accompanied by LaTonya Wrenn, and the Malcolm X Drummers and Dancers directed by master j'embe drummer Doc Powell.
Help celebrate the commonalities and distinctions of these essential forms of expression. Fascinating, entertaining, and joyous, this international multi-cultural event is perfect for the whole family. Tickets are $15.00 and may be purchased by calling the Publick Playhouse at 301-277-1710. http://www.4caapa.org.
Call 301-277-1710 for tickets or visit http://arts.pgparks.com/Calendar.aspx?EID=3412 to buy online