Description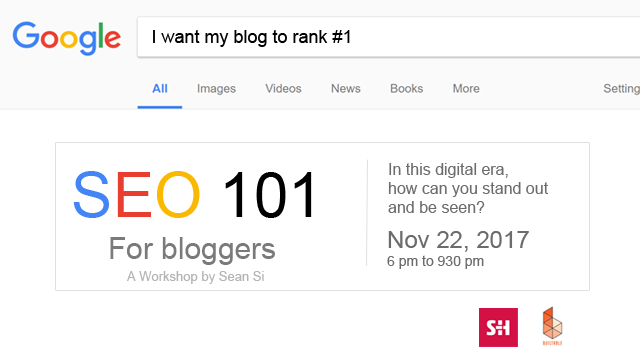 SEO 101 by Sean Si goes to Builtable!
Search Traffic is the best source of perpetual, and relevant traffic to your blog. Learn how to capitalize on your blog's searchability with Sean Si - a world-renowned trainer and specialist in the SEO industry today.
Why join this seminar?
Sean Si is a renowned speaker and SEO specialist. He founded and built SEO Hacker, a digital marketing company increasing the online visibility of brands like Lipton, Jaguar, The Generics Pharmacy, Toyota, Fukuda, Mapua, and Mineski.
His SEO consulting rate goes up to $500 per hour BUT he is doing this seminar at a very affordable rate for the benefit of up-and-coming bloggers and entrepreneurs who want to increase their search traffic.
What you will get out of it:
More traffic for your blog through higher rankings for your target keywords.
Make every post you publish rank in Google.
WHERE:
Builtable Coworking
3rd Floor CBC Corporate Center 724 Shaw Boulevard Mandaluyong City
EVENT DATE:
November 22, 2017
6:30 PM - 9:30 PM
EVENT FEE:
Early Bird - Php 700 (Until November 21,2017)
Normal Rate - Php 900 (Until November 22,2017)
** LIMITED SLOTS only
** Dinner will be served
HOW TO RESERVE
1.Confirm slot via SMS, Email, Eventbrite ticket or MeetupPH
CONTACT PERSON
Rizza
+63 917 7270288
EMAIL
connect@builtable.co
2.provide your full payment through bank deposit
Metrobank Acct:
CTT.Synergy Corporation
Metrobank Acct No.
0 007 881 000 616
or
BDO Acct:
CTT.Synery Corporation
BDO Acct No.
000668083218
or
paypal
https://www.eventbrite.com/e/seo-101-with-sean-si-tickets-39186430669#tickets
3.send us a proof of your payment (Scanned/Picture of Deposit Slip or payment)