Sentimental Jewelry Designs by Janise Crow showing @ Bellefonte Art Museum...
Description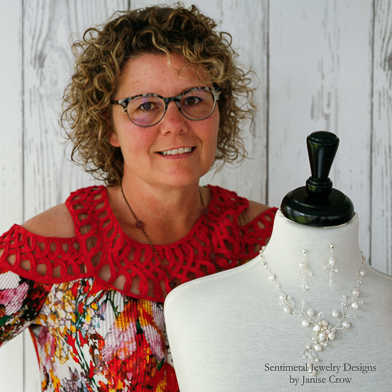 Janise shown here with custom made pearl and crystal wedding necklace and earrings, titled "Kaitlyn"

---
Janise is a juried multimedia jewelry artist whose passion is to make connections and evoke personal sentiment in wearable art form. Her jewelry connects the wearer to a cherished memory, time, event or place. She brings personal stories to life by incorporating treasured trinkets with a delicate balance of the past and present. Each component is specifically selected to convey the unique story or memory of the wearer. Janise blends a multitude of materials, colors, textures and movement to express and celebrate memories in a custom design style (designed for the wearer) through her one-of-a-kind artistic jewelry in both custom and ready to wear jewelry.
This month she is showcasing 90 pieces of jewelry in wide array of styles from celebrating our nation's history #AmericanIcons, #GoodLibations, bridal, fun and whimsical, and industrial. As always, I am happy to make something custom for you.
Bellefonte Art Museum: Gallery hours Friday, Saturday and Sunday 12:00 p.m. - 4:30 pm or by appointment, simply call 814-355-4280 and set up an appointment, they are happy to accommodate.
Janise is exhibits and sells at art galleries, local businesses, online catalogs www.SentimentalJewelryDesigns.com, www.CrowsNestArtsandCrafts.com and in her own studio gallery located in State College by appointment, email