Sent Into the World: A Missional Recovery of Ecclesial Identity

Friday, September 18, 2015 at 7:00 PM

-

Saturday, September 19, 2015 at 4:30 PM (CDT)
Event Details
Friday September 18: 7-9pm. Doors open at 6:15.
Saturday September 19: 9-4:30.
When home ground is once again the mission field, how might the Church become once more a missionary force? Is talk about the church being "missional" only to fall prey to yet another evangelical fad, or is it to finally acknowledge what is foundational to our being Christ's people in the world?
Join us this September 18-19 as the Francis Schaeffer Institute of Covenant Theological Seminary welcomes to our campus an exceptional cast of scholars and ministry leaders to lead us in moving beyond strategy to recapturing our identity as those who join God in His mission to bless and heal the nations as the good news of the redeeming work of Jesus Christ is made known in and through the Church: the sign, instrument, and foretaste, of God's salvation.
Whether new to the conversation or already convinced that the Church is the instrument of God's passion to redeem the world, we are delighted to have you come and participate with us in the 2015 FSI Special Lecture Series featuring…
Dr. Michael Goheen
Director of Theological Education and Scholar-in-residence at Missional Training Center—Phoenix. He is also professor of Missional Theology, Newbigin House of Studies, San Francisco; Jake and Betsy Tuls Professor of Missiology, Calvin Theological Seminary, Grand Rapids, and Fellow in Mission and Worldview Studies, Paideia Centre for Public Theology, Ancaster. He obtained his PhD from University of Utrecht in 2000 with a dissertation on Lesslie Newbigin's missionary ecclesiology.  
Dr. Michael Williams
Professor of Systematic Theology, Covenant Theological Seminary, St. Louis and Adjunct Professor of Systematic Theology, Redeemer Theological Seminary, Austin. He obtained his PhD from St. Michael's College, University of Toronto, with a dissertation on "C. I. Scofield and Lewis Sperry Chafer: A Dispensationalist Theology of History and Culture"
Dr. Darrin Patrick
Founder and Lead Pastor of The Journey, St. Louis, Vice President of the Acts 29 Church Planting Network, and Chaplain to the St. Louis Cardinals.  
Dr. Luke Bobo
Curriculum Director and Resident Theologian at Biblical Business Training. Former Department Chair and Associate Professor of the Christian Ministry Studies (CMS) Program at Lindenwood University, St. Charles, MO
Rev. Josiah Bancroft
Served with Serge (formerly World Harvest Mission) in a variety of roles until 2005, including team leader, pastor, field director, U.S. Director, and Missions Director. After co-pastoring Grace Community Church in Asheville, North Carolina for five years, Josiah returned to Serge as Director of Mission.
--with opening remarks by--
Dr. Mark Dalbey
President and Associate Professor of Practical Theology, Covenant Theological Seminary, St. Louis.
SCHEDULE
Friday Sept 18:
7:00-7:10pm             Words of Welcome (Mark Ryan)
7:10-7:30pm             Opening Remarks (Dr. Mark Dalbey) 
7:35-8:45pm             FSI Special Lectures I:  "The Missional Identity of the Church: The Biblical Story " (Dr. Michael Goheen)
Saturday Sept 19: 
8:45-9:00am             Welcome Back (Mark Ryan)
9:00-9:50am             FSI Special Lectures II: "The Missional Identity of the Church: A Systematic-Theological Articulation" (Michael Goheen) 
10:00-10:50am         FSI Special Lectures III: "Made for Mission: A New Orientation for Anthropology " (Dr. Michael Williams)
11:00-11:15am         Break
11:15-12:00              FSI Special Lectures IV: " Church: Not a Mission of Community, But a Community on Mission" (Dr. Darrin Patrick)
12:00-1:00pm           Lunch Break
1:00-1:45pm             FSI Special Lectures V: "Missional Living Demands the Church Cross Boundaries " (Dr. Luke Bobo)
1:45-2:30pm             FSI Special Lectures VI: "The Renewing Mission Dynamic: Equipping for Engagement " (Rev. Josiah Bancroft)
2:30-2:45pm             Break
2:45-3:45pm             FSI Special Lectures VII: "The Missional Identity of the Church: Pastoral and Congregational Practices" (Dr. Michael Goheen)
3:45-4:30pm             Panel Discussion (Michael Goheen, Michael Williams, Luke Bobo & Josiah Bancroft)
4:30pm                      Conference Close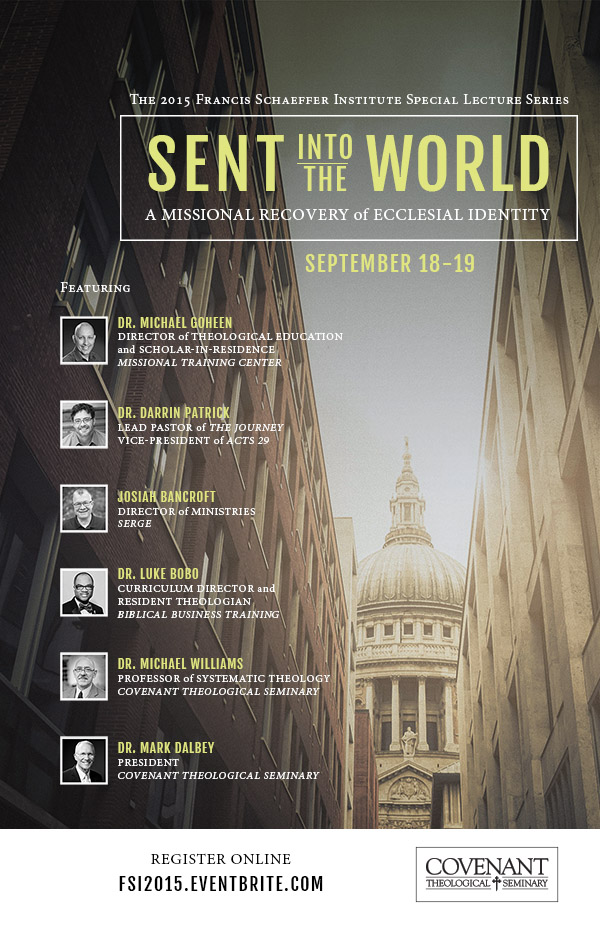 When & Where

Covenant Theological Seminary
12330 Conway Rd
Creve Coeur, MO 63141


Friday, September 18, 2015 at 7:00 PM

-

Saturday, September 19, 2015 at 4:30 PM (CDT)
Add to my calendar