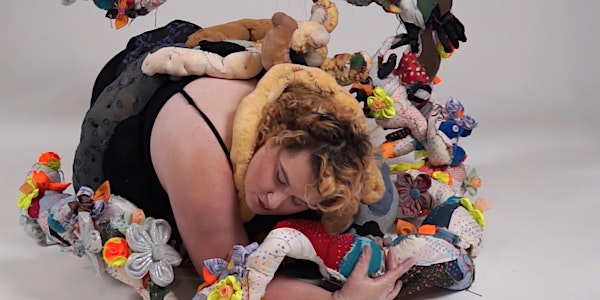 Sensual Softies: Storytelling with Soft Sculpture
An open crafting workshop with Valentin Brown
About this event
This is an open crafting workshop exploring soft sculpture as part of multisensory artistic practice, and desiring disability and difference.
This workshop is free and will be held over Zoom.
Participants are invited to bring a craft project of any kind to work on while the artist explores tactile sculpture as part of accessible artistic practice.
About the Artist:
Valentin Brown (who goes by Birdie now) is a practitioner of longing. Birdie searches for care and intimacy, practicing longing through notions of accessibility. Like artists and thinkers before her, she envisions disability and difference as transformative cultures that connect all our struggles, rather than things that are isolated only in the body. As an emerging multidisciplinary artist, Birdie creates multisensory, site-specific installations that are led primarily by audio description in tandem with tactile sculpture.
Birdie has exhibited these installations as solo exhibitions at Tangled Art + Disability (2019), Art Gallery of Windsor (2022), and Centre[3] (2022). In 2023, she will present a new solo show at Hamilton Artists Inc. Birdie was a participant of the Intergenerational LGBT Artist Residency (2019), the Centre[3] Emerging Artist Residency (2021), and was a 2020-22 artist-in-residence and gallery assistant at Hamilton Artists Inc.
This workshop is held alongside Welcome to my Regulated Body, Valentin's culminating Emerging Artist Residency exhibition.