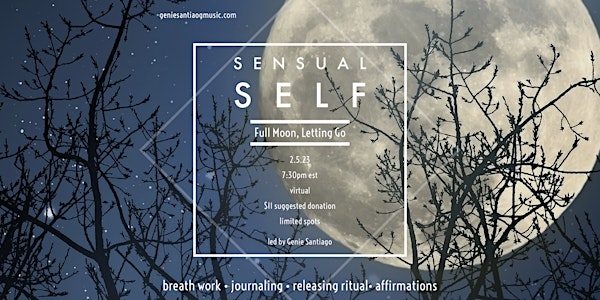 Sensual Self: Full Moon, Letting Go
Releasing what is no longer serving you can be difficult. Let's explore gently releasing and making room for abundance.
Refund Policy
Contact the organizer to request a refund.
Eventbrite's fee is nonrefundable.
About this event
The Full Moon is a time to release and make room for all the abundance you deserve.
There are so many factors in our lives that can make it difficult to release what is no longer serving us. The work of letting go and releasing takes time, reflection, dedication, redirecting, and gentleness. With this virtual workshop, we will explore a simple Full Moon ritual centered around breathwork, journaling, affirmations, and a letting go ritual. For centuries humans of many cultures have led their lives around the lunar calendar. The Full Moon is a powerful time and together with our combined energies, we can make magic happen.
Join me virtually and meet others who are on a similar journey as you. There is power in community. This virtual workshop will be held during the Full Moon on February 5, 2023 at 7:30pm EST. A zoom link will be sent you prior to the event with a remedy for a special tea blend.
Some things to note:
When doing any energy work or deep reflecting, it's good to cover your head to protect your energy. I encourage you to wear a scarf (white is best) or anything that covers your crown. Use a rose or clear quartz for the self-love ritual. If you don't have a crystal, you can use any token you have that represents love or nature. You'll need a writing instrument, journal, notebook, or anything you can record your thoughts onto. Come as you are. You do not need any knowledge or experience to be in this space. This is about the power of community and having a safe space to manifest and explore.
Learn more about Genie Santiago here