Location
Gaia NoMaya
510 Flatbush Avenue
Brooklyn, NY 11225
Refund policy
Contact the organizer to request a refund.
Eventbrite's fee is nonrefundable.
2 hour in-person immersive exp. to awaken your sensual nature, open your heart, celebrate your body & experience the power of sisterhood
About this event
We want to bring forth Womanhood and ignite the goddess within each of us. As a celebration, we will be gathering in sisterhood to create an intentional container to elevate our divine feminine spark.
On this sexy-sacred date with yourself, you are invited to alchemize pain, contraction, and conditioning encoded in your system blocking you from opening to the infinite love, beauty, and abundance that's available to you through the sacred medicine of intentions, cacao, sensuality, movement and sisterhood.
The journey will begin with ancestral cacao; a powerful plant medicine that works with the heart's energy and will open us to receive from a space of love. The flood of theobromine and other feel-good molecules in Cacao opens up your heart, helping you connect with yourself and your sisters.
Following the cacao circle, we will dive deep into a 5 senses awakening guided practice connecting and celebrating our bodies in the most delicious and divine ways; activating our senses, clearing our energetic channels, awakening to our feminine radiance, inner guidance, and sensual nature, all in the beautiful and nurturing power of sisterhood.
Turn your senses on! Working with the five senses means you are working with presence through the power of your sensual nature. Think of this as an active meditation where you are invited to delight and rest in the pleasurable sensations activated in your body.
We will transition to a sensual dance, an invitation to move in unstructured, non-linear ways, listening to the body signals, connecting back to the sensual self, releasing blockages and opening the energetic channels to deeper + greater pleasure.
we will end our magical journey with a sister circle sharing, a safe space where we can share our heart, where messy moments are welcomed, stories and scars are embraced, and no label will ever prevent you from being loved and held.
*tickets are not refundable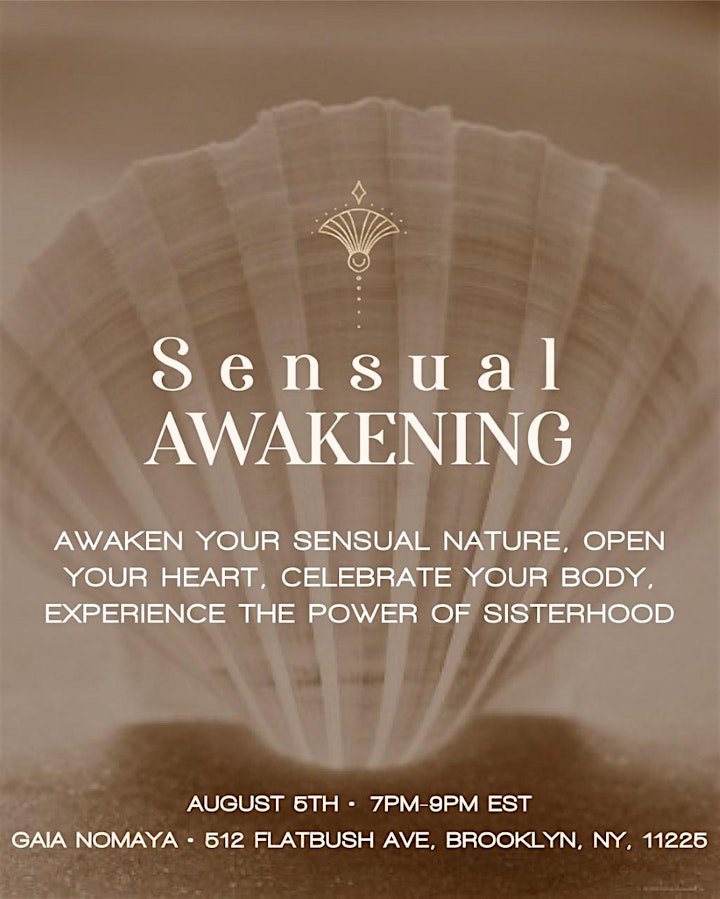 You will need these tools and accessories:
• Smell - essential oils (organic, non-synthetic, pure); incense (organic); flowers or food. (provided by GaiaNomaya)
• Taste - activated by delicious cacao (provided by GaiaNomaya)
• Sight - a mirror where you can look at and connect with the visual of your own body
• Touch - your body
• Sound - music + your voice - you will speak compliments to yourself to activate your sensuality and pleasure
Some of Cacao Health benefits include: + It contain a high quantity of Magnesium , is a catalyst for most important brain functions specially memory and concentration + Beneficial for the heart function acting to relax the blood vessel. +Contains Theobroma- Stimulates the cardiac system resulting you a longest lasting cycle of energy simultaneously stimulating the heart and relaxing the blood vessels which could increase a 30% or 40% in blood circulation
We could feel:
Deep connection with others from the heart. Feeling grounding /Lifting energy An open heart / Pure happiness and bliss A Deep connection with life/A desire to be kind. A feeling of belonging and love toward others
*For this experience, we encourage you to celebrate yourself and wear your favorite outfit! Lingerie, jewelry, wigs, red lipstick, your favorite dress. channel your highest priestess, your inner godddess or the higher self you wanna manifest into this world*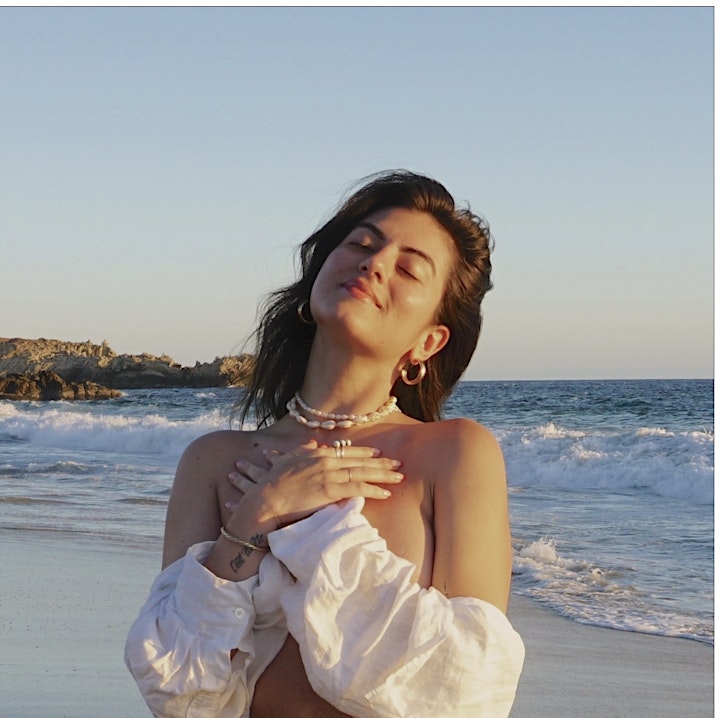 SPACE HOLDERS-PRACTITIONERS
KEYLEEN MESA. Kayleen Mesa is a Self Love & Feminine Embodiment Coach who dedicates her time supporting women to cultivate a foundation rooted in deep self worth, unconditional love, and personal connection.
Her work is an invitation to reclaim your sensuality, eroticism, authentic feminine expression, and empower all aspects of yourself through an approach based on pleasure practices, somatic healing, ancestral and generational trauma release, and goal-envisioning processes.
She founded Peaches & Grace, an online space for connection, growth, and empowerment for women who desire to be supported and celebrated as they uncover their deepest truth.
Her core message is that in order to transform your life, you must create an intimate and loving relationship with yourself.
"Freedom is our birthright"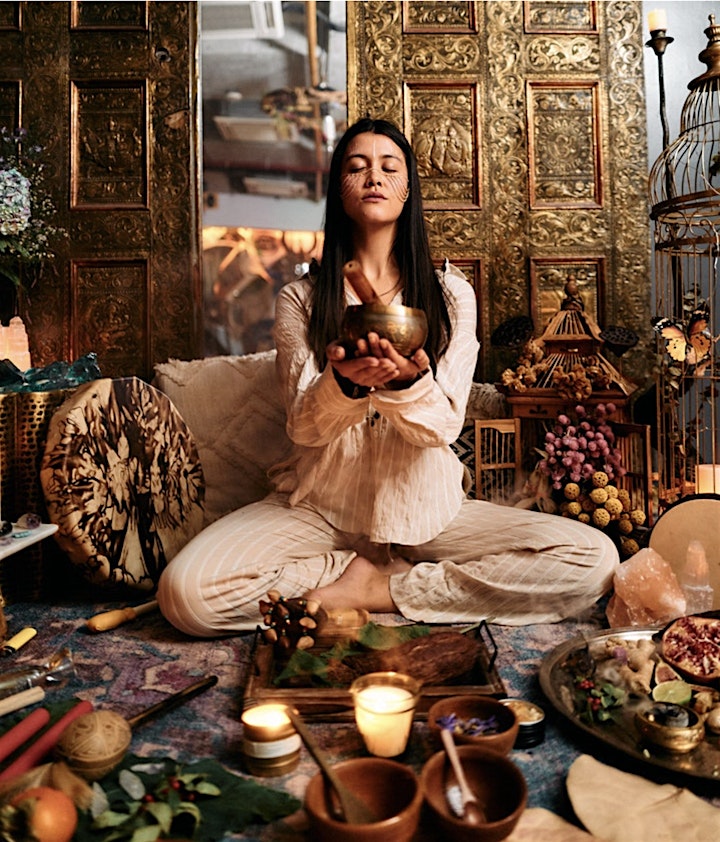 SARA
SARA is a yoga , pranayama & breathwork teacher, sound practitioner and cacao ceremonialist.
Originally from Colombia, Sara found the power of yoga at a young age and almost right away decided to share that magic with the world. She believes that by acknowledging our inner teacher, we can empower ourselves and others to show up in life from a place of connection and truth.
Sara believes there are so many ways of healing and liberating the mind, body and soul through holistic & sacred ancient practices. The wisdom behind traditions and practices like cacao ceremonies, yoga, music, dance and breathwork are core foundations of her offerings and teachings. she feels deeply connected with nature and her mission is to translate the wisdom of mother nature to the world while keep expanding and working with the energy of the heart, the most powerful medicine LOVE.
"I like to think of these traditions and teachings as long lasting elixirs of life." -Sara.
As a certified actress, singer, performer and fashion designer, she draws upon a rich educational and cultural heritage, bringing art as an outlet to connect with spirituality, transmute and elevate the being. She has taught yoga all over the world in countries like Spain, Mexico, Costa Rica, and Colombia.
She is also one of the founders and creators of Gaia nomaya, A social wellness, music & arts community dedicated to build connections through love. NURTURE YOUR NATURE
Sara highlights the power of community through her Vinyasa yoga classes, as well as breathwork, sound mediations and cacao ceremonies held in the space click Gaia Nomaya to learn more about the beautiful urban oasis.