Multiple Dates
Sensual Alchemy-Personal Growth and Manifestation through Embodied Sensual...
Description
SENSUAL ALCHEMY -Sex Magic Ritual for Women
Description:
Where are you on your journey with your womanhood and sexuality? With your body? With the larger world? What are you wanting to create? What are you wanting to tranform?
Let's harness the power of planting seeds for our future using our conscious sensual life force.
During the class portion, we'll incorporate tantric breathing and meditation, sensual movement, inner inquiry, and ritual magic to create a rich tapestry of investigation and integration. No doubt there will be synergy amongst the group.
Learn Sex Magic Rituals to add intentionality to your practices.
We'll do exercises to awaken the energy through all of our 7 chakras and then begin our sacred internal ritual cultivating our sensual fire to add it to the people, places, things, and personal growth and healing we want to connect to moving forward in our lives.
I will answer any questions you may have, share some of what I have learned about relevant topics and share some of my journey of creating with sexual energy.
Sex Magic Ritual:
-How can we use our sexual energy for creation and transformation and as a powerful tool for personal growth and reflection? The more in tune we are with our body, the more sovereign we are. The more we make instinctual decisions from our higher self and our body's wisdom. Benefits of sexual sovereignty include:
Being in tune with the environment around you. Having accurate awareness of your senses and your instinctual nature.

Radiance-Shine from the within. Share it with the world around you. Uplift everyone you touch with your sparkle.

Being more stable in the chaos that is life. Have your own foundational rudder that helps you steer through the complexities of life without getting knocked off course by other people or circumstances.

Having a nuanced and connected expressional relationship with all of your emotions. The Darkness and the Light. Have 100% self love in all your perfect expressions of you.

Letting it rip creatively. Feeling the creative fire flow through you and into manifestation.

Feeling in touch and in tune with your divine purpose.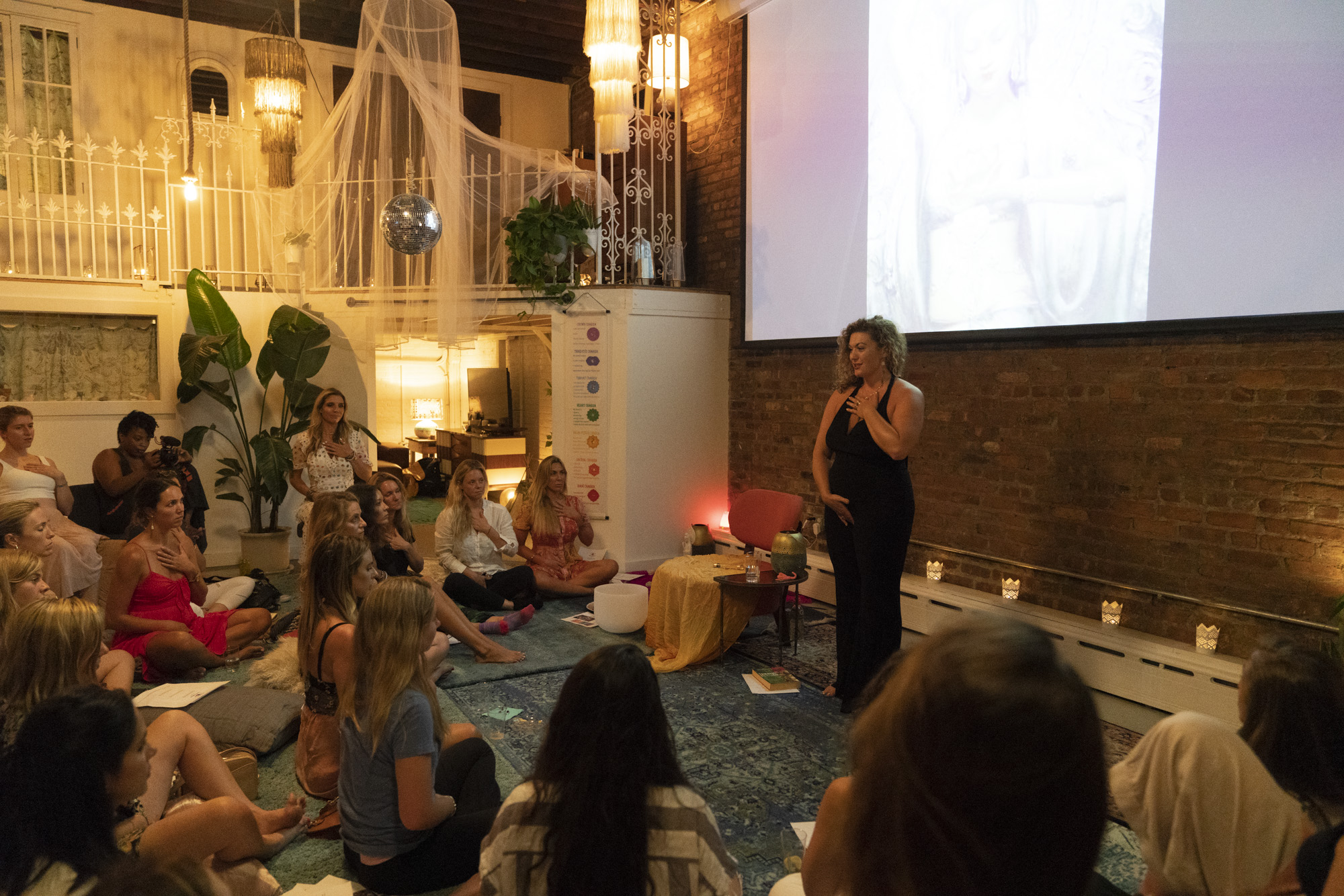 PRACTICAL DETAILS:
* Women only
* All the exercises are optional. You have 100% full agency to participate at your comfort level.
* Additionally, Lauren will offer modification options (i.e. someone can meditate in the space feeling the energy).
What People Are Saying About the Sensual Alchemy:
"It was a super pleasurable, healing and magical space in which to start to learn this practice." E, NYC
"It's a beautiful healing experience of self love" B, NYC
"Come for the connection: spiritual and sensual." S, NYC
"Lauren has clearly done the work and teaches from a place of deep respect and understanding. I expanded in her workshop in ways that surprised and delighted me!" N, NYC
"Amazing celebrations of Sisterhood!" L, NYC
"Who knew your pussy had so much to say! It's more than just climaxing!" J, NYC
"It's a powerful experience in self discovery, pussy empowerment, self love and manifestation. This is good for anyone looking to unblock & unlock their chakras and get in touch with their feminine." D, NYC
"Lauren creates such a safe intimate loving space for exploration and makes it easy to say or do what formerly might be inhibited or full of shame." F, NYC
"Whatever fear or anger you have about your body is okay. Don't be afraid to jump in and explore it. I did, and I feel relieved, grounded, and more full of pleasure!" B, NYC
---
Practicing all of this in a group amplifies the results for everyone.
**A note: Please come as you are. Women are like mother nature. Sometimes we are the storms: the hurricane, the tsunami, the dust storm; and sometimes we are like a cool breeze on a hot summer day, or the hot sun caressing skin after jumping into a cold crisp lake. This is a 100% non-judgemental, unconditionally loving space. We will all benefit from where every person is at. The beautiful thing about sexual energy is that it is a transformer. It can turn rage and grief into ecstasy, and ecstasy into power and creation. We'll ride the waves in a group soup to make all our magical manifestations with.
Please Bring:
Your crystals, amulets, jewels, and sacred objects to place on the altar to receive and transmit our group current.

Pillows/blankets/soft things to do your ritual on.

A Notebook and favorite writing utensils to write your dreams and visions on and with.
---
Your Facilitator: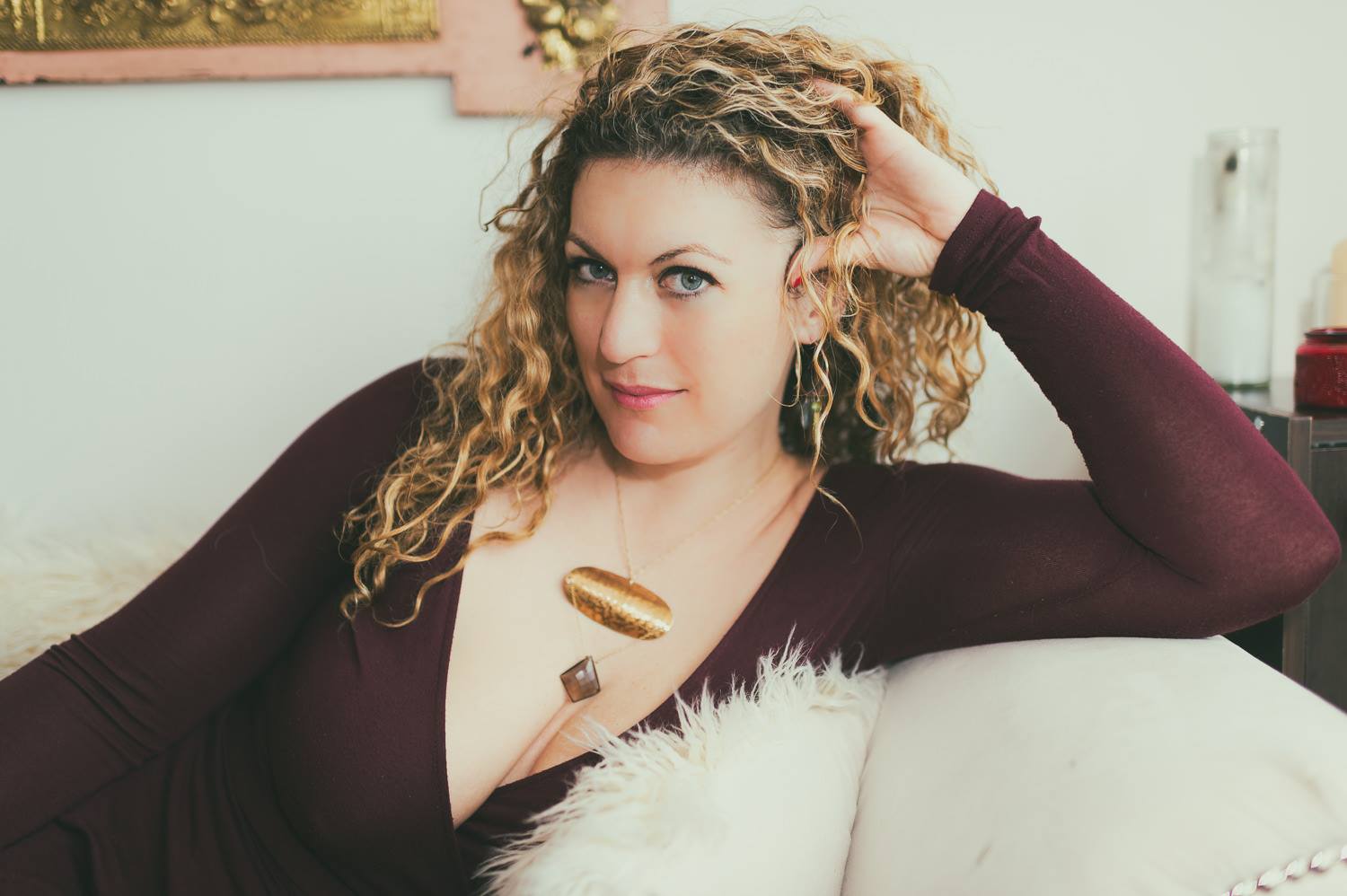 Lauren Harkness is a trained Tantrika and Advanced Certified Tantra Educator with Charles Muir's Source School of Tantra, Orgasmic Meditation Instructor, trained in the D/s arts and shamanism with Om Rupani, Graduate of Mama Gena's School of Womanly Arts, Mastery Graduate, Jewelry Designer, Seductress, and a stand for everyone ready to heal and further ignite their sexual self, sovereign and free! She teaches Tantra and other modalities of healing and personal growth. She also offers private Tantra Sessions, Orgasmic Meditation Training, Coaching Sessions, or Reiki Healing Attunements. She teaches large group classes internationally and has taught at Burning Man, FYN, Dark Odyssey, and is the Co-Founder of The Tantra Institute of New York.
For private sessions and coaching with Lauren, visit:
---


More Photos from our events:
---


FAQ:
What is Tantra Yoga?
Well, for starters, it's not what you saw in the movie American Pie! Tantra is thousands of years old and has become a buzzword, which unfortunately has some misleading definitions. Translated from Sanskrit, it means "weaving," which we have come to understand as oneness. Bringing oneness to yourself and consciousness to what you do. The exercises involving breathing and meditation that are a part of Tantra are designed to bring you into a state of being more present. And who doesn't want to be more present, right?
What is a Puja?
A Puja is an intentional ceremony. Translated from Sanskrit it means reverence, honor, an offering. It is a ritual designed to open our hearts and allow us to see the inner beauty within ourselves and all beings. It invites us into the elegant dance of masculine and feminine in a warm space of oneness and connection with ourselves and thereby transferring energy to your world around you.
What are some of the exercises?
We'll do some basic connection exercises at the beginning: breathing, meditation, light sensual movement, speaking a vulnerability, eye-gazing, dance, conscious touch (holding hands, hands on heart). And you're always invited to go as deep as you choose.
What if I don't feel comfortable doing the exercises?
Thanks for asking! We take consent very seriously. While the exercises are straightforward and fun—and we have been told we do an excellent job creating a safe container—you are always 100% at choice for how you wish to participate. Just like in yoga, when you find a pose you're not comfortable with, you have the option to modify, or completely opt out of any exercise. Everyone is encouraged to participate at their own comfort level, and we will go over what that looks like at each event, so everyone is clear before we begin.
What is the schedule for each event?
Doors open at the published start time. That's when we check you in. Everyone must check in to participate in the ceremony. A waiting list is made available at the door.
20 minutes from start - we close the doors and begin the ceremony. Anyone that hasn't checked in before this time will not be able to participate when we begin. (See our late/cancellation policy below).
What is the cancellation/refund policy?
We want you to have a great time at our event. However, life happens, and sometimes you can't make it. If you cancel 24 hours or more before the event you can get a full refund via EventBrite. If you cancel within 24 hours of event start time (or you are late and miss the ceremony start), we can move your ticket to the next event as a one-time courtesy, provided you give us email notice. If you are late again or cancel last minute a second time, the ticket is forfeit. Either way, make sure to notify us via email before the event starts, as we cannot offer any refunds or transfers after the event has started.
What is the Tantra Institute?
The Tantra Institute's mission is to empower people to connect more consciously using the tools and teachings of (primarily) Tantra. We hold multiple events, such as our extremely popular Tantra Night! Event, and work with singles and couples to help them increase their capacity for intimacy, authenticity, and pleasure. All our events are listed here: http://tantrany.com/
What if I really like Tantra and want to learn more?
Most people do! If you're in New York, come to our other events, such as Tantra Night! and visit our Facebook page to learn more.
Still have more questions?
Contact us, we'll be happy to tell you more about this event or others.