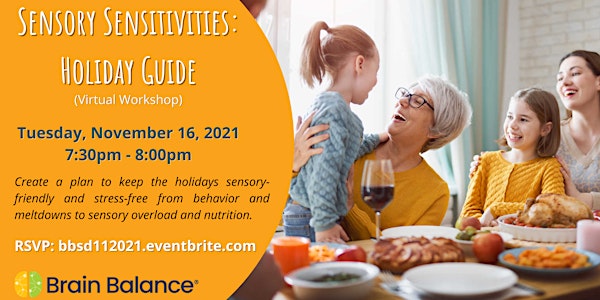 Sensory Sensitivities: Holiday Guide
Create a plan to keep the holidays sensory-friendly and stress-free from behavior and meltdowns to sensory overload and nutrition.
About this event
Join Amanda Lee, M.A.Ed, Center Director of Brain Balance San Diego and Chula Vista, to learn more about sensory sensitivities and explore practical tips to keep the upcoming holiday season sensory-friendly and stress-free from behavior and meltdowns to sensory overload and nutrition.
Review sensory challenges
Learn commons triggers during the holidays
Ways to plan ahead to improve behavior and reduce meltdowns
Participants will receive a free holiday survival guide.
Submit questions beforehand to sandiego@brainbalancecenters.com.
Free VIRTUAL workshop for parents, educators, and professionals.
Brain Balance offers a personalized, drug-free program designed to improve attention and focus, behavior, social skills, anxiety, executive functioning, and academic performance (i.e. ADHD, Autism, learning disorders like dyslexia and reading and math skills, defiance, sensory processing and environmental sensitivities, etc.). The program takes a comprehensive, whole child, integrative approach to strengthening brain connectivity through physical and sensory-motor exercises, academic skills training, healthy nutrition, and confidence building activities to get to the root cause of each person's behavioral, social, and academic challenges.
Over the past decade, we have helped over 45,000 families nationwide to improve critical life skills and create a brighter path for their future. Learn more about the current and ongoing research studies of the Brain Balance Program with Harvard University's McLean Hospital, Cambridge Brain Sciences, University of California San Francisco, and Journal of Mental Health & Clinical Psychology by visiting brainbalancesandiego.com.
Visit brainbalancesandiego.com to learn more or call 858-324-5545 for a free consultation.