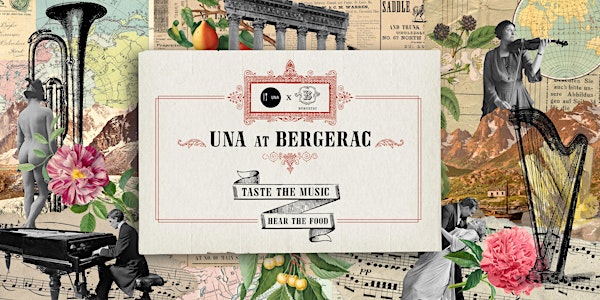 Sensory Dining Experience UNA x Bergerac
On December 18th, we will be partnering with UNA to create a sensory dining experience popup at Bergerac.
When and where
Location
Bergerac 316 11th Street San Francisco, CA 94103
About this event
Have you ever wondered how music would taste?
At UNA we deconstruct classical music into its fundamental building blocks and replicate these elements with mouthwatering dishes. This bridges the gap between the taste, smell, texture and plating of a dish and the missing sense that your mind secretly craves; sound. The result is an experience that washes over you, allowing you to dive deeply into the world of food and music.
The experience will include a four course dinner paired with four musical ensembles aimed to delight the senses and spread holiday cheer. Please bring your favorite bottle of wine to share with your friends and neighbors and compare pairings. https://www.experienceuna.com/
_______________________________________________________
Menu (Sample menu from previous event):
String Quartet No. 12 in F Major — Dvokrak
Mvt. 4 "American"
Lavender biscuits, homemade cultured butter
String Quartet No. 2 in C Major — Britten
Mvt. 1
Saffron ricotta dumplings, labneh, toasted almonds, mint
String Quartet No. 14 in D Minor — Schubert
Mvt. 1 "Death and the Maiden"
Seared duck breasts, seasonal vegetable puree, sauteed kale
String Quartet No. 2 in D Major — Borodin
Mvt. III "Nocturne"
Rose and pomegranate pot de creme, dark chocolate
* Plant-based options and dietary adjustments available upon request.
Our doors open at 6:30 p.m. and the first course will begin at 7:00 p.m. sharp. Tickets are $145 and include a welcome cocktail to start off your evening, a four course dining experience carefully paired with four chamber ensembles performing works by Cras, Schumann, Piazzolla, and Massenet.
Seating:
Seating will all be communal 8 tops. Please notify us if you are buying tickets with a group, and we will work to ensure you are at the same table. All corkage will be waived at the event however we will have a full bar available for purchase onsite.
Dietary Restrictions:
Dietary restrictions will be accommodated to the best of our ability. Please reach out to jazlyn@bergeracsf.com to see if we are able to accommodate.
For special requests or any additional questions please contact jazlyn@bergeracsf.com
Sample Menu: