SENSITIVE AND IN LOVE FILM PREMIERE AND BENEFIT
About this Event
Join us on Wednesday, January 29, 2020 at the prestigious Directors Guild of America (DGA)Theater in the heart of New York City as we roll out the red carpet for the world premiere of Sensitive and in Love, a benefit for the Foundation for the Study of Highly Sensitive Persons (501c3).
Sensitive and in Love follows in the footsteps of the original documentary Sensitive-The Untold Story featuring Alanis Morissette (2015).
Over 1.4 billion people on this planet are highly sensitive and they are changing the way we view the world. Sensitive and in Love captures another side of a highly sensitive person and is a film not to be missed!
What is high sensitivity? In not only our species, but over a hundred others, a minority of individuals (20%) come with an inborn survival strategy of greater sensitivity to what is going on around them. Highly sensitive people think deeply, get easily overwhelmed by intense, complex or novel things, are more attentive to subtleties and have more empathy. The trait was identified by Elaine Aron, Ph.D. in 1991and her international bestseller The Highly Sensitive Person revolutionized how we view HSPs.
Several years in the making, Sensitive and in Love showcases high sensitivity like never before. This indie movie, while based on solid science, tells a fictional story about love and family. Rob and Jessica, brother and sister and both highly sensitive, share a traumatic childhood that, because of their sensitivity, has left them both especially wounded and vulnerable in their relationships. Fate forces them to face their demons and embrace what seemed to them an unbearable trait.
Your tickets are tax deductible (US only). All proceeds will go to the Foundation for the Study of Highly Sensitive Persons (501c3) to continue education and research on the trait of high sensitivity.
VIP RECEPTION is at 6PM EST (included in Sensitive Community, Sensitive Supporter, Friend/Member/Patron of the Foundation and Executive Producer ticket levels)
SHOWTIME is at 7PM EST followed by the Q&A with bestselling author -psychologist DR. ELAINE ARON (THE HIGHLY SENSITIVE PERSON); one of the world's leading scientists of love and relationships, author of 36 QUESTIONS - DR. ARTHUR ARON; SENSITIVE AND IN LOVE's Emmy award-winning director WILL HARPER; producer DIANA SINELNIKOVA; and members of the cast - JOSE ROSETE and BIANCA ROGOFF.
Dress code: business casual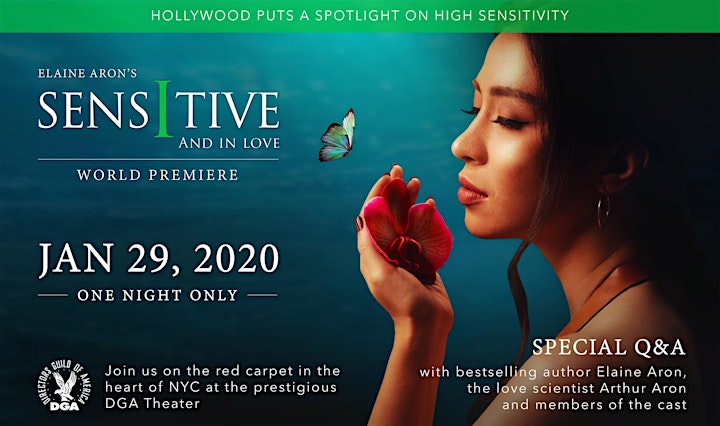 SYNOPSIS:
What do you do when you feel you are born with an unbearable flaw, and you don't know yet that you share it with 1.4 billion people? Rob and Jessica grew up feeling just that. Inspired by the international bestseller The Highly Sensitive Person and global media sensation 36 Questions that lead to love, SENSITIVE AND IN LOVE tells their story. Besides their sensitivity, the brother and sister share a traumatic childhood. Jessica is an accomplished writer in San Francisco, however every one of her romantic relationships has crashed and burned. Rob, a successful music producer in Manila, has a seemingly happy marriage, but it is headed for a cliff. Robbie insists Jessica comes to the Philippines for a much-needed break. While there, a single mistake opens Jessica to the world and a terrifying moment for Robbie opens him to a real family connection.
DIRECTOR: Will Harper
EXECUTIVE PRODUCERS: Arthur Aron, Elaine Aron, Will Harper, Diana Sinelnikova
PRODUCERS: Will Harper, Diana Sinelnikova
STORY BY: Elaine Aron, Will Harper, Diana Sinelnikova
LEADING CAST: Madeleine Humphries, Jose Rosete, Bianca Rogoff, Billy Ray Gallion, with special participation of Ms. Cherie Gil.