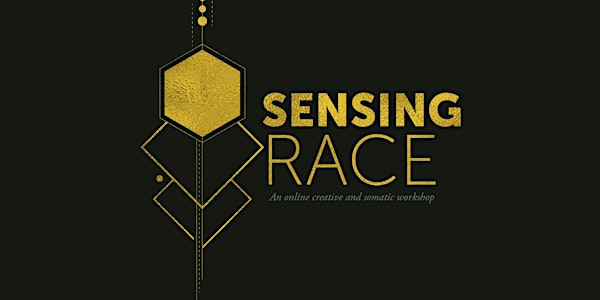 Sensing Race: A 2-Day Experience Making Sense of Race (Aug 18th & 20th)
Join us virtually with workshop facilitators Shay Au Lait and Christos Galanis for a unique experience on race.
About this event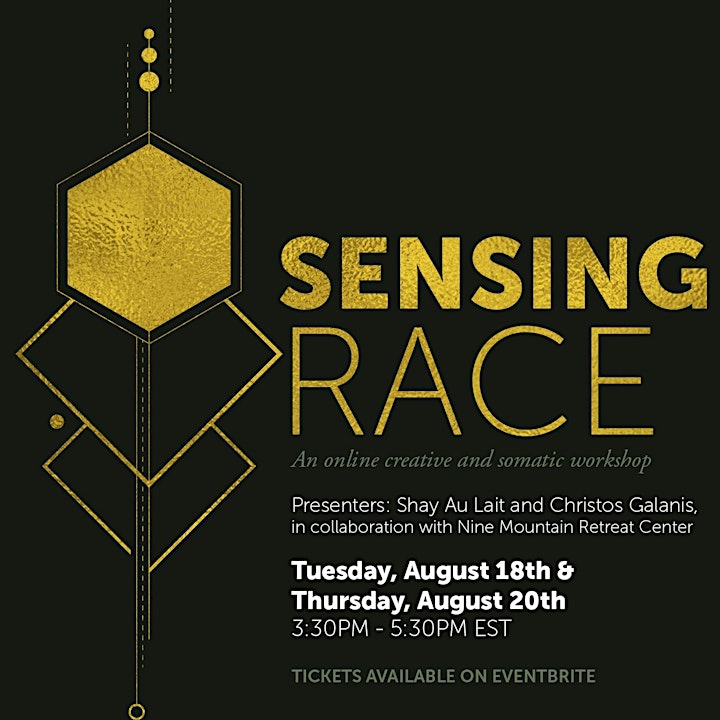 What does 'race' feel like in your own body - in your own senses?
In what ways do your senses perceive 'race' in the body of another?
How does this race-fixated culture we're a part of inhabit and inhibit our bodies; our imaginations; our speech; our dreams and our nightmares? our agendas?
How might we 'make sense' of race, and explore how Blackness and Whiteness inform our relationships, our identities, our emotions; or our very perceptions of reality?
Most importantly, how might we explore these prompts mindfully, playfully, creatively, and even sensually?
Join us via zoom - with workshop facilitators Shay Au Lait and Christos Galanis - for a unique workshop on race, produced in collaboration with Nine Mountain Retreat Center.
What we propose to devise for you is a dynamic, creative, somatically-centered container within which we might temporarily pause from wrestling with race and racism intellectually or politically. Inside that pause, we will explore using our own body's intelligence as an instrument for better understanding the ways in which ancestry and difference might instead be vehicles for play, inspiration, and intimacy, as opposed to barriers that divide us and stoke reactions of fear or violence, and impulses to fetishise, control, or conceal.
By the conclusion of this 2-part workshop, it is our desire that participants might come away with a more resilient and integrated relationship with race. Practically speaking, participants will take away new or more effective tools that employ embodiment, creativity, and play as strategies for resourcing themselves and their communities in the collective struggle of bringing about a more just and inspired society.
Please note:
1. This is a two-day workshop. Attendees must be present both on
Tuesday, August 18th from 3:30 pm to 5:30 pm EST AND
Thursday, August 20th from 3:30 pm to 5:30 pm EST
Attendees will be emailed all details including the private Zoom link. Please ensure you register for the conference with an active email address.
2. While this is an investment, if you are experiencing financial challenges but really feel this workshop is vital for you, please email us. We will try to find a way.
3. 10% of all ticket sales will be donated equally to Harlem Children's Zone and RAINN.
4. As this workshop is interactive, sensual, and embodied, space is limited so as to facilitate an intentional and thoughtful container that allows time and space for everyone to sink in and participate.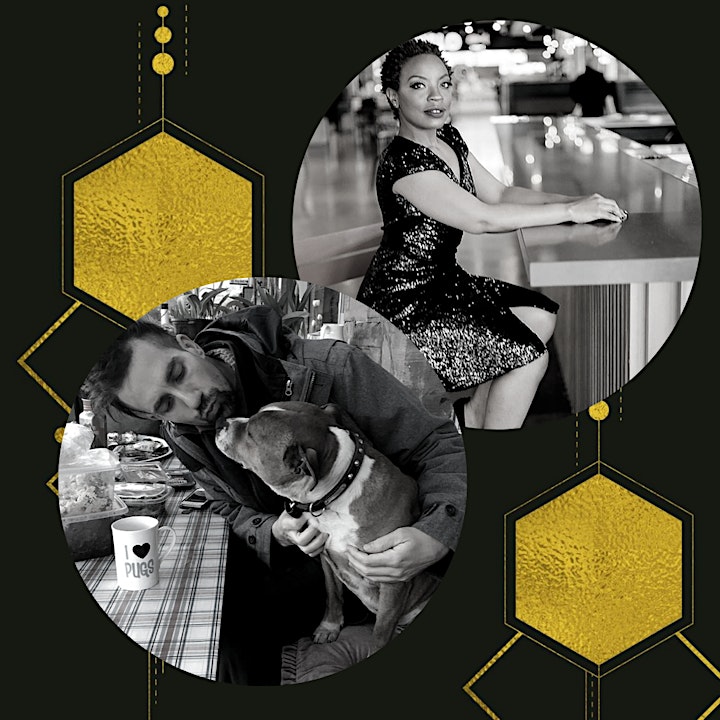 Known for her creative and poignant philosophical approach, Shay Au Lait speaks to and facilitates personal development and self-awareness through a value-based system that challenges traditional paradigms of thinking. Her practical, actionable, and sensual techniques have earned her the nicknames of "Vulnerability Doula," "Intellectual Sensual Shaman," and a "Cultural Provocateur." Equal parts playfully innocent and dangerously kinky, she is also a provocative, intoxicating Sorcerer hailing from the Chicago, IL. As a burlesque, theater, and pole dance artist, she combines her love of eroticism, sensuality, emotion, and storytelling on the stage, in the classroom, and in life through SpeakEasy Noir and Siren Pack Productions.
Christos Galanis (MFA) is an interdisciplinary artist and cultural geographer who has spent the past 12 years intensely tracking and making visible the various 'spells' through which colonialism and Whiteness inhabit and inhibit relationships, both individually and culturally. In addition to his extensive academic publishing, lecturing, and ethnographic field-work experience, he also brings years of experience teaching workshops on play, performance, kink, and eco-sexuality. A practicing Animist, he is a graduate of Stephen Jenkinson's Orphan Wisdom School and is currently completing a PhD from the University of Edinburgh.
About Nine Mountain Retreats
At Nine Mountain Retreats we intentionally craft a home space for learning, research and exploration in the realms of human connection, spiritual practice, social change, embodiment and the healing arts. We host, produce and facilitate group retreats, intensives, courses and workshops that support this work.
The aim of our work is to support and engage in the development of global "regenerative culture" – a life-affirming, highly creative human culture, wherein human needs are interwoven with the rhythms and needs of the natural environment, enabling both human and natural ecosystems to regenerate in harmony with each other. To this end, we particularly welcome native and indigenous teachers; to this end, we particularly welcome leaders in social change movements; to this end, we particularly welcome environmental activists, permaculture practitioners and deep ecologists.
Nine Mountain envisions a diverse network of resilient, interrelated communities spanning the globe, supporting a thriving human society that nurtures systemic health, radical self-expression, maintains ecosystem integrity, and inspires reverence for life.