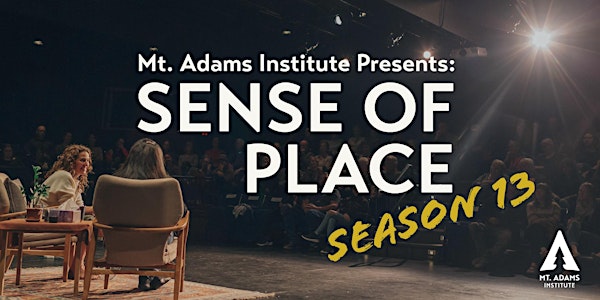 Sense of Place Season 13
Sense of Place returns! Topics include Living snow, wildfires, history-making leaders, and more.
When and where
Location
Columbia Center For the Arts 215 Cascade Avenue Hood River, OR 97031
About this event
175 days 3 hours

Mobile eTicket
Mt. Adams Institute presents the 13th annual Sense of Place Lecture Series.
About Season 13
Sense of Place returns for its 13th season. Sarah Fox, host and curator of Sense of Place, and the entire team are excited for this season's lively, exceptional, and always educational lineup. Topics range from living snow, wildfires, and history-making leaders (to name a few). Season 13 will not disappoint! The season will launch on Oct. 19th, 2022, at 7 pm with a lecture by Ralph Lampman titled: Bloodsucker, Eel, Asum, Ksuyas, Parasite, Lamprey: Many Names, but What Does it Mean to Us?
Where & When
All lectures for Sense of Place will be at the Columbia Center For The Arts in downtown Hood River. The events will be in-person (when current public health and organization guidelines allow) and live-streamed. If a presentation must be virtual due to safety precautions, it will be offered online on the same date and time.
Lecture Tickets
Tickets for individual lectures are on sale for $10(plus taxes and fees). You can purchase them online or at the door. Lectures occur once per month, October through April, at 7 pm. Following all of the lectures, there is a Q&A.
When you purchase your ticket online, you'll receive an email confirmation. If you don't receive the confirmation, please check your spam folder. On the day of the lecture, you can bring a printed ticket or a digital copy. You can also give us your name at the door.
Livestream Information
If you purchase your ticket online, please opt-in to our email list. This will allow us to send you updates and the Livestream information. Make sure to check your spam folder for our emails, so you don't miss anything!
You will receive an email the Monday before the lecture with the Livestream information.
You can also access the Livestream by visiting the Sense of Place webpage at: https://mtadamsinstitute.org/senseofplace/
2022-23 Sense of Place Lecture Series Lineup :
When: Oct. 19, 2022, at 7 pm
Title: Bloodsucker, Eel, Asum, Ksuyas, Parasite, Lamprey: Many Names, but What Does it Mean to Us?
Speaker: Ralph Lampman
When: Nov. 9, 2022, at 7 pm
Title: Nancy Russell's Legacy at Cape Horn: Inside a National Scenic Area Campaign
Speaker: Bowen Blair
When: Dec. 7, 2022, at 7 pm
Title: The Iconic Mitchell Point Tunnel Returns! 
Speakers: Tova Peltz & Kevin Price
When: Jan. 11, 2023, at 7 pm
Title: Wildfire in the Gorge: The Good, the Bad, and Lessons from Eagle Creek
Speakers: Jessica Hudec & Loretta Duke
When: Feb. 8, 2023, at 7 pm
Title: Living Snow: Mysterious Pink Snow and the Future of Our Alpine Ecosystems
Speaker: Robin Kodner
When: Mar. 8, 2023, at 7 pm
Title/Speaker: A Conversation with Kat Brigham - Chair of the Confederated Tribes of the Umatilla Indian Reservation and Appointed Member of the First-Ever Secretary's Tribal Advisory Committee for the U.S. Department of the Interior
When: Apr. 12, 2023, at 7 pm.
Title: Volcanic Origins of the Columbia River Gorge: A Tangled Tale of Magma and Water
Speaker: Leif Karlstrom
Refunds
Refunds will not be permitted unless the event is canceled by Mt Adams Institute and will not be held in-person or live-streamed.
Mission
Sense of Place is a program of the Mt. Adams Institute whose mission is to strengthen the connection to the natural world through education, service learning, career development, and research.