Description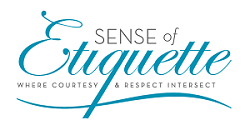 In today's competitive marketplace, personal interactions matter. Self-confidence, wardrobe, communication, and presentation can make or break a relationship. Verbal and non-verbal signals can either convey confidence or insecurity.
​
Sense of Etiquette was created to assist individuals, groups, corporate, government and educational institutions that enhances the confidence of children, teens, young adults and adults to present a confident and courteous image.
​
SENSE OF ETIQUETTE DELIVERS
You Will Be Able To…
• Create a Positive Impression
• Become a More Effective Communicator
• Understand What It Takes to Increase the Bottom Line
• Be Promotion Ready
• Understand the Basics of a Business Meal
This session will cover the necessities of being considerate of others.
Topics include:
Dress and appearance

Professional vs. social situations

Proper introductions

The handshake

Conversational skills

Proper business email and telephone etiquette
* Please Note Pre-Registration and Payment are Required. After November 10th, registration is $149.
One of our goals is to assist companies and business leaders in building a workforce that presents a confident and professional image.
You have a reputation to uphold, and we can help.
For any questions please contact:
Barbara Gaines, President

email: barbaragaines@senseofetiquette.com
Phone: (321) 662-4222

www.senseofetiquette.com