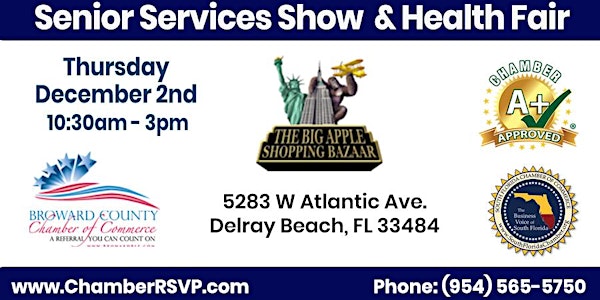 Senior Show, Medical Services Expo & Health Fair
The South Florida Chamber of Commerce & CHAMBER APPROVED presents the South Florida Senior Show, Medical Services EXPO & Health Fair
When and where
Location
The Big Apple Bazaar 5283 West Atlantic Ave Delray Beach, FL 33484
Refund Policy
Contact the organizer to request a refund.
About this event
Thanksgiving Week Super Sale!
561-683-8414 www.ChamberRSVP.com
We have never offered Exhibitor Packages priced this low!
South Florida Chamber Business Expo, Senior Services Show, and Health Fair
Put your BUSINESS, your BRAND and your PRODUCTS in the SPOTLIGHT!
GROW Your Business
GROW Your Network
GROW Your Client Base
GROW Your Knowledge Base
Register at https://www.chamberrsvp.com/product/south-florida-boomers-seniors-expo-120221/
Sign up for VIP Invites & other priority announcements such as grants & government business assistance programs at https://www.ChamberRSVP.com
The South Florida Chamber of Commerce, Broward County Chamber of Commerce & CHAMBER APPROVED presents the 3rd Annual Chamber EXPO Featuring a South Florida Senior Life SHOW, Health Fair & Medical Services EXPO.
Event: 3rd Annual BUSINESS EXPO Featuring a South Florida Seniors & Boomers Expo
Date: Thursday, December 2nd, 2021
Time: 10:30am – 3:00pm
Location: The Big Apple Shopping Bazaar
Address: 5283 W Atlantic Ave, Delray Beach, FL 33484
Exhibitor Info: (561) 683-8414, www.ChamberRSVP.com
Medicare Open Enrollment is until December 7th, 2021 – Last Chance to Help New Seniors
SPECIAL OFFER - All New Members and Exhibitors who purchase the Exhibitor, Membership & Marketing Package will receive a Gratis Heart Scan valued at $795. There are a few minor qualifications but if you don't meet them you can assign this scan to a loved one, family member or employee. CT Scan performed in a brand new clinic in South Florida.
Cost: General Admission includes, FREE health screenings, FREE refreshments, Hourly DOOR PRIZES, Restaurant Gift cards, Grand Prize Drawing, Meet & Mingle, FREE Food, FREE Give-aways, Free Bagels, Free Donuts, Free Sandwiches, Free Coffee, Free Parking PLUS 500 Free Florida Scratch Lottery Tickets to the First 500 Seniors & Boomers!
Covid-19 Precautions – Social Distancing of Exhibitors & Attendees. Admission includes free gloves, free face mask, free portable hand sanitizer.
Agenda: Live Life To The Max in South Florida @ The BOOMERS & SENIORS EXPO Featuring Health, Wellness, Medical, Lifestyle, Entertainment, Financial & Home Providers.
25+ Reasons to Exhibit at the SOUTH FLORIDA SENIOR EXPO: Reach the Wealthy Senior Market in South Florida, Inform & Educated the Elderly Population, Reach the Senior Market on a personal level, Give Seniors the quality of life they deserve, Meet the Caregivers, meet the family members, Secure new business contacts, develop prospect database, accelerate the sales process, access the decision maker, provide hands-on exposure to products and services, identify and assess new markets, maintain market viability, introduce a company to a new market, launch a new product or service, counteract competitor claims, generate media exposure, build brand awareness, recruit new distributors, retailers or representatives, recruit personnel with specialized skills, network with the regional business community, expand your business out of county and Internationally, gain customer feedback, maintain profile with competitors, test the market for new product or service development, identify and assess new markets, getting your customers to buy more, maintain or extend relationships with existing clients, trade show return-on-investment is lasting, market research, prevent client switching.
INDUSTRIES REPRESENTED AT THE SOUTH FLORIDA SENIOR EXPO: Fitness & Exercise, Medical Services, Health Services, Spa, Massage, Beauty, Senior Housing, Senior Job Fair, Home Show & Remodeling, Lifestyle Products & Services, Assisted Living Options, Pain Relief, Hemp, CBD, Non-Profit Resources, Vacation & Leisure Destinations, Senior Mobility, Banks, Insurance & Investing, Fashion, Jewelry & Gifts, Travel & Tourism, Estate & Financial Planning, Bathroom & Kitchen ReDo's, Restaurants & Hotels, Hearing Aids, Vision & More, Real Estate Services, Senior Networking & Dating, Safety & Home Security, Government Agencies, Legal Matters, Charities & Philanthropy, Pharmacies & Pharmaceuticals, Dentistry, Dermatology, Beauty.
REASONS TO ATTEND: Great food, Raffle Prizes, Job Fair, Informative Seminars, Travel Ideas, Model Search, Medical Tests, Entertainment, Great Food, Health Screenings, Raffle Prizes, Great Give-aways, Free Massage, Free Check-ups, Special Discounts, New Products, Investment Ideas, Longevity Resources.
Special: Elvis Presley will be performing live and in person performing his Greatest Hits, the Rat Pack and JayBee Sax.
FREE Business Card Exchange Center at the South Florida SENIOR LIFE EXPO with Paid Admission.
With Your General Admission, Bring 100's of Business Cards, or Post Cards or Your Color Flyers and you will be able to place them for FREE in the Center. PICK UP the Business Cards of the Professionals you want to Connect with. ***EXTREME VALUE***
Business Card Exchange Booth – Bring 300 Business Cards, 100 for the exhibitors, 100 for the Exchange Booth, 100 for Networking.
MEMBERSHIP DRIVE BONUS - Two Memberships for the Price of One. When you join the South Florida Chamber of Commerce, you will receive a one year gratis membership into CHAMBER APPROVED – Your Local, Regional, State, National & International Chamber of Commerce which gives you exposure and brings your business from all over South Florida and the United States. Your company will be listed on the SFCC website and the Chamber Approved Website with a combined total of more than 2 million hits every month.
Annual Membership Drive Bonus – TWO MONTHS FREE MEMBERSHIP with your annual membership purchase!
Join today, Call 561-683-8414 You can also join online at https://www.chamberrsvp.com/south-florida-chamber-of-commerce/
Sign up for our Newsletter at https://www.ChamberRSVP.com
South Florida Chamber of Commerce
2000 West Commercial Blvd. Suite 229
Fort Lauderdale, FL 33309
Office (561) 683 – 8414
Fax (561) 450 - 9335
www.SouthFloridaChamber.org