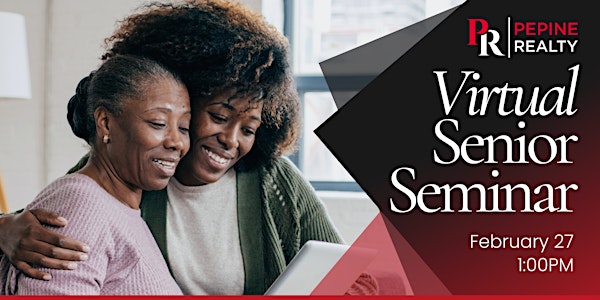 Senior Seminar
Join us for a free informative virtual seminar on senior living options When: February 27th, 1-2PM
About this event
JOIN US FOR A FREE INFORMATIVE SEMINAR ON SENIOR RESOURCES IN THE GAINESVILLE, FL AREA
WHEN: Monday, February 27th, 1PM - 2PM
WHERE: Offered online hosted by Zoom.
WHAT: Learn what senior resources are available to you in our area
COST: Free
This insightful seminar will cover three important topics:
SENIOR LIVING OPTIONS
ESTATE PLANNING
MOVING AND DOWNSIZING
Senior Living Options
During the seminar you will learn about various senior living options including local retirement communities. Speak with representatives who can provide answers to all of your questions about local facilities and costs.
Estate Planning
We will cover how to get started, what steps you should take, and what factors to consider. Learn about probate, long term care, and tax laws that can influence your estate planning. 
Moving & Downsizing
Learn about different resources available if you decide to make the move from your traditional residence. Find out about different services that offer you the opportunity to move without hassle and about different factors to consider when you decide you're ready to make the move.
Online Ticket
We are offering this seminar on Zoom. Sign up for an online ticket and you will be emailed the Zoom link that you will use to join the seminar on Monday, February 27th at 1pm.
Please email katieg@pepinerealty.com with any questions!