Senior Policy Advisor to the Secretary of Commerce Keynotes 'Cybersecurity Legislation in Congress: Where Does it Stand?'

Tuesday, February 21, 2012 from 8:00 AM to 10:00 AM (EST)
Event Details
You are invited....
to an event of the Broadband Breakfast Club
http://broadbandbreakfastseries.eventbrite.com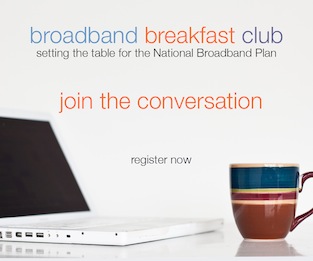 Cybersecurity Legislation in Congress: Where does it Stand?
The effort to move major cybersecurity legislation into the senate is longstanding. For at least three years there have been numerous hearings and dozens of legislative drafts - and yet, there are calls for more discussion and vetting. 
February is turning out to be Cybersecurity Month in Washington, as multiple major cybersecurity legislative endeavors, with broad and deep implications for shoring up the US infrastructure, make their way through the house and senate. The question is, are all involved participants ready to actually move forward on this? And if so, will Congress be able to achieve sweeping cybersecurity legislation before the presidential election? 
Examples of such bills include: 
The House Homeland Security Committee marking up the "Promoting and Enhancing Cybersecurity and Information Sharing Effectiveness Act (PRECISE) which tackles multiple cybersecurity issues and creates a new information sharing organization, NISO.
Energy and Commerce hearings in anticipation of the "Cyber Intelligence Sharing and Protection Act of 2011" which addresses information sharing.
The "Cybersecurity Enhancement Act of 2011", which addresses cybersecurity R&D, and passed through the Science and Technology Committee last year. 
On the Senate side, a comprehensive bill taking on FISMA reform, governmental authorities, critical infrastructure protection, R&D information sharing, data breaches and miscellaneous provisions, is expected to make an appearance. 
Keynote Speaker:
Ari Schwartz
Senior Policy Advisor to the Secretary
Internet Policy Task Force
United States Department of Commerce
Ari Schwartz serves as a Senior Policy Advisor to Commerce Secretary John Bryson.  Schwartz helps to run the Department of Commerce's Internet Policy Task Force, providing input on areas such as cybersecurity, privacy, and identity management and represents the Department on a range of policy-related interagency working groups. He came to the Department of Commerce through the National Institute of Standards and Technology where he served as Senior Internet Policy Advisor for the NIST Information Technology Laboratory. Prior to his work in Government, Schwartz served over 12 years as Vice President and Chief Operating Officer of the Center for Democracy and Technology. While at CDT Schwartz led the Anti-Spyware Coalition (ASC), anti-spyware software companies, academics, and public interest groups dedicated to defeating spyware. He won both the 2006 RSA and the 2010 Online Trust Alliance awards for Excellence in Public Policy. He was also named one of the Top 5 influential IT security thinkers of 2007 by Secure Computing and an emerging leader by both Government Executive and Politico.
Panelists:
Larry Clinton
President
Internet Security Alliance (ISA)
Larry Clinton is the President of the Internet Security Alliance (ISA), a multi-sector trade association with membership from virtually every one of the designated critical industry sectors. The mission of the ISA is to combine advanced technology with economics and public policy to create a sustainable system of cyber security. Mr. Clinton is known for his ability to take the complicated issues in this space and explain them clearly to a wide range of audiences---professional, policy makers and the general public. He has been featured in mass media such as USA Today, the PBS News Hour, the Morning Show on CBS, Fox News, CNN's Situation Room, C-SPAN, and CNBC.  He has also authored numerous professional journal articles on cyber security. This year he has published articles in the Cutter IT Journal, the Journal of Strategic Security and the Journal of Software Technology. Mr. Clinton is regularly called upon to testify before both the U.S. House and Senate. In 2008, ISA published its Cyber Security Social Contract, which is both the first and last source cited in the Executive Summary of President Obama's Cyber Space Policy Review and which also cites more than a dozen ISA white papers – far more than any other source. The ISA's pro-market, anti-regulatory approach to cyber security is outlined in its numerous publications, including the "ISA Cyber Security Social Contract," "The Social Contract 2.0: A 21st Century Program for Effective Cyber Security," "The Financial Management of Cyber Risk: An Implementation Framework for CFOs," and "The Financial Impact of Cyber Risk: 50 Questions Every CFO Should Ask," all of which were written by the ISA Board of Directors and edited by Mr. Clinton.
Tommy Ross
Senior Intelligence and Defense Advisor
Senator Harry Reid
Tommy Ross is Senior Intelligence and Defense Advisor to Senate Majority Leader Harry Reid of Nevada. In this capacity, he advises Senator Reid on national security matters, serves as an ex officio staff member to the Senate Select Committee on Intelligence, and is responsible for all compartmented "Gang of 8" intelligence matters for the Majority Leader. Prior to his service with Senator Reid, he served as Legislative Director for Rep. David Price of North Carolina's Fourth District, and advised Rep. Price on issues relating to foreign affairs, defense, intelligence, veterans, and justice. He also provided program support for Rep. Price's work as Chairman of the House Democracy Partnership, a congressional commission working to strengthen basic capabilities of legislatures in developing democracies. In addition, Tommy has worked as a national security policy analyst for the Senate Democratic Policy Committee, an arm of the Democratic Leader's office, and as a research assistant for Senate Democratic Leader Tom Daschle. He is a graduate of Davidson College in North Carolina and earned an M.A. in Theology and Ethics from Union Theological Seminary in New York. He has also completed a certificate program through the U.S. Air Force's Air Command and Staff College, and is a term member of the Council on Foreign Relations.
Nick Rossi
Minority Staff Director
Senate Homeland Security and Governmental Affairs Committee
Nick Rossi serves as the Minority Staff Director for the U.S. Senate Committee on Homeland Security and Governmental Affairs. He works for the panel's Ranking Member, Senator Susan Collins of Maine. Nick previously served as the Minority Chief Counsel and Chief Investigator for the Senate Committee on Commerce, Science, and Transportation, under Ranking Member Kay Bailey Hutchison of Texas. Prior to working for the Commerce Committee, Nick was part of a bipartisan group of investigators charged with reviewing the CIA's detention and interrogation program on behalf of the Senate Select Committee on Intelligence. Earlier, Nick served as the Minority Chief Counsel for the Senate Judiciary Committee, under then-Ranking Member Arlen Specter of Pennsylvania. While on the Judiciary Committee, Nick worked on a variety of national security and law enforcement matters, including the 2005 reauthorization of the USA PATRIOT Act and the 2008 FISA Amendments Act. Prior to his career on Capitol Hill, Nick spent eleven years with the Federal Bureau of Investigation as an attorney and special agent. He also spent two years in private practice, with the Cleveland, Ohio law firm of Calfee, Halter & Griswold. Nick is an honors graduate of the University of Notre Dame and Harvard Law School.
Ari Schwartz
Senior Policy Advisor to the Secretary
Internet Policy Task Force
United States Department of Commerce
Additional panelists have been invited
Moderator:
Joseph Menn
Author, Speaker and Investigative Reporter
Technology Project Reporter, Reuters
Specializing in technology issues for Reuters, Joe previously worked for the Financial Times and the Los Angeles Times. He is the author of the 2010 influential bestseller "Fatal System Error: The Hunt for the New Crime Lords who are Bringing Down the Internet," a real-life thriller that brought bring the modern face of cybercrime to a mainstream audience. "Fatal System Error" revealed new evidence of collaboration between major governments and organized cybercriminals and has been placed on the official reading list of the U.S. Strategic Command. It was named one of the ten best nonfiction works of the year by Hudson Booksellers and one of the top five business books by 1-800-CEO-READ. Compared by the New Yorker to the novels of Stieg Larsson, "Fatal System Error" has been translated into Japanese, Chinese and Korean. 
Menn also wrote "All the Rave: The Rise and Fall of Shawn Fanning's Napster," which was named one of the three best books of 2003 by Investigative Reporters and Editors Inc. He has won two "Best in Business" awards from the Society of American Business Editors and Writers and has been a two-time finalist for the Loeb Awards for business reporting. Menn has spoken at top security industry conferences RSA, DefCon and Black Hat DC, industry gatherings in England, Canada, Australia and Spain, and training sessions convened by US bank regulators and federal law enforcement. He is a graduate of Harvard College and lives in San Francisco.
Telecommunications advocates, policy-makers, journalists, top officials and the general public, all seeking to trade insights on these important issues, are invited to attend this event of the Broadband Breakfast Club, which includes full American and Continental breakfasts, for as little as $45.00, plus a modest registration fee.
This event is on the record and open to the public. 
For News and Events on BroadbandBreakfast.com follow us at http://www.twitter.com/broadbandcensus
Event Details
Title:  Cybersecurity Legislation in Congress: Where does it Stand?
Date:  Tuesday, February 21st, 2012  8 a.m. - 10 a.m. 
Where:  Clyde's of Gallery Place, 707 7th Street NW, Washington, DC 20001
The breakfast begins at 8 a.m., followed by a discussion, beginning shortly after 8:30 a.m. and ending by 10 a.m.
The Broadband Breakfast Club is a "widely attended event" under House of Representatives Rule 25, clause 5(a)(4)(A).
-----
For individuals outside of Washington, or those whose schedule doesn't permit attendance in person, archived webcasts of the Broadband Breakfast Club are available for free on BroadbandBreakfast.com.
The Broadband Breakfast Club seeks sponsorship of our events from interested companies and organizations.  For details on sponsorship opportunities, please contact Sylvia Syracuse at 646-262-4630 or sylvia@broadbandcensus.com. The Broadband Breakfast Club is produced by Broadband Census News LLC. 
Follow us on Twitter at www.twitter.com/broadbandcensus
______________________________________________________________
The Broadband Breakfast Club is Sponsored By:





Have questions about Senior Policy Advisor to the Secretary of Commerce Keynotes 'Cybersecurity Legislation in Congress: Where Does it Stand?'?
Contact Broadband Breakfast Club
When & Where

Clyde's of Gallery Place
707 7th Street NW
Washington, DC 20001


Tuesday, February 21, 2012 from 8:00 AM to 10:00 AM (EST)
Add to my calendar
Organizer
Broadband Breakfast Club
BroadbandBreakfast.com is an internet policy news and events service devoted to breaking news on Broadband policy issues including Broadband Stimulus, Wireless, the National Broadband Plan, Universal Service, and more. Our trenchant articles are free at BroadbandBreakfast.com.

To complement our news service, BroadbandBreakfast.com also hosts monthly "Breakfast Club" events and other special events.
Our Broadband Breakfast Club series meets monthly on the THIRD Tuesday of the month (except for August and December).
Events are held at Clyde's of Gallery Place, 707 7th St. NW, Washington, DC. Metro Stop: Chinatown/Gallery Place.
Events are open to the public and held from 8 am - 10 am, with full Continental and American breakfasts served from 8 am - 8:30 am.
To subscribe to our news service go to BroadbandBreakfast.com.
To register for our next event click on
http://broadbandbreakfast.eventbrite.com
To view our past and future events see 
http://broadbandbreakfastseries.eventbrite.com
To view our event videos see
http://broadbandbreakfast.com/category/broadband-tv/
The Broadband Breakfast Club is Sponsored By:



Senior Policy Advisor to the Secretary of Commerce Keynotes 'Cybersecurity Legislation in Congress: Where Does it Stand?'