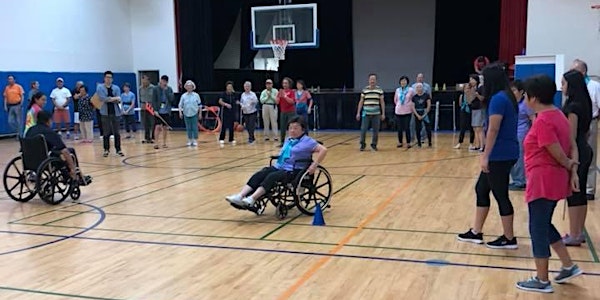 Senior Olympics Fun, Sports & Games!- Volunteers Needed!
We need volunteers to help out with Senior Olympics! Let's promote physical activity and well being for senior citizens.
When and where
Location
Senior Olympics Marathon 13151 W Airport Blvd sugar Land, TX 77478
About this event
Want to have fun and get healthy while making positive changes? Come and joins us as we play, interact, and work together with senior citizens to get everyone healthy at the Senior Olympics Event!
The Houston International Jaycees is heading out to help out the Chinese Community Center for their annual Senior Olympics , where we get senior citizens in shape with fun, and healthy sports activities from wheelchair races, basketball, and walking/running in a marathon! If you ever had Field Day in school, you know this event will be a bunch of fun!!
We are looking for 20+ volunteers 15 years old and up with to help with the following:
Team captains - Lead your team to victory by playing and engaging with the seniors citizens in the games
Set up the activities/games
Translators - Mostly for Cantonese and Mandarin
Referees to help run the games
Helping and interacting with senior citizens with great attitudes
DATE: Saturday October 30th
LOCATION: 13151 W Airport Blvd Sugar Land Tx 77478
TIME: 9:30-3:30 PM
If you can't stay for the entire event, that is fine as well. Please contact project leads to let them know what time you will be arriving or leaving.
Lunch will be provide to all volunteers. Volunteer waiver form will be sent out prior to the event.
If you want to come as a group, please contact project leads.
Check out the pictures below to see how fun this event is going to be!
Contact: Project Coordinators Gabriella B. and Andy F. at jcihoustonintl@gmail.com.
We will be following the current CDC's guidelines for COVID-19. All participants are required to show proof of COVID vaccination card or a photo of that required will not be required to wear masks. All others will be required to wear masks. Masks are highly recommended for those who proof of COVID vaccination. A COVID-19 Self-Health Check Survey will be sent out prior to the event.
The Houston International Jaycees are an award winning young professional organization that develops leadership through service to humanity. This organization won the 2020 Outstanding Chapter from the JCI USA and many more awards in 2020! Houston International Jaycee's goal is to help young professionals between the ages of 18 and 40 develop personal and leadership skills and give them the tools to build the bridges of success for themselves in the areas of business development, management skills, individual training, community service, and international connections.