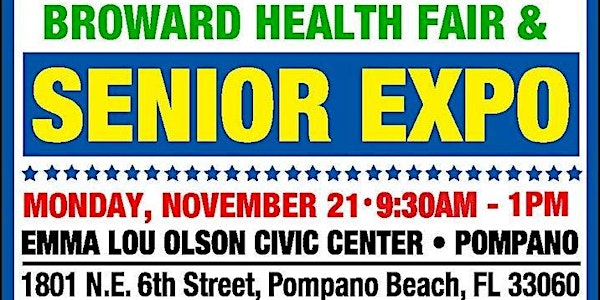 Senior Lifestyle & Healthcare Expo November 21st, 2022
Featuring: 75 Exhibitors with Senior Products & Services 1,500 Active Adults, Retirees & Caregivers Diverse Retirement Living Options
When and where
Location
Emma Lou Olson Pompano Beach Civic Center 1801 NE 6th St Pompano Beach, FL 33060
About this event
Featuring:
75 Exhibitors with Senior Products & Services
1,500 Active Adults, Retirees & Caregivers
Diverse Retirement Living & Medical Options
Free Health Screenings & Hearing Tests
Financial Planning & Advanced Directives
Live Entertainment, Travel Deals & Education
Door Prizes, Special Giveaways & Raffles
FREE Einstein Bagels, Schmear & Coffee*
Medicare Open Enrollment Options
MORE INFO (954) 565-5750
MemberServices@BrowardBiz.com
The Best of Times …
SENIOR LIFESTYLE & HEALTHCARE EXPO
MONDAY, NOVEMBER 21, 2022
Welcome to South Florida's Leading Retirement Convention & Marketplace.
19th Annual Event! Our Last Expo in Pompano Beach Was Sold Out With 75 Vendors.
EVENT FOCUS: This expo offers the best direct access to one of the largest senior markets in North America.
If your profession or business depends upon senior living, financial or healthcare sectors; this is your best opportunity to meet new clients face-to-face at an event designed specifically to reach thousands of seniors!
HIGHLIGHTS: 65 exhibitors with senior products and services. Extensive health screenings. Door prizes, special giveaways & raffles. Senior volunteer organizations. Live entertainment and informative workshops.
EXHIBITOR PROFILE: Exhibitors will include representatives from industries, practices and organizations
such as: retirement living communities, health care facilities, financial planners, insurance, doctors / dentists, travel and vacation, legal assistance, recreation and fitness, wellness, hobbies, charities, lifestyle products, DME, home healthcare, government agencies, senior publications and rehabilitation centers.
VISITOR PROFILE: Active adults 60+, retirees, snowbirds, caregivers and concerned family members.
MARKET AREA: Broward is at the center of South Florida's booming senior market with neighboring communities & cities such as: Pompano Beach, Margate, Deerfield Beach, Galt Ocean Mile, Lauderdale By The Sea & Fort Lauderdale.
PRESS RELEASES: Senior Expo publicity will be distributed to the entire South Florida TV, radio, newspaper
and magazine media contacts, including: Sun-Sentinel, Miami Herald, Happy Herald, Jewish Journal, Wynmoor News, Cobrua Reporter, Century Village News, Pompano Pelican, New Lifestyles, Senior Living, John Knox Village News & Views, Sunrise Lakes Phases & Kings Point Life.
PROMOTIONS: This Expo will be regionally advertised in newspapers, magazines, newsletters, senior event calendars, e-mail blasts, on radio, online and by local direct invitation circulation.
EXPO LOCATION: POMPANO BEACH CIVIC CENTER͕, 1801 NE 6th St, Pompano Beach, FL 33060
This Pompano, Deerfield, Margate location is at the center of the retirement market in Broward County.
EXPO DATES: POMPANO BEACH CIVIC CENTER, Monday, November 21, 2022, 9:30am to 1:00pm.
ANTICIPATED EXHIBITORS: 65 businesses, residences, organizations and medical/dental practices.
ANTICIPATED ATTENDEES: Many active seniors, retirees, caregivers and their families. (Covid-19 safe)
EXHIBIT COSTS: $400 Standard Space includes 6ft table and 2 chairs. Larger exhibitor space for custom exhibits are $600.
ADMISSION: FREE
PARKING: FREE
SCREENINGS: FREE
EXHIBITOR BREAKFAST: FREE