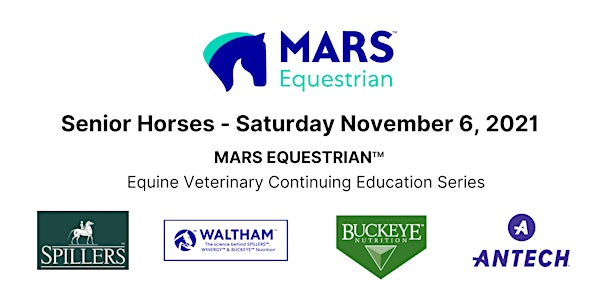 Senior Horses: MARS Equestrian Equine Veterinary Continuing Ed'n Series
MARS EQUESTRIAN™ will present an Equine Veterinary Continuing Education Series in the Fall of 2021.
About this event
The Mars, Incorporated portfolio of equine brands and services is focused on whole horse wellness and is backed by research, diagnostics and nutrition expertise.
MARS EQUESTRIAN™ will present an inaugural Equine Veterinary Continuing Education series offering a total of six Registry of Approved Continuing Education (RACE)-CE credits to USA-based veterinarians and veterinary technicians this fall.
The focus of our second webinar is the senior horse. Our first webinar, on Saturday, October 30, considered obesity, with our final webinar on Saturday, November 13, examining laminitis.
Below are the key leaders from the Mars, Incorporated portfolio of equine brands that have come together for this webinar series. More details, including speaker biographies, can be found on our website.
Pat Harris, MA, PhD, VetMB, DipECVCN, MRCVS & RCVS specialist Veterinary Clinical Nutrition (equine) - Director of Science, Mars Horsecare and Head of WALTHAM™ Equine Studies Group, Waltham Petcare Science Institute
Amy Polkes DVM, DACVIM - Equine Veterinary Diagnostic Specialist at Antech Diagnostics
Nettie Liburt, PhD, PAS - Senior Equine Nutrition Manager at BUCKEYE™ Nutrition
The replay for this event will be available a few days after the live webinar, via our organization listing on Eventbrite, here, and details will also be circulated via Eventbrite email.
Please email MARSwebinars@gkcrossman.co.uk with any queries.