Senior Advisor to the US CTO Keynotes: The Smart Grid and Broadband

Tuesday, November 15, 2011 from 8:00 AM to 10:00 AM (EST)
Event Details
You are invited....
to an event of the Broadband Breakfast Club
http://broadbandbreakfastseries.eventbrite.com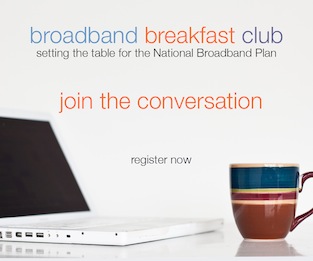 The Smart Grid and Broadband
Updating and modernizing our nation's electric infrastructure is providing a powerful new incentive for investments in data networks. Will data from smart meters be the next killer app for broadband? 
Keynote Speaker:
Nick Sinai
Senior Advisor to the CTO
Innovation & Entrepreneurship
White House Office of Science and Technology Policy
Nick Sinai currently serves in the White House Office of Science and Technology Policy as the Senior Advisor to the Chief Technology Officer, where he is focused on Innovation and Entrepreneurship. Mr. Sinai previously served as the Energy and Environment Director of the Federal Communications Commission's Omnibus Broadband Initiative. Mr. Sinai led a team exploring how broadband and advanced communications can help the nation achieve its goals of energy independence and energy efficiency. Mr. Sinai is a former venture capitalist and strategic advisor. Most recently, he served in executive and advisory roles with two Boston area clean energy technology companies, and served as a senior advisor to the Massachusetts Clean Energy Center. Mr. Sinai played a key role in building the clean energy practice at Polaris Venture Partners, and subsequently served as a Principal of Tenaya Capital. He also has private equity experience at Madison Dearborn Partners. Earlier in his career, he was a senior management consultant with Cambridge Strategic Management Group, where he led teams working with large communications and media companies. He earned an M.B.A from the University of Chicago Booth School of Business, and an A.B. from Harvard University.
Panel:
Jeffrey Dygert
Executive Director 
Public Policy
AT&T
Jeff Dygert works in AT&T's public policy group and has responsibility for energy, environmental, health care, human rights and education issues.  Before moving to AT&T, Jeff worked at the FCC for 13 years, in several different parts the agency, including the Office of General Counsel and the Wireline and Enforcement Bureaus.  He also practiced as a litigator with a private firm for 5 years.  Jeff holds a bachelor's and a law degree from the University of Virginia.  He lives in Washington, DC with his partner and son.
Arkadi Gerney
Senior Director
Policy, Partnerships and Public Affairs
Opower
Arkadi leads outreach to elected officials and public policy partnerships with businesses, advocacy groups, and non-profits. Prior to joining OPOWER, Arkadi worked as Special Advisor and First Deputy Criminal Justice Coordinator to New York City Mayor Michael Bloomberg, where he build and managed Mayors Against Illegal Guns, a national coalition of 550 mayors that Mayor Bloomberg co-chairs.  Arkadi also managed some of the City's criminal justice programs and developed other national coalitions that Mayor Bloomberg leads.  Before joining the Bloomberg administration, he worked as an attorney at WilmerHale and as a partner in a political consulting firm.  Arkadi received his B.A. in Government from Harvard College and a law degree from Harvard Law School.
Paul Hamilton
Vice President of Government Affairs
Schneider Electric
Paul has been actively engaged in Schneider Electric's energy efficiency business since its inception and has supported strategy and business development for energy management around the world. Today Paul provides strategic direction for Schneider Electric's government affairs, manages government relations activities across multiple businesses, and represents company positions with Congress, Federal agencies and allied organizations. Paul is active in number of committees and boards including the Alliance to Save Energy (ASE) International Steering Committee, the Solar Industry Association (SEIA) policy committee, and the North America Energy Services Companies (NAESCO) board of directors. Paul is also the US representative for IEC SMB Strategic Group 1 on Energy Efficiency and Renewable Resources. Previously Paul managed various aspects of the services and automation businesses for Schneider Electric. He started his career at GE and was subsequently involved in two successful venture startups for industrial control software and the safety control systems. Paul graduated from the University of Pittsburgh with a BS in Electrical Engineering in 1976. He is a Certified Energy Manager.
Sunil Pancholi
Smart Grid Program Manager
Pepco
Sunil Pancholi is managing Pepco Holding Inc.'s (PHI) Smart Grid Investment Grant program.  He manages DOE's ARRA awards to PHI, totaling $175 million, for all aspects of the smart grid and workforce training programs.  He led development of strategy, scope, schedule, costs and benefits, performance management and program management aspects of the Department of Energy's SGIG program applications. Sunil has demonstrated strategy, analytics, organization and management skills in smart grid, asset management, operations and system integration in electrical utility business.  He provided strategic leadership in formulating PHI vision for smart grid and renewable integration. He also led renewable industry and portfolio analysis for solar business for regulated utility, including strategic implementation plans. He led PHI's Distribution Automation and Communication Infrastructure projects as part of its Smart Grid program. Sunil holds a MS in Electrical Power from the George Washington University and MBA from the Wharton School of the University of Pennsylvania. He also holds a BS in Mechanical Engineering and an MBA from the Gujarat University, India.
Moderator:
Katie Fehrenbacher
Founding Editor
Earth2Tech.com
Katie is the founding editor of Earth2Tech.com and a writer for GigaOM.com. She was previously a reporter for Red Herring, an editor for Engadget.com and started her career as a reporter for the Yomiuri Shimbun, Japan's largest daily newspaper. Her work has appeared in the online editions of The Economist, the BBC, Forbes, Business Week, the New York Times, Fortune/CNN, and Sustainable Industries.
Telecommunications advocates, policy-makers, journalists, top officials and the general public, all seeking to trade insights on these important issues, are invited to attend this event of the Broadband Breakfast Club, which includes full American and Continental breakfasts, for as little as $45.00, plus a modest registration fee.
This event is on the record and open to the public. 
For News and Events on BroadbandBreakfast.com follow us at http://www.twitter.com/broadbandcensus
Event Details
Title:  The Smart Grid and Broadband
Date:  Tuesday, November 15th, 2011 8 a.m. - 10 a.m. 
Where:  Clyde's of Gallery Place, 707 7th Street NW, Washington, DC 20001
The breakfast begins at 8 a.m., followed by a discussion, beginning shortly after 8:30 a.m. and ending by 10 a.m.
The Broadband Breakfast Club is a "widely attended event" under House of Representatives Rule 25, clause 5(a)(4)(A).
-----
For individuals outside of Washington, or those whose schedule doesn't permit attendance in person, archived webcasts of the Broadband Breakfast Club are available for free on BroadbandBreakfast.com.
The Broadband Breakfast Club seeks sponsorship of our events from interested companies and organizations. We especially encourage organizations to sponsor a package of multiple events — such as one of our upcoming topical series. For details on sponsorship opportunities, please contact Sylvia Syracuse at 646-262-4630 or sylvia@broadbandcensus.com. The Broadband Breakfast Club is produced by Broadband Census News LLC. 
Follow us on Twitter at www.twitter.com/broadbandcensus
______________________________________________________________
The Broadband Breakfast Club is Sponsored By:





When & Where

Clyde's of Gallery Place
707 7th Street NW
Washington, DC 20001


Tuesday, November 15, 2011 from 8:00 AM to 10:00 AM (EST)
Add to my calendar
Organizer
Broadband Breakfast Club
BroadbandBreakfast.com is an internet policy news and events service devoted to breaking news on Broadband policy issues including Broadband Stimulus, Wireless, the National Broadband Plan, Universal Service, and more. Our trenchant articles are free at BroadbandBreakfast.com.

To complement our news service, BroadbandBreakfast.com also hosts monthly "Breakfast Club" events and other special events.
Our Broadband Breakfast Club series meets monthly on the THIRD Tuesday of the month (except for August and December).
Events are held at Clyde's of Gallery Place, 707 7th St. NW, Washington, DC. Metro Stop: Chinatown/Gallery Place.
Events are open to the public and held from 8 am - 10 am, with full Continental and American breakfasts served from 8 am - 8:30 am.
To subscribe to our news service go to BroadbandBreakfast.com.
To register for our next event click on
http://broadbandbreakfast.eventbrite.com
To view our past and future events see 
http://broadbandbreakfastseries.eventbrite.com
To view our event videos see
http://broadbandbreakfast.com/category/broadband-tv/
The Broadband Breakfast Club is Sponsored By:



Senior Advisor to the US CTO Keynotes: The Smart Grid and Broadband