Description
Send Theresa to The Arctic!
Local artist Theresa Baughman is preparing for her research residency in The Arctic Circle. Help send her off with a party!
Get ready to dance your pants off with special performances by Joe Bad & Jake Israin of BEAUTY SLAP and hip-hop artist Brittney Chantele. PLUS a debut performance by 24 Hour Grace! Art available for looks & purchase from local Pittsburgh Artists Thommy Conroy, Julia Betts, Stephanie Taylor, Sam Smith, Derek Zanetti, Sofia Sandoval and more! Eat your heart out in delicious food by Baby Loves Tacos and enjoy drinks from Bloomfield's favorite, Tina's. Not into alcohol? No prob! Woke Teas Company will be here for you to sip on something delicious and non-alcoholic.
All guests receive one free drink with ticket purchase & custom patch designed by Theresa!
Art residencies can be expensive, and traveling the whole way to the Arctic Circle is no exception! Theresa will dock in Svalbard, off the coast of Norway, and sail in the Arctic Ocean for nearly two weeks during her residency. Learn more about her project here.
Can't attend? Help fund Theresa here!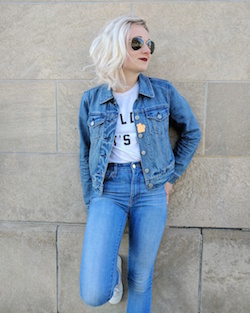 About Theresa's Project:
New Masculine Identity - Crisis in a Globalized World is a project that explores the identity crisis of masculinity in white millennial American men. This project is two-fold with anthropological research occurring in the rust belt region of the US and accompanying artwork and research in the Arctic Circle. Working in these vastly different places will allow me to examine the correlations between identity and climate change. I theorize that millennial American men are experiencing a crisis in masculine identity from the combined rise in popularity of green energy due to climate change, increased automation in manual labor work, and the promotion of a globalized cultural identity through social media. With the use of an allegorical grid, I will apply ethnography and visual analyses to understand the trajectories of the formation and perpetuation of normative American masculine identities, and how those narratives are being redefined. Upon completion, I will have writing for publication as well as a body of mixed digital media artwork for exhibition. I hope to answer questions about preserving culture in a digital age and understanding masculine identity in a globalized social economy during environmental change.
Theresa Baughman graduated from the University of Pittsburgh in 2015. In her undergraduate studies, she completed four research grants in two years including field studies in Rock River, WY and London, UK. She is the owner & designer of FIZZPOP, a playful and subversive pop-culture accessory brand. Theresa currently resides in Pittsburgh, PA where she can be found drumming, and playing outside.
About The Residency:
"Artist & Scientist led, The Arctic Circle is an annual expeditionary residency program. The Arctic Circle brings together international artists of all disciplines, scientists, architects, and educators who collectively explore remote and fascinating destinations abroad a specially outfitted sailing vessel.
The Arctic Circle is a nexus where art intersects science, architecture, education, and activism - an incubator for thought and experimentation for artists and innovators who seek out and foster areas of collaboration to engage in the central issues of our time."
For more info, please visit www.thearcticcircle.org
Your contribution means so much to me! Thank you for participating, and I can't wait to party with you!
xx
Theresa