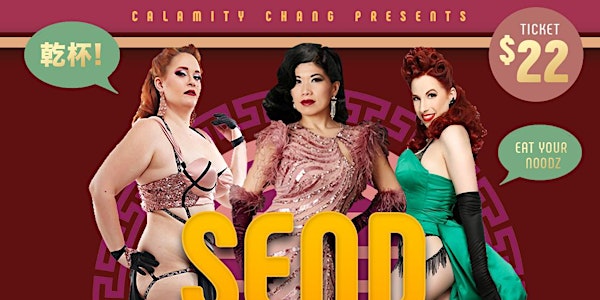 SEND NEW YEAR NOODZ 9! A Burlesque Revue at Sango Kura Sake & Ramen Bar
Burlesque comes to Sango Kura Brewery, Pennsylvania's first and only sake brewery and ramen bar in the Delaware Water Gap!
When and where
Location
Sango Kura 39 Broad Street Delaware Water Gap, PA 18327
About this event
SEND NOODZ is back at Sango Kura with the 9th show for 2023 featuring
"THE LITTLE RAY OF SUNSHINE" FROM NYC RITA N' WINK, "THE UNKNOWN PLEASURE OF BURLESQUE" MISS V FROM PHILADELPHIA, Guest Singer JESSICA DELFINO OF THE MOM REPORT ON Pocono 96.7, STAGE KITTEN GINGER SNACKPACK, AND CALAMITY CHANG!
Grab yourself a bowl of delicious handcrafted noodle dishes, appetizers, cocktails or a beer while enjoying a fun night of burlesque entertainment inspired by retro pinup and vintage fashion!
Show ticket is $22 per guest. Food/drink required per table seating and are additional. Table menu service will be available.
Seating is available by table groupings of 6, 4, and 2s. We also have 6 single seats (sharing a large table) - if you would like to buy single seats and sit together, please make a note on check out and we will arrange it. Please refer to seating chart image below!
Seating begins at 6-6:30pm. Show starts at 7pm PROMPTLY.
Wear your retro fun-est and spend Friday night with us! Tipping the performers is allowed & highly encouraged. A vending table will be on site for your perusal!
About Sango Kura
Sango Kura is Pennsylvania's first and only sake brewery, nestled in the small Poconos town of Delaware Water Gap, PA. Sango is the name of the owner/brew master's daughter and is also Japanese for coral. Kura simply means brewery. Just as coral mothers billions of life forms in the ocean, sake brewers are mothers to billions of life forms in our fermenters.
Our food menu consists of izakaya dishes from Japan. This means savory, carby, simple, but full of umami. We like to consider ourselves as ambassadors of recipes, keeping them as close to when we enjoyed them in Japan.
We also offer sustainable sushi. This means we do our homework to make sure the fish we serve is sustainably caught or farmed and comes from healthy populations.
Our on site micro greenery supplies us with healthy and delicious greens to compliment our dishes or offer as super tasty salads.
No matter what you decide all of our dishes pair well with our house made Sake!