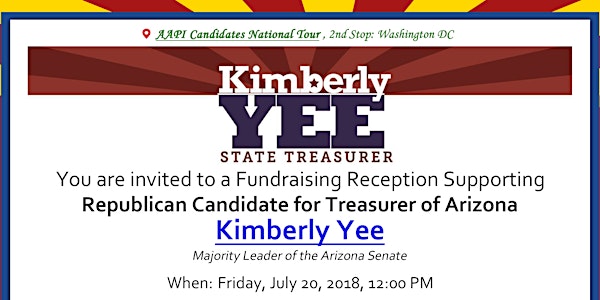 Senator Kimberly Yee Fundraising Reception
When and where
Location
HSP Direct Townhouse 224 C St NE Washington DC 20002
Description
You are invited to a fundraising reception supporting Republican Candidate Kimberly Yee for Arizona State Treasurer.
Hosted by National Committee of Asian American Republicans www.Asian.GOP.
Co-hosts: S.B.A. List, Alfred Liu, Chiling Tong, Louis Yip, Cindy Yang and more to be announced.
AAPI Candidates National Tour 2nd Stop: Washington DC
Featuring conservative Asian candidates
Promoting public services and voter registration in Asian communities
Promoting conservative values / American values / Asian values
More info about the reception: http://www.asian.gop/National_Tour_DC
Any questions, please email service@asian.gop.