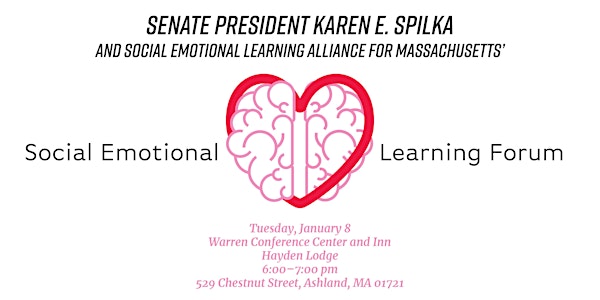 Senate President Karen E. Spilka's Social Emotional Learning Forum
Location
Warren Conference Center
529 Chestnut Street
Ashland, MA 01721
Senate President Karen E. Spilka and Social Emotional Learning Alliance for Massachusetts Forum
About this event
Senate President Karen E. Spilka and the Social-Emotional Learning Alliance for Massachusetts (SEL4MA) are hosting a forum about social emotional learning (SEL) and strategies for effective implementation in schools and communities throughout Massachusetts.
There's a lot of talk about SEL these days. How can you be sure that your community is using the best SEL approaches that will benefit your young people? Whether your community has been implementing SEL for some time or is just getting started, there are strategies you can apply and questions you can ask that can help to improve your effectiveness and results.
In this interactive forum, Jim Vetter, Executive Director of SEL4MA, and a panel of local educators will share a framework for effective SEL and lead a discussion of practical examples from schools and communities in the region. Panelists will include:
• Beverly Hugo, School Committee Member, Framingham Public Schools and 2018 President of MA Association of School Committees
• Jennifer Cutler, Director of Counseling & Social Emotional Learning, Ashland Public Schools
• David Keim, Principal, Miller Elementary School, Holliston
• Elise Gorseth, Parent Liaison, Natick Special Education Parent Advisory Council (SEPAC)
If you are an educator or administrator in a school or district or work with youth in another setting, are an elected official, have children at home, or are an interested community member, you will come away with key resources and questions to take back to your community.
The forum is part of Senate President Spilka's MetroWest Kids Initiative, designed to identify strategies to help children in MetroWest learn, grow and succeed, with a focus on social emotional learning. SEL is a research-backed framework to bring skills like stress management, positive relationship-building, responsible decision-making, and empathy into classrooms and throughout the community.
Please bring a hard copy of your ticket for faster check in. Registration begins at 5:30pm. Use #MetroWestKids and #SEL4MA to promote the event on social media and share this link widely with your network!