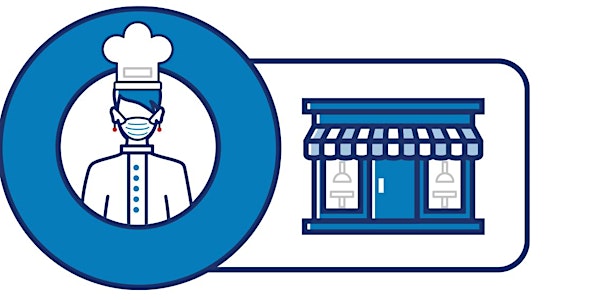 Seminario Virtual: Fondo de Revitalización de Restaurantes (RRF)
La SBA pronto lanzara el Program de Fondo de Revitalizacion de Restaurantes (RRF)
By U.S. Small Business Administration (SBA)
Date and time
Friday, May 7, 2021 · 10 - 11am PDT
About this event
La Administración de Pequeñas Empresas de EE. UU. anunció ayer, la primera ronda de socios tecnológicos (Clover®, NCR Corporation, Square y Toast) que participan en una nueva iniciativa para el Fondo de Revitalización de Restaurantes (RRF), un programa que permitirá a los restaurantes y otros establecimientos de alimentos elegibles acceder a la solicitud o los datos de RRF que necesitan para llenar la solicitud a través de sus proveedores de servicios de punto de venta (POS) de confianza.
Una vez que la SBA anuncie cuándo se aceptarán las solicitudes, los restaurantes que califiquen podrán trabajar directamente con sus proveedores de servicios de punto de venta para ayudarlos a solicitar el RRF. Cada socio de punto de venta está ayudando de diferentes maneras, desde brindar una experiencia de aplicación completamente integrada, hasta crear documentación de punto de venta empaquetada previamente y realizar seminarios web interactivos. En todos los casos, estas asociaciones permiten a miles de propietarios de restaurantes acelerar el proceso de presentación de solicitudes.
Estaremos presentando un seminario virtual esta viernes, 7 de mayo de 2021 a las 12:00 p.m hora del Centro (CST), para proveerles la información necesaria para prepararse para aplicar para esta ayuda.
Para mas information, visite nuestra pagina del internet a https://www.sba.gov/funding-programs/loans/covid-19-relief-options/restaurant-revitalization-fund o llamenos al 817-684-5500.
About the organizer
The U.S. Small Business Administration (SBA) was created in 1953 as an independent agency of the federal government to aid, counsel, assist and protect the interests of small business concerns, to preserve free competitive enterprise and to maintain and strengthen the overall economy of our nation. We recognize that small business is critical to our economic recovery and strength, to building America's future, and to helping the United States compete in today's global marketplace. Although SBA has grown and evolved in the years since it was established in 1953, the bottom line mission remains the same. The SBA helps Americans start, build and grow businesses. Through an extensive network of field offices and partnerships with public and private organizations, SBA delivers its services to people throughout the United States, Puerto Rico, the U. S. Virgin Islands and Guam.
Disclamer: SBA programs are extended to the public on a nondiscriminatory basis. SBA's use of this website is not an endorsement of the site's views, opinions, products, or services.