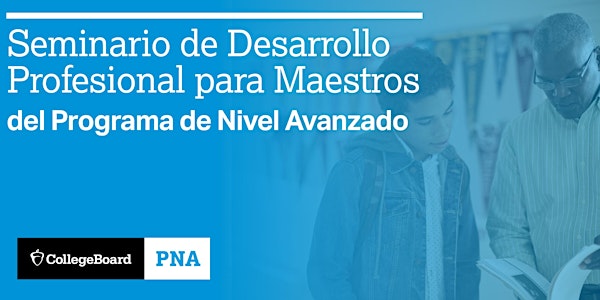 Seminario de Desarrollo Profesional para Maestros del Programa de Nivel Ava...
Location
College Board | Popular Center
208 Ave. Juan Ponce de León
Piso 15
San Juan, PR 00917
Puerto Rico
Refund policy
Refunds up to 7 days before event
Sales Have Ended
Ticket sales have ended
Política de cancelación y reembolso: (Solo para pagos mediante factura, cheques o efectivo) El solicitante podrá cancelar su reservación por escrito con derecho al 100% de reembolso si lo hace al menos con siete días de antelación a la actividad; de lo contrario, no tendrá derecho al reembolso. Una vez notifique por correo electrónico su cancelación a ddelvalle@collegeboard.org, el College Board le enviará una confirmación de su cancelación. Si el registro se ha efectuado mediante cheque y no se cancela en la fecha indicada, se facturará la cuota de participación a la institución correspondiente. La tarifa especial de estacionaciomiento para los participantes del Seminario será $10.00 diarios.
Description
Seminario de Desarrollo Profesional para Maestros del Programa de Nivel Avanzado
El seminario es el evento anual de desarrollo profesional que reúne a los maestros que imparten los cursos de Nivel Avanzado en las escuelas privadas de Puerto Rico. Por más de 50 años, el Programa de Nivel Avanzado fomenta la colaboración entre educadores para guiar al estudiante a desarrollar las competencias y aptitudes necesarias para aprovechar al máximo la experiencia universitaria.
El seminario se llevará a cabo en los salas de conferencias del College Board en el horario de 7:30 a. m. hasta las 4:00 p. m.
Esta es una gran oportunidad para:
descubrir estrategias de enseñanza para fortalecer el programa en su institución;

participar activamente en diversos grupos de trabajo;

compartir experiencias de la enseñanza de los cursos de Nivel Avanzado;

conectar con maestros experimentados y profesores universitarios.
Fechas
TallerFecha de talleres Inglés 6 de septiembre de 2018 Español 7 de septiembre de 2018 Matemática General Universitaria 13 de septiembre de 2018 Precálculo 14 de septiembre de 2018
Programa
HorarioAgenda 7:30 a. m. - 8:30 a. m. Registro y desayuno 8:45 a. m. - 9:00 a. m. Bienvenida 9:00 a. m. - 10:30 a. m. Primer taller 10:30 a. m. - 10:45 a. m. Merienda 10:45 a. m. - 12:15 p. m. Continuación del primer taller 12:15 p. m. - 1:15 p. m. Almuerzo 1:15 p. m. - 3:45 p. m. Segundo taller 3:45 p. m. - 4:00 p. m. Evaluación
La cuota de participación incluye desayuno, merienda, almuerzo, certificado de participación y los materiales del evento.
Política de cancelación y reembolso: Para que se le reembolse el costo total, debe enviar mensaje de cancelación siete días antes del evento a MROLON@collegeboard.org