Description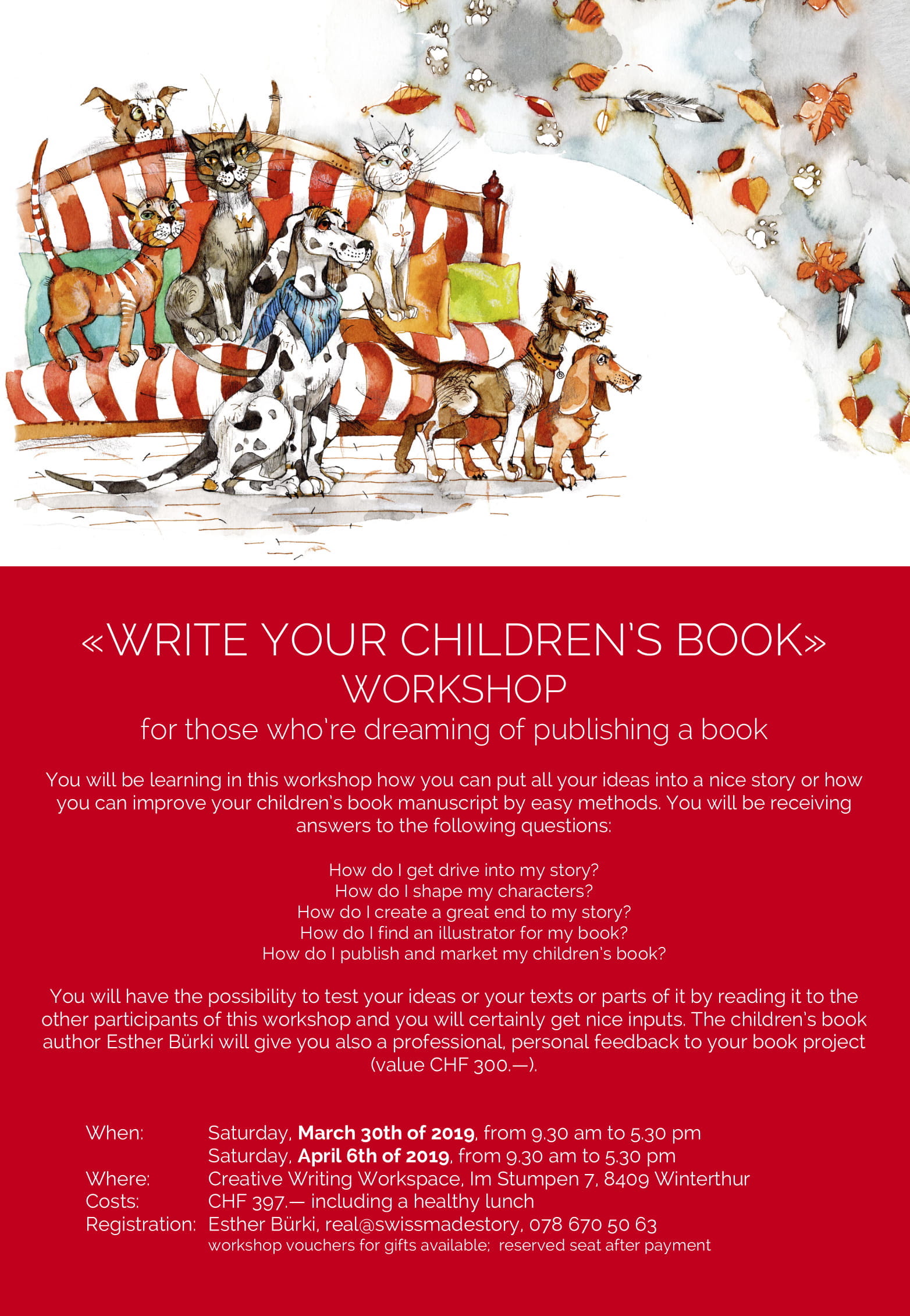 The workshop «WRITE YOUR CHILDREN'S BOOK» is designed for all those who're dreaming of publishing a book.
You will be learning in this workshop how you can put all your ideas into a nice story or how you can improve your children's book manuscript by easy methods. You will be receiving answers to the following questions:
How do I get drive into my story?
How do I shape my characters?
How do I create a great end to my story?
How do I find an illustrator for my book?
How do I publish and market my children's book?
You will have the possibility to test your ideas or your texts or parts of it by reading it to the other participants of this workshop. The children's book author Esther Bürki will give you also a professional, personal feedback to your book project (value CHF 300.—).

Where: Creative Writing Workspace, Im Stumpen 7, 8409 Winterthur
The Creative Writing Workspace is located in a large house with a veranda and a garden close to the city limits of Winterthur near forest, pasture and a farm. There are parking spaces right in front of the house. By public transport you can reach the house in a three-minute walk from the bus stop "Hegi in the Gern" or twenty minutes from Oberwinterthur station.
Costs: CHF 397.— including a healthy lunch
Registration: Esther Bürki, real@swissmadestory, 078 670 50 63, more information regarding the children's book author: www.swissmadestory.ch
Workshop vouchers are also available for gifts; your seat will be reserved after payment.
The same workshop is also held in German at earlier dates:
March, 2nd of 2019, from 9 am to 5 pm or
March, 23rd of 2019, from 9 am to 5 pm