Invitation To Attend Seminar On "The Greatest Story In Global Tourism History" by Mr Imtiaz Muqbil, Executive Editor Travel Impact Newswire
About this event
Dear Tourism Industry Colleagues,
We are pleased to inform you that Tourism Malaysia will be organising a seminar conducted by Imtiaz Muqbil, Executive Editor of Travel Impact Newswire entitled "The Greatest Story in Global Tourism History"
Held for the first time in Malaysia, this seminar will reflect on how Thai travel and tourism reached their current lofty heights and the challenges they face. This is also an opportunity for emerging destinations in Asia especially states, provinces and cities to learn from the successes and failures of the Thai tourism experience.
Therefore, the Malaysian Tourism Industry Partners are cordially invited to join the seminar on 8th October 2019 at Dorsett Putrajaya Hotel. The proposed program and participation form are as attached in the system for your kind reference. Kindly fill-up the attached participation form and return the duly completed form by 4th October 2019 (Friday)
Should you require further information, please do not hesitate to contact the following PIC/officers: Mr. Faizal Sharip Tel: 03- 889188948 and; Mrs. Nor Kamaliati Khamis Tel: 03-88918961
See you soon.
Regards,
MALAYSIA TOURISM PROMOTION BOARD9rd Floor, No. 2, Tower 1, Jalan P5/6, Precint 5, 62200, Putrajaya. Tel: +603-8891 8000 ext; 8948/8961 Email: tm.invitation@tourism.gov.my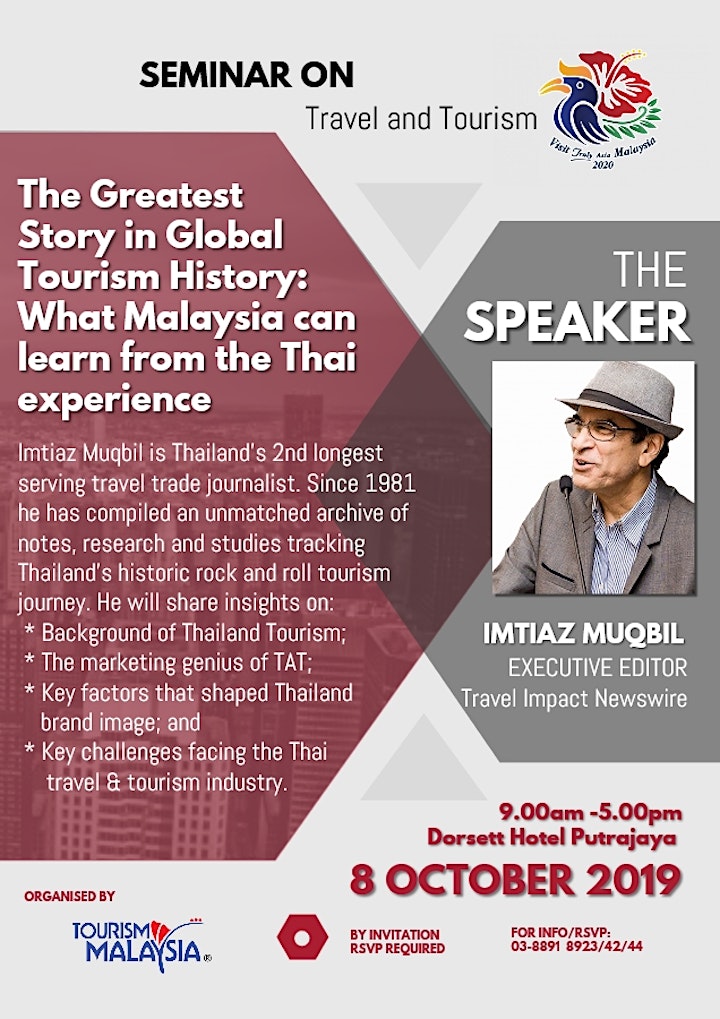 Organizer of Seminar " The Greatest Story In Global Tourism History" by Imtiaz Muqbil