Description
At this executive seminar, speakers will discuss techniques for modeling supply chain networks and optimizing their performance with anyLogistix supply chain design software. They will also demo case studies for digital supply chain design and analysis.
Experts will also explain how to build digital twins that help track performance metrics and make supply chains more transparent. During the seminar speakers will discuss:
The seminar will be conducted in English and will be followed by the anyLogistix training course. If you also want to take part in the training, register here.
Seminar schedule
9.30 am – 10.00 am – Registration and welcome coffee
10.00 am – 12.00 pm – Supply Chain Design, Optimization and Simulation Techniques
Introduction to anyLogistix

Supply Chain Optimization: supply chain structure and master planning

Supply Chain Implementation: capacity of the facilities, service level examination, safety stock estimation

Supply Chain Analysis: service level alteration and risk analysis

Business case studies
12.00 pm – 12.30 pm – Q&A session


Seminar speaker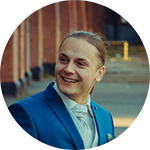 Andrei Nozhenko, anyLogistix Software Developer, The AnyLogic Company


About anyLogistix
anyLogistix by The AnyLogic Company is supply chain analytics software for designing, optimizing and analyzing your company's supply chain. It combines powerful analytical optimization approaches provided by IBM ILOG CPLEX together with innovative dynamic simulation technologies to offer you a comprehensive set of tools for end-to-end supply chain analytics. By leveraging both simulation and optimization you have the best set of tools for tackling supply chain challenges, enabling you to gain deep insights into your company supply chain, which is not possible with any other traditional solutions. More about anyLogistics features >>
Organizer of Seminar: Supply Chain Design and Digital Twinning with anyLogistix
The AnyLogic Company is a multinational team operating from the US and Europe with a global network of partners. We design, develop and market software for business applications.
Our flagship product, AnyLogic Simulation Software, is the standard in multimethod modeling technology which equates to increased efficiency and less risk when tackling complex business challenges. This unmatched flexibility is found in all AnyLogic products allowing users to capture the complexity of virtually any system, at any level of detail, and gain a deeper insight into interdependent processes inside and around an organization.
We enjoy developing best in class technologies to help our customers and partners to solve the business problems they are facing. AnyLogic products are utilized world-wide in thousands of commercial organizations and academic institutions, and in over 40% of Fortune 100 Companies.