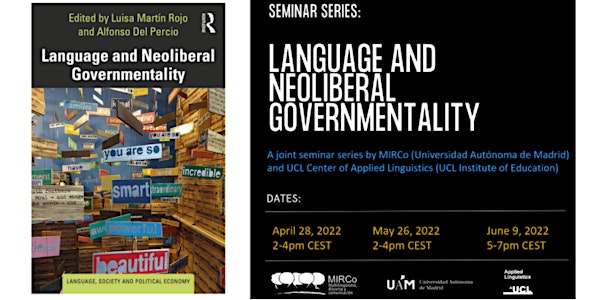 SEMINAR SERIES Language and Neoliberal Governmentality
Drawing on the book Language and Neoliberal Governmentality, this seminar series discusses issues related to language, power, and economy.
About this event
The publication of Language and Neoliberal Governmentality (Routledge, Language, Society and Political Economy, 2019) aimed to open a debate and advance scholarly theorizations of neoliberalism, power, and changing conditions of language. The global pandemic has meant for many scholars like us forms of social and intellectual disconnection which have prevented us to fully engage in the debate we had started with this book. With this seminar series, jointly organized by the Research Center on Multilingualism, Discourse and Communication (MIRCo) at Universidad Autónoma de Madrid and UCL Center of Applied Linguistics at University College London Institute of Education, we intend to reopen this debate. In a series of three events, we will collectively discuss and reflect on how neoliberalism impacts languages, how should we approach power and control to understand contemporary notions of governmentality, and what changing visions of language are taking root in society and in the job market in connection with the transformations in the political and economic realms.
This seminar series consists of three events in which book contributors and international scholars in the field of language, power, and political economy will engage in a debate around one specific chapter of the book. On March 24th, 2022, 4-6pm CET, Monica Heller, Miyako Inoue, Luisa Martín Rojo, John O'Regan, and Laura Villa will discuss capitalism and neoliberalism (this meeting has been rescheduled for June 9th, 5-7pm CEST). On April 28th, 2022, 2-4pm CEST, Luisa Martín Rojo, Miguel Pérez Milans, Joan Pujolar, Ben Rampton, and Lionel Wee will deal with language and securitization. On May 26th, 2022, 2-4pm CEST, David Block, Eva Codó, Alfonso Del Percio, Joseph Park, and Bonnie Urciuoli will talk about language in society.
We invite students, young scholars, and researchers in sociolinguistics, political science, economics, and related fields to join us in this conversation. Register for the event for free here. Please register as soon as you can to help us plan the event. After registration we will share the three book chapters among participants and ask them to contribute questions and ideas before each scheduled meeting so that we can incorporate them into our discussion.