Seminar Series (1) - Success in Silicon Valley

Wednesday, September 12, 2012 from 6:00 PM to 8:30 PM
Event Details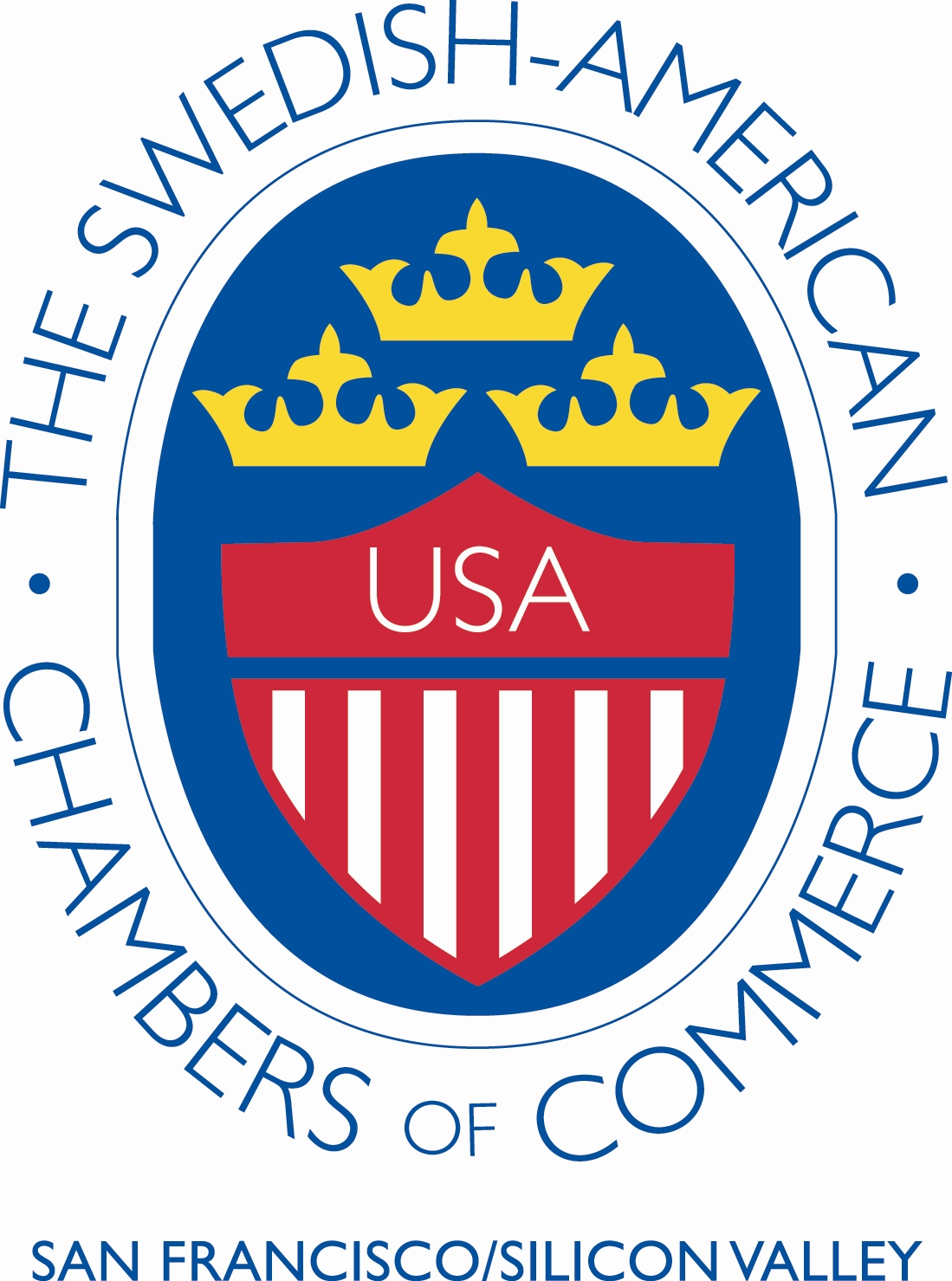 Seminar 1 – Success in Silicon Valley
The Swedish-American Chamber of Commerce San Francisco/Silicon Valley welcomes you to attend our first seminar in the Chamber's Fall Seminar Series. For decades Silicon Valley has formed successful companies with immense spillover effects on the start-up industry. Why is it that Silicon Valley continuously foster successful companies - despite the challenges in the world economy? What can Sweden, one of Europe's most innovate countries, and Swedish companies, learn from the extraordinary culture and innovation system we can find in Silicon Valley? What can Silicon Valley learn from Sweden and its long history of Swedish ingenuity?

The format of the event will be a panel discussion with great networking opportunities both before and after the panel.
Program
6:00 - 6:30  PM Networking
6:30 - 6:40  PM Opening Remarks
6:40 - 7:40  PM Panel Discussion
7:40 - 8:00  PM Q&A
8:00 - 8:30  PM Networking
Moderator
Charles Carter - Partner, K & L Gates LLP
Charlie Carter, a partner in K&L Gates's Seattle office, focuses his practice on the formation, financing and general corporate counseling of high-growth companies. He has more than 15 years experience in seed and venture capital financings, mergers and acquisitions, intellectual property transactions and commercial arrangements. He is co-leader of K&L Gates' worldwide Emerging Growth and Venture Capital practice. 
Panelists
  

Arthur Bienenstock - Director, Wallenberg research link at Stanford Uni

Arthur Bienenstock is Special Assistant to the President for Federal Research Policy and Director of the Wallenberg Research Link at Stanford University. He is a professor emeritus of Photo Science. Dr. Bienenstock also served Stanford University as: Vice Provost and Dean of Research and Graduate Policy (2003-6), Director, Stanford Synchrotron Radiation Laboratory at the Stanford Linear Accelerator Center (1987-97), and Vice Provost for Faculty Affairs (1972-77).

From November, 1997 through January 2001, while on leave from Stanford, he was the Associate Director for Science of the White House Office and Science and Technology Policy. From 1963 to 1967, he was on the faculty of Harvard University. His reasearch is in solid-state physics, amorphous materials and synchrotron radiation. 
He recieved his Ph.D. from Harvard University in 1962. In addition, he was a recipient of a Ph.D. (honorary) from Polytechnic University in 1997 and from Lund University in June, 2006. He became a foreign member of the Royal Swedish Academy of Engineering Sciences in October, 2010. 

 

Sheridan Tatsuno - Principal, Dreamscape Global San Francisco

Sheridan Tatsuno is a seasoned businessman with over 30 years of experience in the high-tech, urban planning, and film/TV industries. Raised in Silicon Valley, Mr. Tatsuno has advised over 700 tech companies in the U.S., Japan, Asia and Europe as a senior analyst at Dataquest (1982-1989) and Dreamscape Global (1989-present). Mr. Tatsuno has worked in Venezuela, Japan, and Sweden. He is a graduate of Yale and Harvard's Graduate School of Design.

 

Richard J. Elkus, JR - Silicon Valley Engineering Council Hall of Fame

Richard J. Elkus, JR has been a founder, Chairman, CEO and Director of several high-tech companies and has operated in Silicon Valley for decades. In 2009 he was inducted into the Silicon Valley Engineering Council Hall of Fame. Richard is also member of the Board of Trustees of The Scripps Research Institute, The Palo Alto Medical Foundation and University of California Merced Foundation and The University of California President's Board on Science and Innovation. In 2008 Mr. Elkus authored Winner Take All: How Competitiveness Shapes the Fate of Nations.  Mr. Elkus received his undergraduate degree from Stanford University and his MBA from Dartmouth College, Tuck School of Business Administration.

 

Duncan Logan - Founder & CEO Rocket Space

Duncan Logan is the founder of RocketSpace Inc, a technology accelerator in San Francisco. From a Scottish farming background Duncan started his career working in derivatives at a Swiss Bank, London. At 24 he started his first company CITYPRO which over three years he built to $8m revenue before selling in 2000. Duncan then joined a tech startup MessageLabs, one of the early SAAS Security Companies which later sold to Symantec in 2008 for $700m. Arriving in San Francisco, Duncan founded NationalBLS Inc, a money burning concept which he hastily extinguished to start RocketSpace. Duncan is a good skier, an average runner and at weekends can be found renewing his frustration with golf.



 

Nicolai Wadstrom - Founder BootstrapLabs

Nicolai Wadstrom is a serial entrepreneur resident in Silicon Valley, and the founder of BootstrapLabs. He founded his first startup company in 1995, and have been starting and running a number of startup companies since then, ranging from software, gaming, Internet, media and professional services. Angel investor and adviser to Internet, Software, Mobile and Digital Media startups in Europe and Silicon Valley, including BootstrapLabs portfolio.
 

 

 
Official Partner & Sponsor

K&L Gates LLP comprises nearly 2,000 lawyers who practice in 41 offices located in the U.S., Europe, Asia, South America and Middle East. Their Palo Alto office's corporate and patent lawyers work with emerging growth companies, venture capital and other investors, and lenders to support one of the world's most innovative markets. As a truly global firm, they are particularly focused on their clients' cross-border opportunities and represent local and international companies relative to their operations, investments and aspirations in Scandinavia and other countries in Europe, Asia and South America. Visit them at www.klgates.com
---
  Payment Options
Credit Card. Choose Paypal when "Pay with Credit Card"
Paypal. Accepts Visa, MasterCard, American Express, Discover, eCheck, Paypal
Google Checkout. Accepts Visa, MasterCard, Emerican Express, Discover
Pay by check. Pay to the order of: SACC-SF
---
SACC-SF/SV would like to thank our Corporate Members:   
Become a member today! 
The Swedish-American Chamber of Commerce in San Francisco / Silicon Valley's has operated in the Bay Area for over 60 years. Join SACC-SF/SVand become a part of an invaluable, growing business network with unique benefits.  
---
---
The Swedish-American Chamber of Commerce San Francisco/ Silicon Valley
 452 Tehama Street, San Francisco CA 94103, USA
 Phone:+1 (415) 781-4188 E-mail: info@sacc-sf.org Website: www.sacc-sf.org
Organizer
Swedish-American Chamber of Commerce San Francisco & Silicon Valley
The main objective of the Swedish-American Chamber of Commerce San Francisco & Silicon Valley is to enhance the business interests of our members. By providing a broad spectrum of services and new business opportunities through networking, the Chamber contributes to the development and improvement of goodwill between the business communities in the San Francisco Bay Area and Sweden.
Seminar Series (1) - Success in Silicon Valley