Seminar: Rights-based Sexual and Reproductive Health Agenda
Description
Title:
Rights-based Sexual and Reproductive Health Agenda: What Data from Asia on Contraception, Abortion, and Adolescent Girls Tells Us
Abstract:
Rights-based approach frames an intervention to incorporate human rights and dignity; it empowers the target community by increasing the ability and accountability of individuals and institutions responsible for implementing the intervention.
This presentation aims to explore how a rights-based approach to sexual and reproductive health helps us advance overall social progress and well-being at country level. The rights-based approach also ensures that we can overcome the final barriers that prevent us from reaching targets on maternal mortality and adolescent pregnancies.
Speaker: Ms. Sivananthi Thanenthiran
---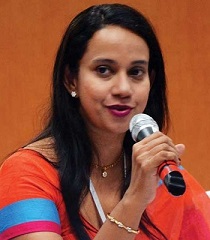 Siva is the Executive Director of the Asian-Pacific Resource & Research Centre for Women (ARROW), a regional partnership organisation which works across 15 priority countries in Asia-Pacific, and with 4 regional organisations/networks across the global south. She was struck by the centrality of sexual and reproductive health and rights (SRHR) in women's lives when she edited and published the findings of a national-level monitoring project as a consultant. This experience was a key driver for her work at ARROW. She also manages the ICPD+20 Global South SRHR project - which spans 50 countries across 5 regions.
Agenda:
10.30am – Registration
10.50am – Director's welcome note
11.00am – Seminar starts
12.00pm – Q&A
12.30pm – Lunch and networking